PITTIWAY is the theme of Pitti Immagine in January 2023
PITTIWAY, the theme of the upcoming Pitti Immagine winter shows, that will be held from 10th to 13th January 2023. It is the result of a joint effort between creative talents and artists, coordinated by Angelo Figus. It interprets today's moods and ambitions, transforming them into the leitmotif of the ad campaigns and settings present at the Fortezza da Basso.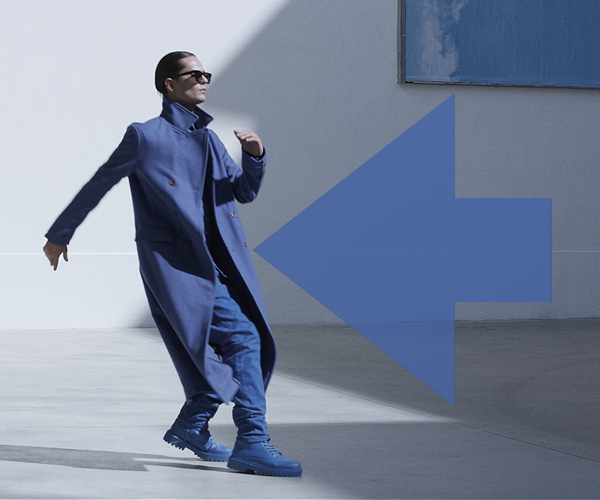 The desire to restart is present in all of us, but choosing the best direction, orientation, and decisions to make is not easy. 
"In this moment that is difficult, yet also creative, innovative, and diverse, the Pitti Immagine shows will be a compass for defining new directions, conceiving possible pathways, and considering the possible choices to then restart."

—  Agostino Poletto, general director of Pitti Immagine


"Even deciding how to dress means deciding upon a direction."

—  Angelo Figus, creative director

PITTIWAY will transform the Fortezza da Basso into a jungle of visual information, between interactive kiosks, and led strips and lighting that light up the evening hours. A playful multitude of signs that take their cue from the language of traffic signs and reinterpret them with pop and original graphics.

Directed by Leonardo Corallini, the protagonist is dancer and model Giampaolo Gobbi, performing halfway between choreography and a photoshoot, wearing four perfectly identical outfits in four different colors. Overseeing the range of colors is Maurizio Brocchetto, one of the leading experts in customization.

The dancer becomes a silhouette, a chromatic reference, first in movement, and then at a standstill, between stops, the freedom to move, and changes in direction, to the offbeat and fast-moving background music played by Neuf Voix, also known as Elvio Seta, on the piano, who has harmoniously brought together urban noise and natural sounds for Pitti Immagine.


Hits: 4982 | Leave a comment