Pitti Uomo 104 reveils the trends for the modern man
Pitti Uomo took place in Florence from 13 to 16 June 2023. The event showcases the latest trends and innovations in men's clothing and accessories, with a special focus on sustainability and outdoor lifestyles.
CODES FOR THE MODERN MAN
An effortless elegance, that's never loud and in tune to dialogue between high and low registers. Luxury leisurewear is central, heritage mixes with innovation, lifestyles are becoming increasingly informed. Color is pure, applied to simple lines and whispered shapes. An environmentally respectful vision dictates totally natural capsule collections with organic and fine yarns, and the reassuring compactness of linen, silk, cotton, and cashmere. Lightweight raincoats alternate with deconstructed, featherweight jackets. Freshness is the guiding theme on double-breasted suits and bush or versatile shirt-jackets. Interesting lines, softness and impalpable textures are enhanced by expertise.  The palette is tasked with exalting the "Italianness" of iconic places, coasts and monuments. Luminous greens and blues stand out against the grays, beiges, and rocky tones.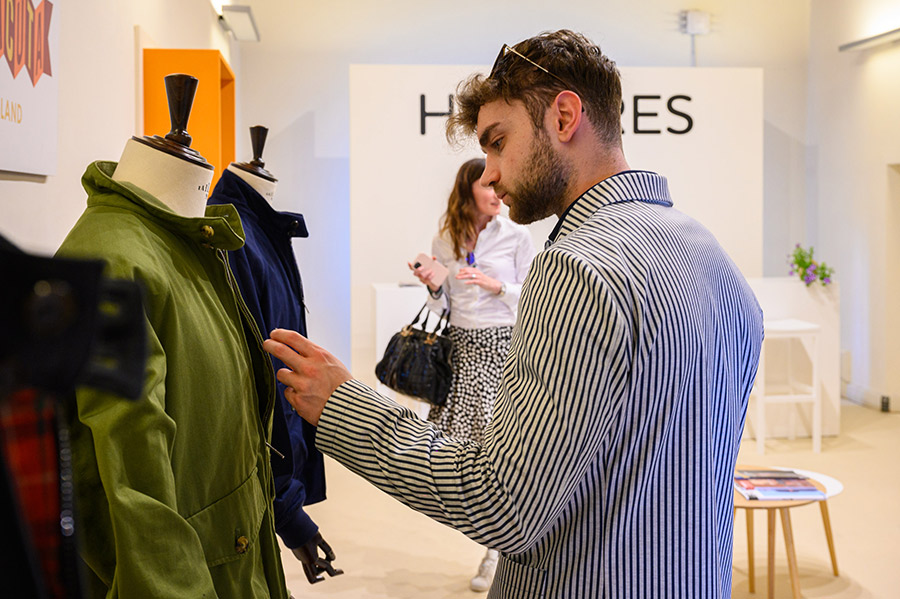 THE NO STRESS SEASON
A symbiosis between travel and travel memories. The atmosphere is relaxed with sporty-chic flashes and a passion for color. Workwear details trace the development of clothes modeled on those who wear them every day. Outfits with a scent of freedom, of weekends out of town or on a boat.
Softly, but not overly shaped shirts meant to be worn over a t-shirt or with a suit. Clean contours, rounded tails, and no darts. The green and brown palette covers linen and cotton Bermudas and outfits, slightly oversized trousers, natural cargo pants and contrasting colors. Shades of beige dominate shirt-jackets, piece-dyed items and scarves. From mix & match consistencies to the loose fits for the man who lives in the city. Luxury denims with a new fresh look and feel. Sharp, yes but super details – menswear is taking a step back from excesses and over-the-top looks.

MIX & MATCH, SOPHISTICATION FOR EVERY DAY
Horizons of good taste in an evolving wardrobe. From fair play for business attire to casual over shirts – the offer is made to match all occasions. Innovation reinterprets intelligent tailoring. Key items – hybrid look sport jackets, mosaics of colors and materials. Specific dyeing processes bring a breath of novelty in step with summer rhythms. The basic lines of Swiss cotton polo shirts alternate with must-haves such as the laidback shirt-jacket. For those sparkling evenings, superlight down jackets and sport coats, quilted jackets and nylon city jackets. Because the dynamism of metro life is expressed by fabrics that are never banal: environmentally friendly or recycled nylon and stretch jersey are weather resistant and ready to perform all the time.

TIMELESS ESSENTIALS
Sartorial and versatile, comfortable and timeless. A warm welcome to timeless clothes, made to be worn and kept in an archive constructed year-after-year, and handed down. A true talisman of personal certainties, laughing at trends and transcending seasons. And…a range of loyal traveling companions that never lose their allure: bags and accessories for urban adventures, iconic moccasins and new editions of cult sneakers. Classic shapes for leather weekend bags that become more beautiful with each passing year, biker backpacks that combine function and light weight. This is where design dialogues with handcrafting.

THE SUSTAINABLE OPTION
We know for certain that we cannot postpone sustainable choices. Green practices are gaining attention in increasingly greater parts of our daily lives. They make us feel responsible and we can dispose of them without trouble or problems. Sometimes they are markedly functional items: nylon stretch and eco-poly, jackets and trench coats in soft beiges and whites or more classic shades of blue and green.

At the same time, the worlds of design and environmentally friendly commitment are growing closer together. Accessories and outfits based on biodegradables, on materials from post-manufacturing scraps or totally natural materials dominate the scene. Sensitive to reasonable consumption, sportswear performance joins up with daywear functionally and ethically.

A lifestyle with motion as the lowest common denominator: from the superlight field jacket to the mid-layer raincoat to resist unexpected bad weather. And then, a high coefficient of cool in capsule collections from prestigious colabs signed by famous names or emerging designers.


Hits: 2112 | Leave a comment