Lenzing Group received the 303 Tuscans Ethical Fashion award
At Lenzing believe that there's no greater innovator than life itself: Everything is on the move, constantly changing, always taking new turns, opening new paths into the future, offering unprecedented challenges and opportunities. They are thankful for life's variabilities because they inspire us to discover innovations that truly make a difference. That's why their textiles are as aesthetic and emotional as they are functional. Their beauty care and hygiene products are unmatched in their comfort and performance. Lenzing's fibers are essential ingredients to quality products that improve people's lives. At the same time, they help to preserve our planet's natural resources. Contributing to a better life is what drives us to research, explore and invent. Over the past decades, this spirit shaped their profile as a purposeful pioneer and the fiber industry's leading innovator.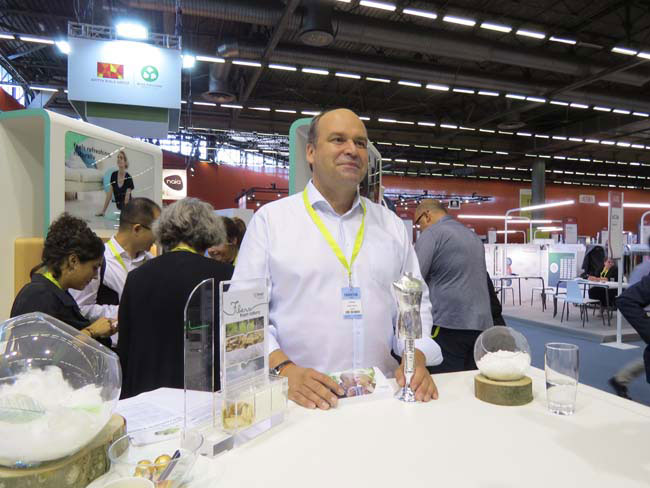 Sustainability is a prerequisite and imperative for each Lenzing innovation. Responsible entrepreneurship and their understanding of corporate social responsibility determine this approach. Moreover, there's a special value-added in it we've discovered long since: The consequent sustainability focus stimulates their creativity and inspires us to truly innovative ideas. This is the basis for their continued success in business.
The Lenzing Group recorded a solid business development in the first three quarters of 2018. The decline in revenue and earnings compared with the same period of the previous year was essentially based on a mix of lower prices for standard viscose, more unfavorable exchange rates and price increases for key raw materials. The Lenzing Group's strategic orientation with a focus on specialty fibers had a positive impact in this environment.
"The Lenzing Group is currently operating in a challenging environment. Against this background, we are satisfied with the solid business development and the corporate strategy sCore TEN has a positive impact. The new production line in Heiligenkreuz started up successfully and customers' feedback has been positive," says Stefan Doboczky, Chief Executive Officer of the Lenzing Group. "While many viscose producers are faced with a very tense profit situation, we are well positioned due to their specialty strategy and still expect a satisfactory full year", Doboczky adds.
Key strategic measures were implemented during the first three quarters of 2018 in line with the sCore TEN strategy. The start-up of new capacities for lyocell fibers in Heiligenkreuz, the production start of LENZING™ ECOVERO™ fibers at the Nanjing site and the investment in another pilot line for TENCEL™ Luxe filaments are important steps to accomplish the goal of increasing the share of specialty fibers in total revenue.
With the world's growing population and rising disposable income, tomorrow's demand for top-quality fiber products will be even higher than today. To address this future challenge, there's no better answer than Lenzing's botanic fibers.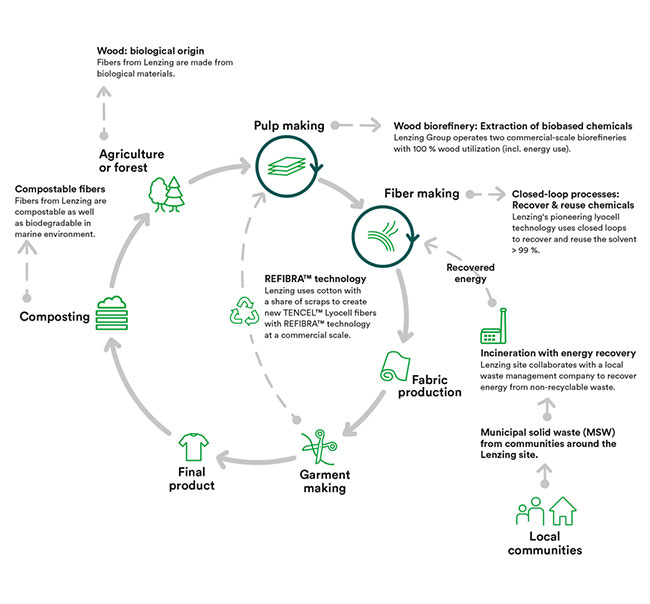 Fibers made from natural wood are the answer to some of our planet's most pressing problems.

Solutions sourced from sustainably forested wood are unique: No other raw material is as beneficial to our planet when it comes to meeting a growing population's demands and preserving resources at the same time. As soon as a tree starts to grow it begins to protect our environment – by absorbing CO2 greenhouse gas to an extent that otherwise only our oceans can manage.

At Lenzing, they strongly believe in life, not merely in survival. Therefore, their preferred wood suppliers have their forestry operations certified, and the pulp they procure comes from sustainable, certified production plants. Or take a look at Lenzing's new REFIBRA™ technology: Here, they mix cellulose with the textile industry's cotton scraps to produce their fibers. They're truly relentless in the pursuit of innovative, eco-friendly solutions: Bio-based materials from their biorefinery, for example, are a valuable supply to the food industry. Processing wood to cellulose and fiber simultaneously supplies the energy they need for the production facilities. And the end of their fibers' life cycle is as natural as their wooden origin: Lenzing fibers are bio-degradable, their remains provide the ground for new plants to grow.


Hits: 9366 | Leave a comment