The Wool Lab Autumn/Winter 2019/2020 at Milano Unica
Continuing to inspire and connect designers with the world's best commercially available wool fabric and yarn manufacturers, The Woolmark Company will unveil the latest edition of The Wool Lab at Milano Unica, July 10 -12. Come and visit The Woolmark Company in Idea Biella – Pavilion 20 – Central Lounge and in Moda In – Pavilion 12 – Central Lounge.
The Wool Lab Autumn/Winter 2019/20 includes seven fashion-oriented themes, presenting a collection of the latest commercially available wool fabrics and yarns. In addition, The Wool Lab Sport and The Wool Lab Denim return this season, with each of the popular books updated to include the latest innovations and technical fabrics.
Created in collaboration with the most innovative and quality-oriented spinners and weavers from across the world, The Wool Lab is an inspirational sourcing guide available for designers and brands to view.
The Wool Lab AW 19/20 Trend Update:
SCI-FI
A parallel reality in which the future is today where new technologies and the addiction to them begin to appear in the fashion world giving way to create a new paradoxical but realistic idea, such as that of changing the rules of classic men's clothing using the latest technological possibilities applied in technical, functional sports clothing.
This could destabilize the pillars of tailoring but in reality it is only the start of the mutation that will soon see a whole tuxedo not sewn with yarn but with ultrasound, thermos-welded, taping all as if it were a unique piece.
Materials 100% wool, wool/silk, wool/mohair, wool/cashmere, wool mixed with technical fibres for special techniques
Structures & Patterns Pinstripes, checks, flannel, Glen Check, Prince of Wales, twill
Colours Blue, beige, brown, grey, black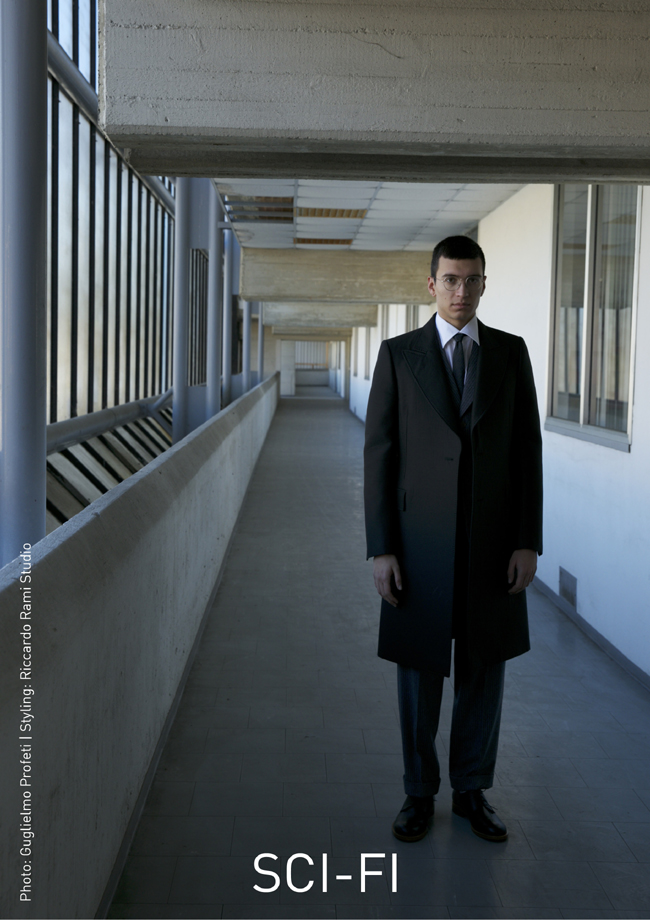 FUNCTIONAL
Functionally is the purpose, practicality is the rule, the vanguard is the mission. This theme is imprinted with technical and functional fabrics, straps, strings and hooks, very large pockets and automatic buttons, everything that is convenient for use.
Hoods, waterproof fabrics and shell backpacks. Elastic laces and pockets with visible zip to contain quantities of practical accessories.
All designed to have effectiveness (efficacy) but also thought to be contemporary, innovative and sophisticated at the same time.
Materials 100% wool, wool/polyester, wool/nylon, wool/cotton
Structures & Patterns Satin, plain, bonded
Jersey & Knitwear Links links, rib knit
Colours Military green, mustard, teal blue, orange, blue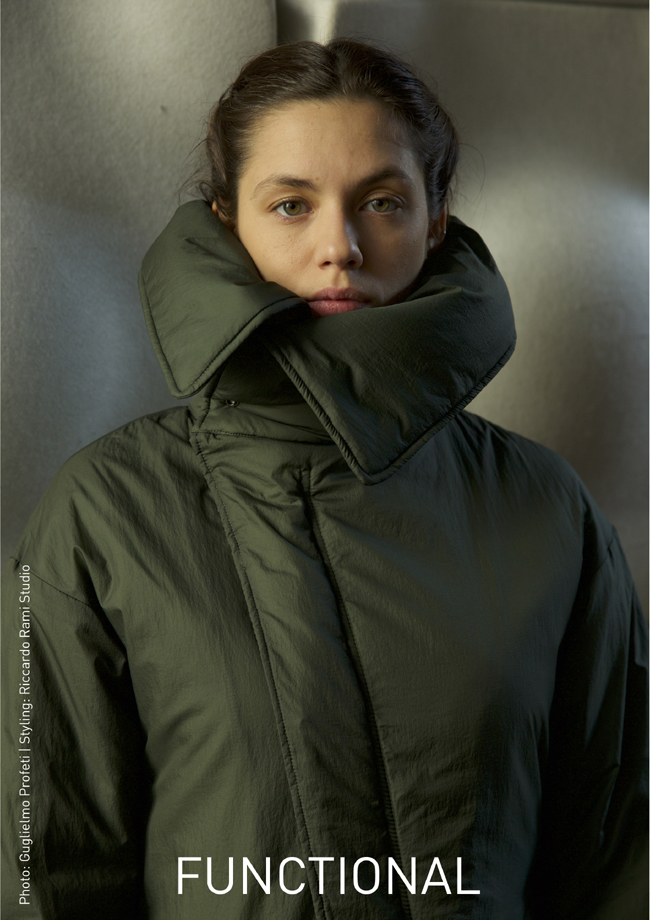 OFF-BEAT
Young rebel dreamers with a free lifestyle who are looking at things from different angles. They do not think about what to wear before going out, yet in their spontaneity they always put a touch of art. They are interested in literature, music, cinema and theatre...
Crumpled shirts and worn-out shoes, corduroy jackets that seems oldfashioned and scarves for men who have charm. Vintage shirts and patterns in dark colours, sweaters and overcoats…
All for a spontaneous and contemporary urban style approach. A clothing style that casts an invisible bridge that connects the past to the present with evident French '68 traits in a youthful and nostalgic atmosphere of past years.
Materials 100% wool, wool/cotton, wool/silk, wool/synthetic fibres
Structures & Patterns Classical revised, denim, plain, corduroy, prince of Wales
Jersey & Knitwear Fleece, chunky knit, jersey
Dyeing & Finishings Raw edge, coating, bonding
Colours Beige, denim, burnt brown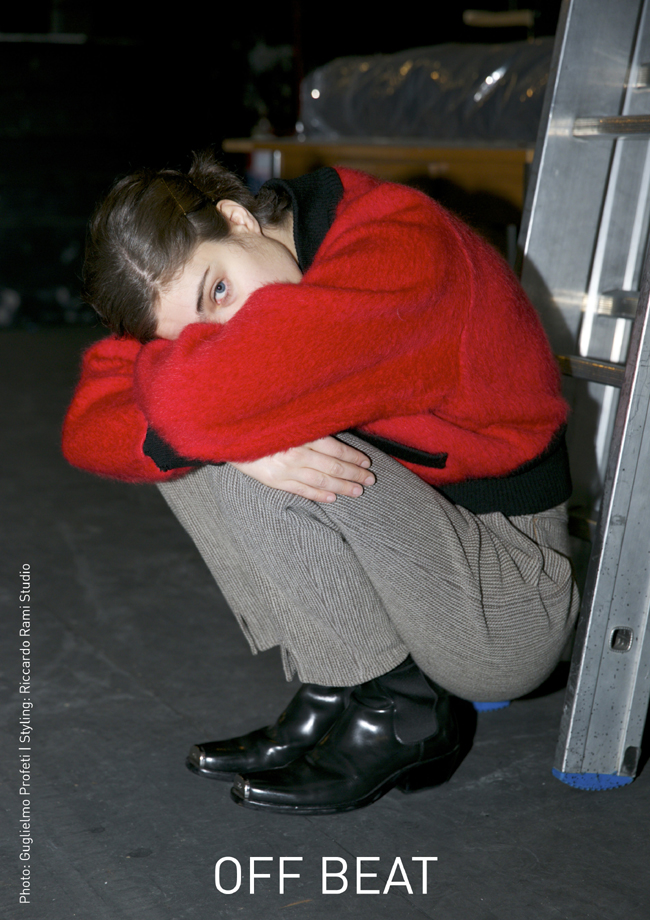 KNITTING SHADES
The thick weave of wool sweaters is the only protagonist of this winter theme. Vivid colour block, special and powerful yarns, geometric patterns are in evidence with turtleneck pullovers combined with large comfortable trousers or pleated skirts, soft cardigans and oversized jackets all strictly knitted.
English rib knit, jacquard, baktus and fringe: many shades of knitwear to overcome an intense winter with style, comfort and elegance.
Materials 100% wool, wool/angora, wool/cashmere, wool/silk, lambswool
Jersey & Knitwear Jacquard, rib knit, links, checks
Colours Neutrals, bright colours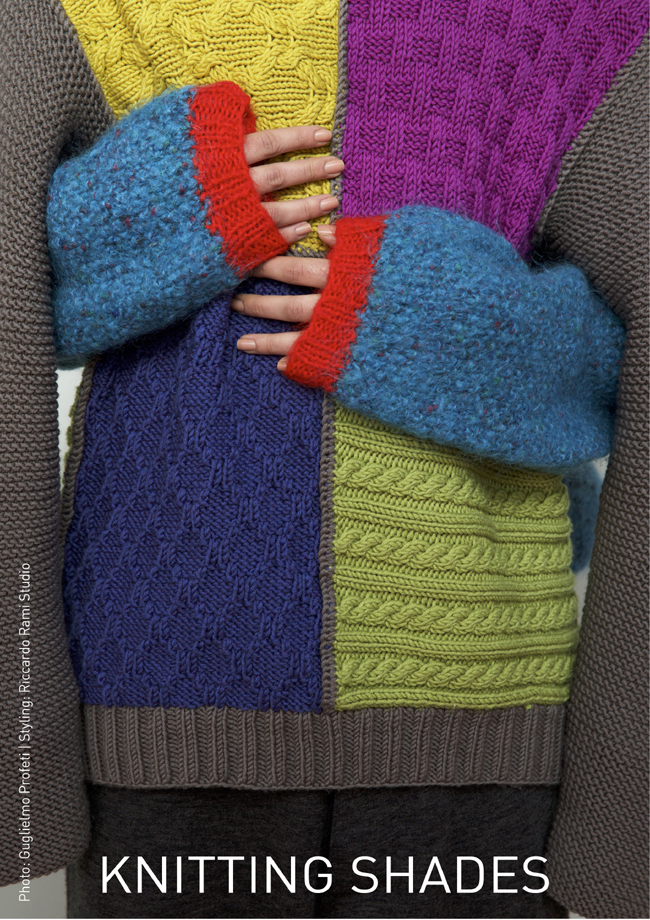 FLAGSTONE
Flagstone is the name of imaginary city where "Once Upon a Time in the West" is set; the spaghetti western charm is reinterpreted in a modern and more feminine key.
The woman steals clothing from the wardrobe of the bounty killers inspired by the great classics of the dollars trilogy. Riding fast in endless prairies, or through woods without a destination, bring to mind the atmosphere of the wild west. Hard hands and washed wool jacket, worn cotton/wool pants, a blend of ethnic ponchos is mixed in harmony. If you close your eyes you can also hear that carillon playing…
Materials 100% wool, wool/cotton, wool/synthetic fibres
Structures & Patterns Flannel, corduroy, checks, jacquard, ethnic patterns revised
Jersey & Knitwear Jacquard, Milan stitch
Colours Black, red, burnt brown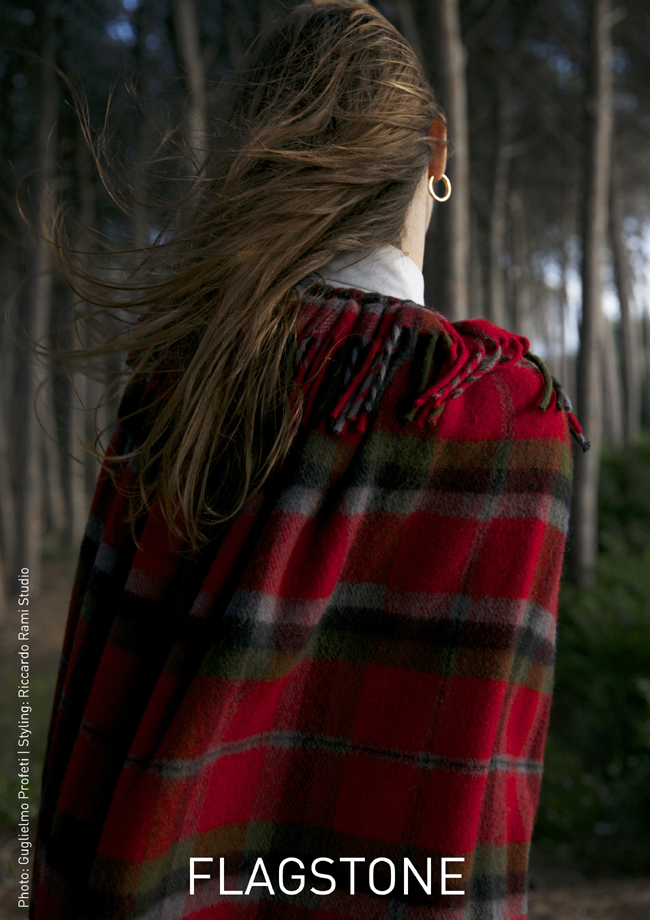 ANTARCTICA
Ernest Shackleton's Trans-Antarctica expedition of 1914-1917 was one of the most incredible adventure stories of all time. The intention was to cross the Antarctic continent from one coast to another across the South Pole. The expedition managed to survive the loss of their ship in the middle of the Antarctic ice pack at a time when there was no possibility of contact with the outside world, let alone be saved.
Remembering the expedition led by the legendary Captain, inspires us with a deep treasure of knowledge where technical garments are mixed with fake fur coats to give comfort in the most extreme weather conditions, soft and chunky wool knitwears help us remember how far we are from home… In a more recent mission of Admiral Byrd, in 1947, he wrote this note in his diary: "As the long night of the Antarctic ends, so the brilliant sun of truth will rise again, and those who belong to the darkness will perish in its light…"
Materials 100% wool, wool/cotton, wool/nylon, wool/polyester
Structures & Patterns Corduroy, velvets, twill, jacquard
Jersey & Knitwear Fleece, chunky knit, jersey
Colours Neutrals, smoky blue, almond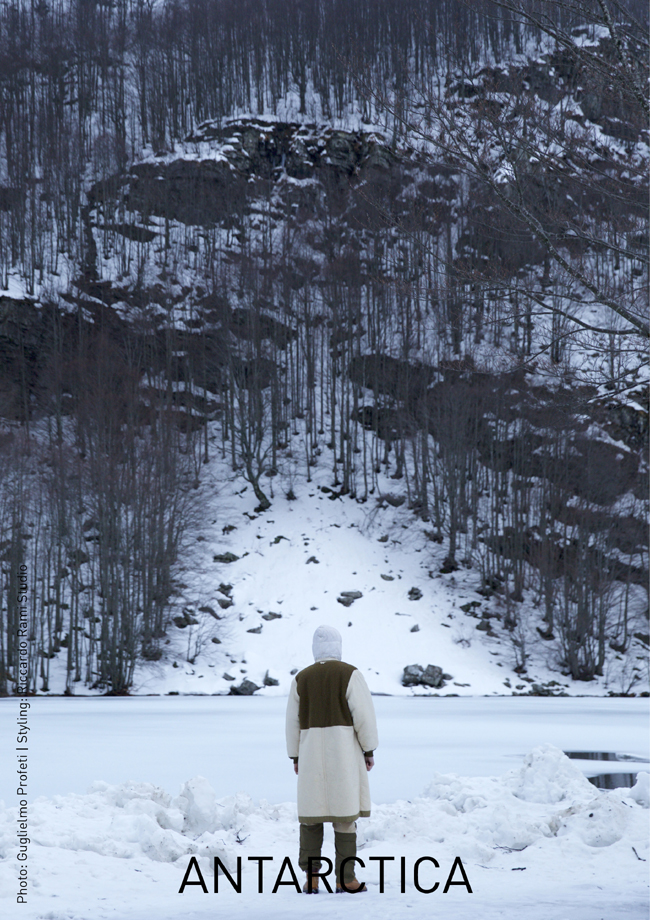 LAB - 3D
Today the concept of craftsmanship and digital are inextricably linked to each other and the use of 3D has become a 'literal' reference and inspiration that pushes in all directions, to become a point of reference and inspiration that influences the style.
We live in an era where we are rediscovering that it is possible to design and create customised products, fruit of a new thought. The Laboratory hosts the new generation of 'creators' that uses the Web's innovation model to design its vision and create it together with their manual skills using the new digital design technologies which give everyone the power and the freedom to invent. These are the new ideas that will animate our closest future.
Materials 100% Wool, wool/silk, wool/linen, wool/cotton
Techniques Handloom, sewing, cutting, bonding, needle punch
Colours Neutrals, accent colours
Topics Craftmanship, innovation, creativity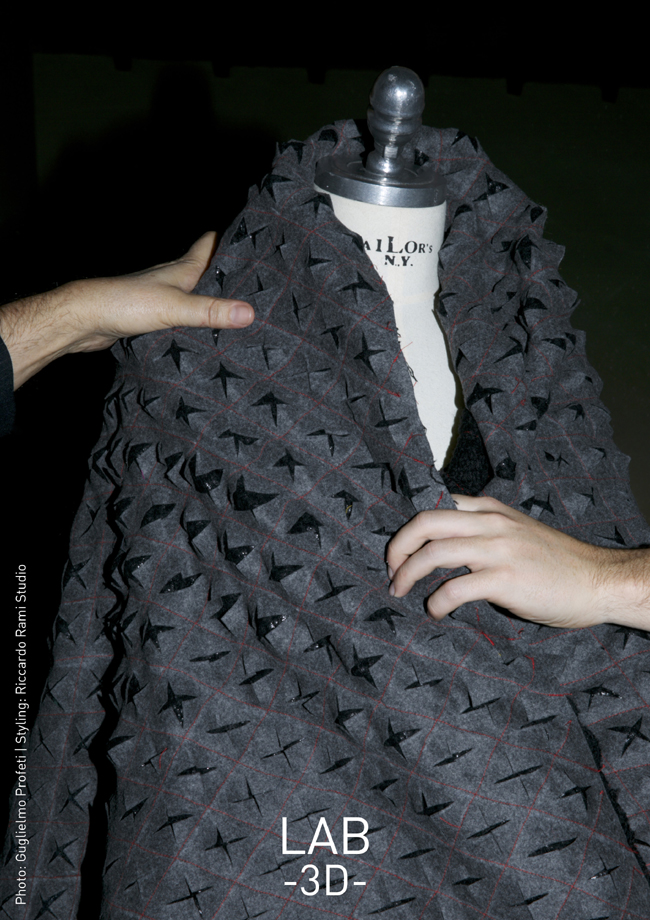 THE WOOL LAB SPORT
The Wool Lab Sport is the foundation for cutting-edge activewear and showcases the latest innovative, commercially available Merino wool fabrics and yarns, for a mix of both performance and athleisure apparel. It aims to inspire and inform the sports industry about the vast potential of Merino wool in this ever-growing market.
BASE- & MID-LAYER
Merino wool's ability to absorb moisture vapour and then transfer it away from the body is a fundamental feature for base-layers, ensuring the best possible micro-climate conditions between the wearer's skin and the garment. This works in harmony with mid-layer garments, whose key feature is to not only protect the wearer from cold or wet weather, but also breathe, preventing the body from feeling clammy and humid. Merino wool's natural crimp makes it the ideal fibre for creating comfortable insulating fabrics which are light in weight and soft against the skin. Wool has outstanding moisture buffering properties - a combination that cannot be duplicated by any other fibre.
Materials 100% wool, wool/technical fibres, wool/tencel, wool/viscose, wool/cashmere, wool/cotton, wool/nylon, elastane for more stretch features
Structures & Patterns Plain for shirting, checks, jersey, jacquard knitwear, ADF technologies.
Colours Neutrals, bright colours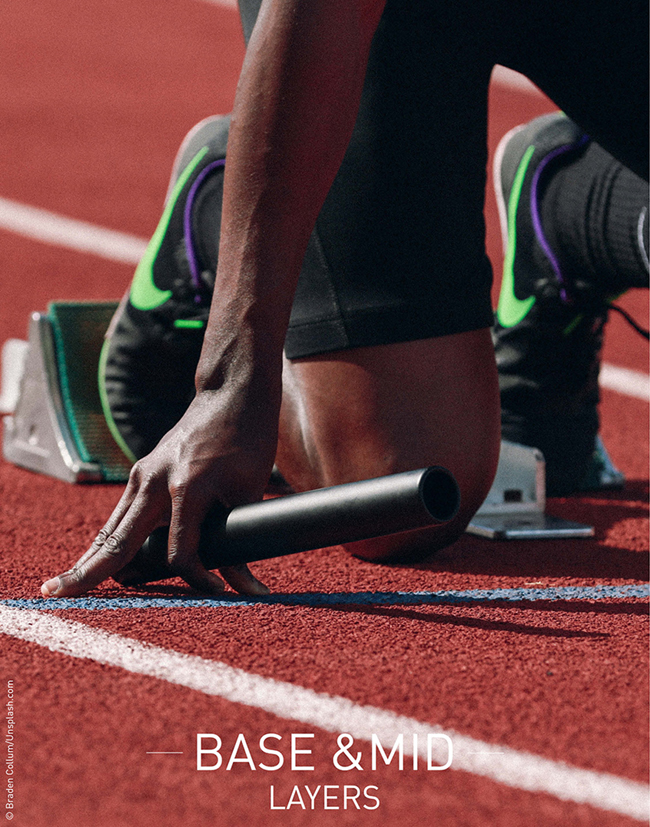 OUTER LAYERS & SPECIALS
The outer-layer comprises weather-protective fabrics which can be made from either 100% Australian Merino wool or Merino laminated as a lining to synthetic hard-shell fabrics, usually in combination with membranes or coatings.
The Specials section is an area for products such as footwear, where wool's natural breathability, elasticity and anti-odour benefits come to the fore.
Materials 100% wool, wool/technical fibres, wool/tencel, wool/viscose, wool/cashmere, wool/cotton Structures & Patterns Flannel, checks, twill, Panama.
Finishings Laminated, bonding,
Colours Neutrals, accent colours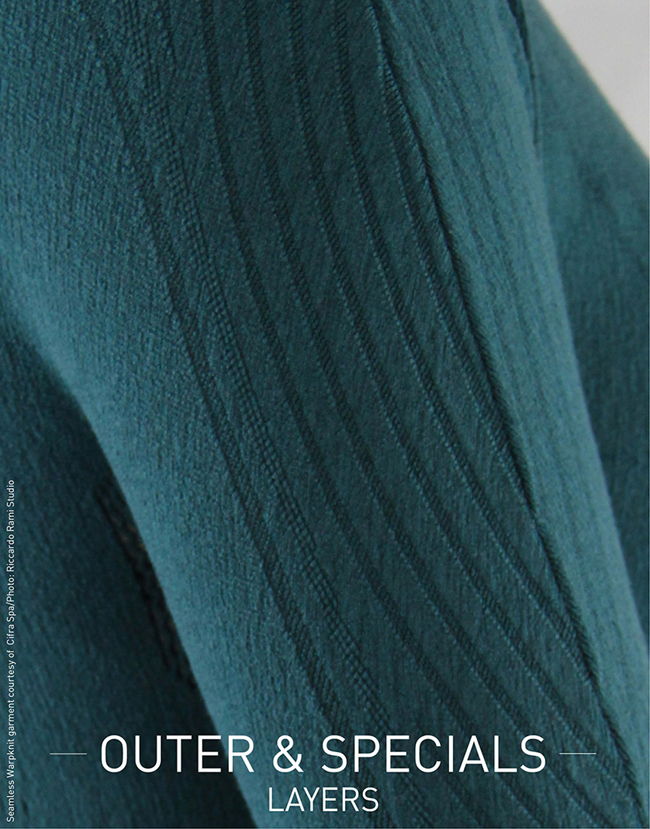 THE WOOL LAB DENIM
The Wool Lab Denim is a collection among the most beautiful wool and wool blend denim fabrics, collected from across the world. Wool Denim fabrics represent a new approach to improving the aesthetics of traditional denim and this trend is becoming very popular from casualwear to luxurywear.
Materials 100% wool, wool/cotton
Structures & Patterns Twill, plain, jacquards, poplin
Jersey & knitwear Fleece
Colours Indigo blue, black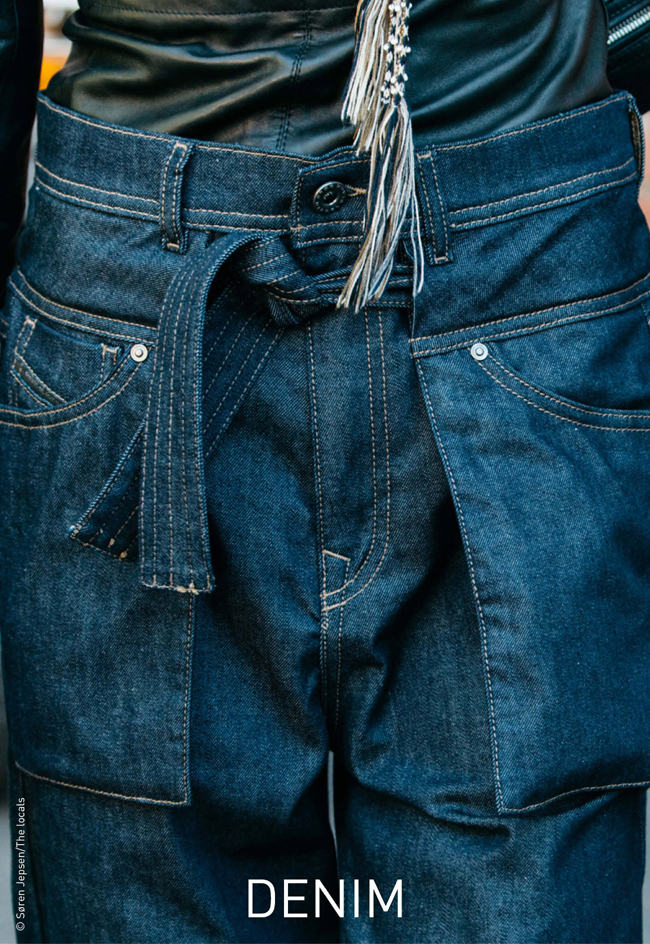 Hits: 11707 | Leave a comment