Première Vision Leather reveals Fall-Winter 2017/2018 fashion trends
* The next edition of the international Leather and Fur specialist show will be held September 13-15, 2016
in Paris, France
With more than 300 international exhibitors and an offer targeting the premium market, Première Vision Leather sets itself apart thanks to an extremely rigorous selection of exhibitors.
Creative materials, technically innovative components, bespoke services - the offer is designed to respond to the needs of all the leather and fur business sectors: apparel, accessories, leather goods, shoes, furnishings and decoration…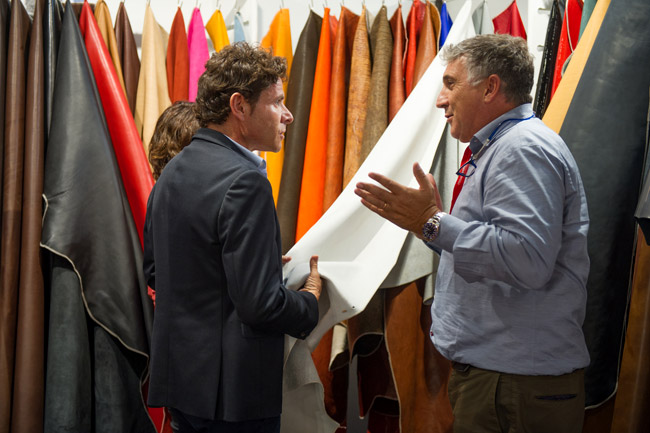 'This season, our penchant for metaphors will not lead us towards storytelling. It will not encourage our guilty tendency for poetic tangents. We have, at last, become reasonable and pragmatic, changing sides and opting for action. It is up to us to work behind the scenes in order to deny destiny, to escape from adversity, by heading off the beaten path. We have to make decisions, take actions, shake things up without offending anybody. We must work discreetly, in the background, to create a new timelessness. It is up to us to invent a new aesthetic. Five axioms with multiple interpretations illustrate this new horizon:

TAKE LIGHTLY
Play down or fluff up ideas, make them immaterial. Blow away the cobwebs, put clouds in bottles, sing in the rain. Create a transparent bubble, break the glass ceiling. Colours are barely there, then are swept away, rubbed with chalk by invisible beings, incorporeal ghosts. Shiny black outlines form the contours. Grey turned blue from the cold, frozen pastel green, delicately distilled pink, dusty beige. Elastic materials fold, stretch and grow rounder, become pearlised and are polished. Blurred surfaces, opaline transparencies, velvety perforations, satiny shine. The skin of a statue, the gelatinous transparency of an oyster. Frosty texture, talc-like texture, icy texture. Blurred contrasts, misty drawings.

TAKE THE WRONG WAY
Caress spines, raise hackles. Kick over the ants nest. Provoke, imagine in reverse, upset the light, shake the lines. Encourage imprudence, irritate annoy and make teeth grind. Get angry. Colours and materials are interactive bridges between mechanical industry and sophisticated design. The colours of city lights, flashing and aggressive. Colours of American Op Art, cybernetic colours, anodised colours. Stripy copper, iridescent white. Victims of collisions, materials are crumpled, pleated, stamped, incised. Shape memories. Hollow prints, 3D effects. Geometric articulations, origami, facetted surfaces. Random perforations, irregular cut-outs. Giant scales, two-tone grains. Thick hair, dishevelled furs.


TAKE ROOT
Accept coarseness, imperfection, non-domesticity. Seek the corrosion of materials caused by the elements. Take cuttings to make hybrids from archaeology and scientific research. Detect vibrations in the space-time to propel our roots a billion light years away. Tender or wild colours, of soil and primary materials. Raw, earthy and delicate colours. Emotive pink, hammered copper, tender green. Materials abandoned in the environment have been subjected to the outrages of time. Eroded, battered, excavated, worn, over-wrinkled surfaces. Materials are waterlogged, covered by alluvium or dried out by the wind. Compacted, oxidised materials. Cosmic sediments, craters. Sodden frieze, pasted concrete, debarked wood, composite resin. Undyed vegetable-tanned leather, over-washed buffalo. Enveloping furs.



TAKE PLEASURE
Sweet street, sweet art. The era of nasty graffiti artists is over, revolutionary slogans are finished, long live the knitting revolution! Everyone does what they like and goes out into the city. We practice 'yarn bombing' to install crocheted works of art on barricades, we play table-football in railway stations and piano while we're waiting for the bus. We fill cracks in the concrete with pieces of Lego. Artists have also adopted this innocent vein, rediscovering the sense of touch by working with materials in 3D. Desirable, appetising, comforting colours. Colours of candies, of regressive cakes. The pink of Turkish delight, the brick red of quince jelly, sugary white, honey yellow. Every day, reassuring and modest materials. A desire for soft, woolly, furry textures. Round and foamy consistencies, plump grains. Felted appearances, marled wool, long combed hair. Bubble lamb, alpaca leather.


TAKE (TOO) SERIOUSLY
We embellish, we exaggerate, to build an iconic legend. We fall in love with mythical muses of inspirational narcissism. Hyper-customisation, theatrical demonstration and spectacular ambiguity are back. Between David Bowie and Rei Kawakubo, the eccentric, the indomitable, flaunt and show off. Profound and lyrical demonstrative colours. Ecclesiastical reds and purples. Green and pink of gemstones and the Italian Renaissance, obscure brown. Pink gold, elaborate gold, platinum, stamped copper. Materials are spectacular and are exaggeratedly perfect. Buffed and lacquered materials. Crushed grains, moiré suedes, iridescent lacquers, shaded lacquers, enhanced exotics, unreasonable furs. Suede appearances: Pannes, dévorés... hangings, theatre curtains. Drape leather, heavy nappa. Dreadlock furs, astrakhan, shiny fur. Carpet patterns, stencilled flowers. Pleated gold, mosaic, grains enhanced with specks of gold. Meticulous patinas'.


Source: premierevision.com


Hits: 5772 | Leave a comment