Johnny Depp Style - a combination of Captain Jack Sparrow and a Rock musician
John Christopher 'Johnny' Depp II is an American actor, producer, and musician, born in Owensboro, Kentucky, USA, in 1963.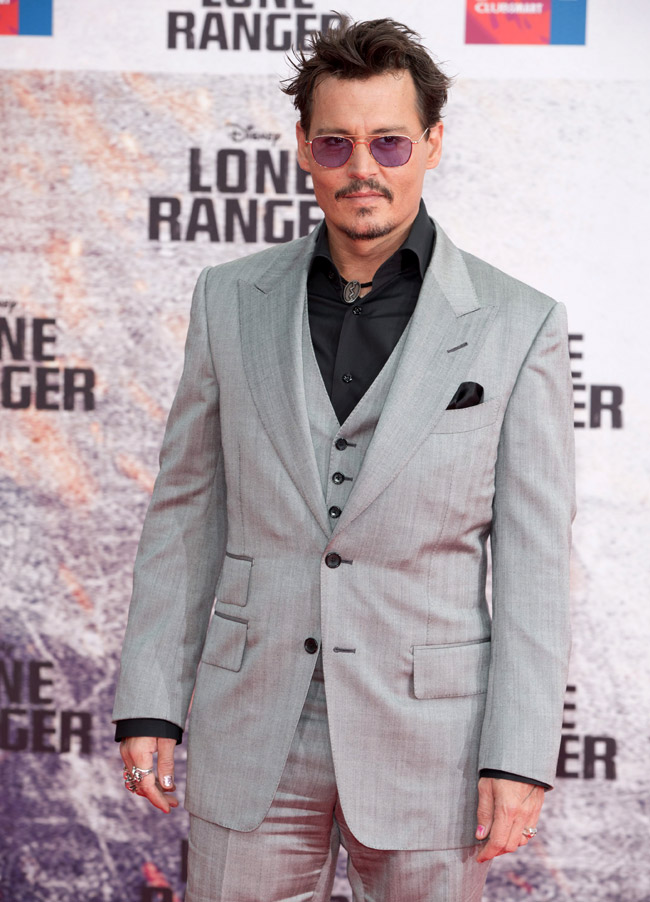 Johnny Depp attends the premiere of `The Lone Ranger`, Berlin, Germany, 19 July 2013
At the age of twelve he received a guitar as a gift from his mother and began playing in various garage bands. His first major TV breakthrough came with Fox television series 21 Jump Street, which premiered in 1987. The production's success turned Depp into a popular teen idol during the late 1980s.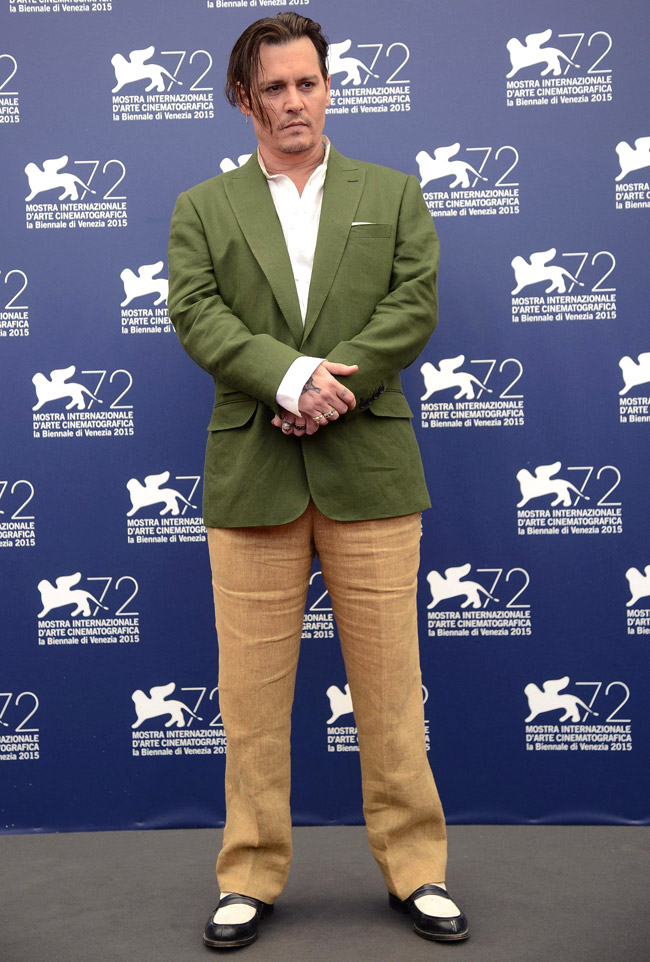 Johnny Depp poses during a photocall of `Black Mass` at the 72nd annual Venice International Film Festival,
Venice, Italy, September 2015
Among his most remarkable roles are those in Edward Scissorhands (1990), Donnie Brasco (1997), Sleepy Hollow (1999), Pirates of the Caribbean: The Curse of the Black Pearl (2003) and its sequels, Finding Neverland (2004), Charlie and the Chocolate Factory (2005) and Alice in Wonderland (2010) to name a few.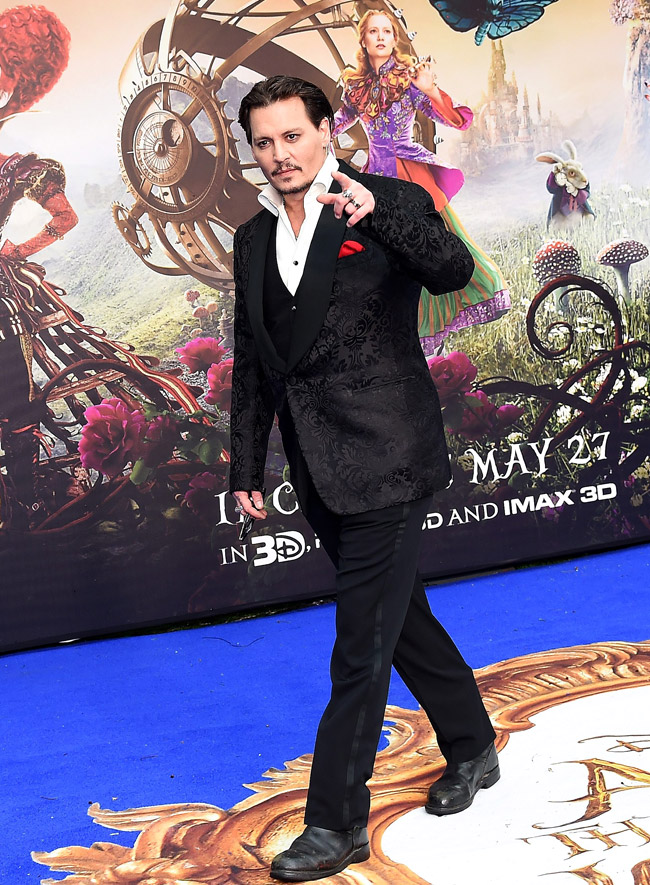 Johnny Depp arrives for the European premiere of `Alice Through The Looking Glass`,
London, UK, May 2016
Johnny Depp is regarded as 'one of the world's biggest film stars'. Movies featuring Depp have grossed over $3.1 billion at the United States box office and over $7.6 billion worldwide - $3 billion of them from the Pirates of the Caribbean films.
In 2015, Depp formed a supergroup with Alice Cooper and Joe Perry called Hollywood Vampires. They released their self-titled debut studio album on September 11 featuring eleven classic rock covers, two new songs (written primarily by Depp), and a narrative introduction by the late Christopher Lee.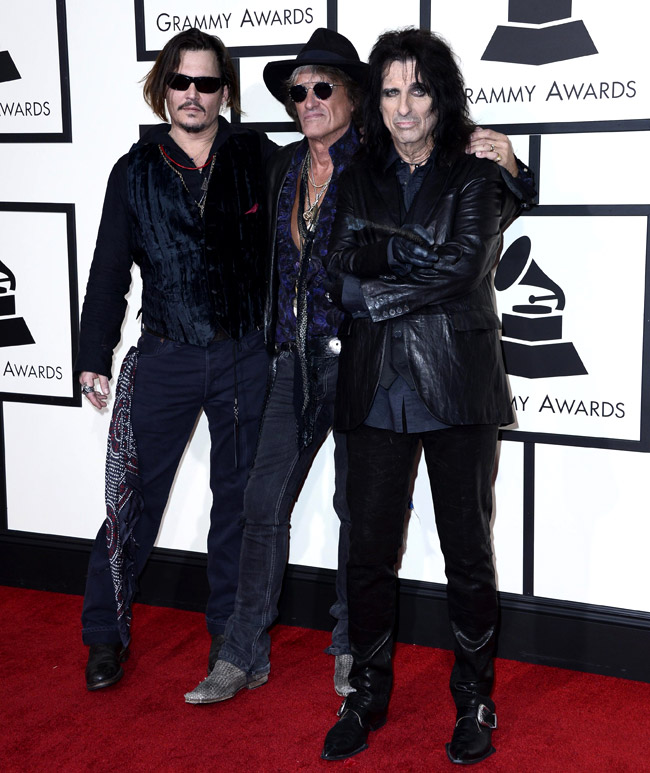 (L-R) Johnny Depp, Joe Perry and Alice Cooper of music group The Hollywood Vampires arrive for
the 58th annual Grammy Awards ceremony, Los Angeles, California, USA, February 2016
Johnny Depp has three nominations for Academy Award for Best Actor and won the Golden Globe Award for Best Actor - Motion Picture Musical or Comedy for Sweeney Todd: The Demon Barber of Fleet Street and the Screen Actors Guild Award for Outstanding Performance by a Male Actor in a Leading Role for Pirates of the Caribbean: The Curse of the Black Pearl.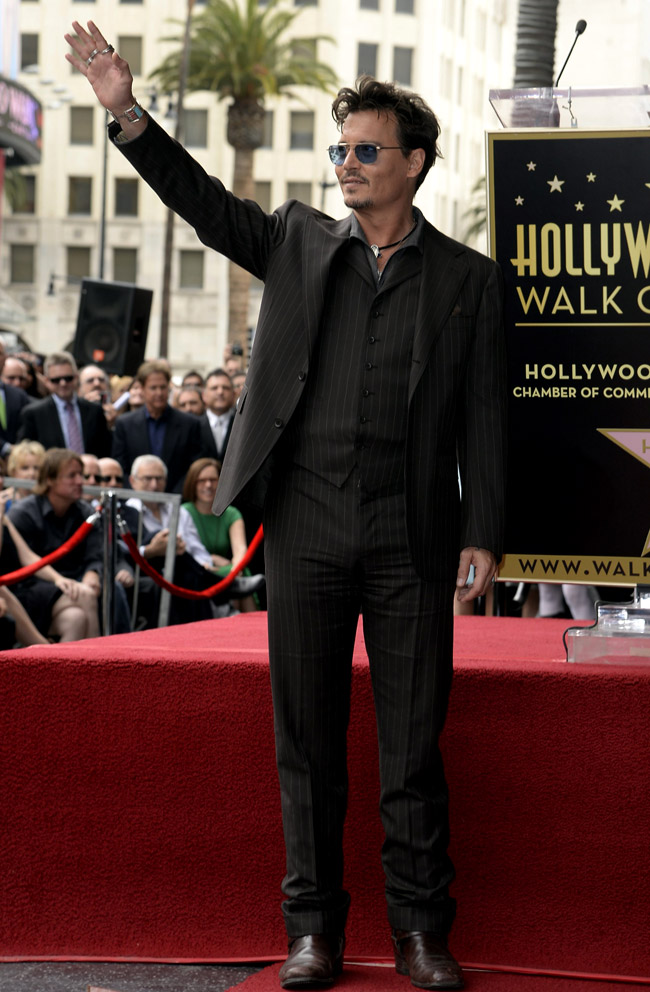 Johnny Depp waves to fans during a star ceremony for US producer Jerry Bruckheimer on the
Hollywood Walk of Fame, California, USA, June 2013
His style is influenced by his rock passion and Johnny usually wears loose pants, even as a part of formal three-piece sets, which are combined with a number of accessories - chains, necklaces and rings. Depp is not a big fan of ties and prefers classic menswear colors like black, navy and gray.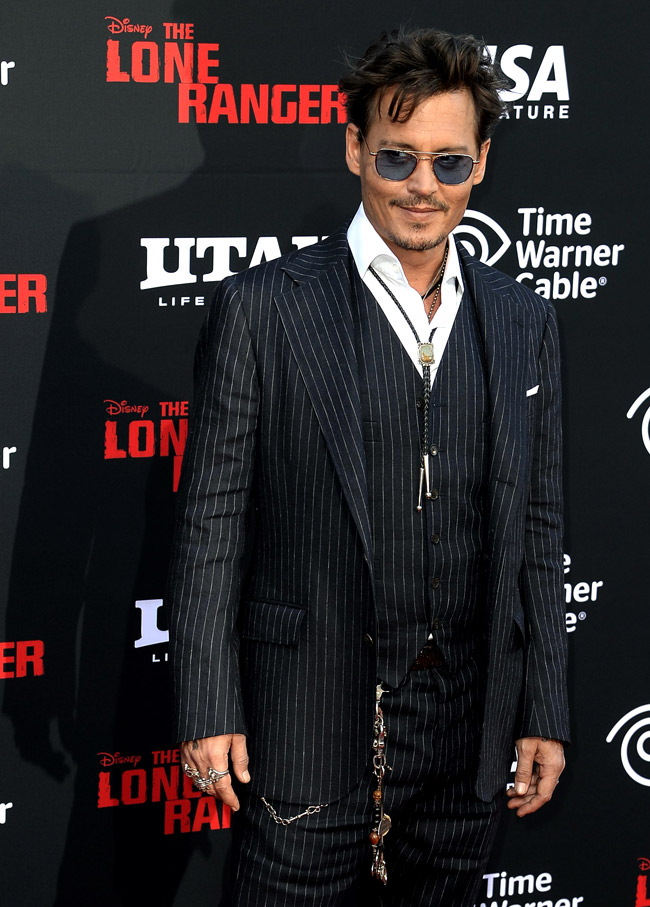 Johnny Depp arrives for `The Lone Ranger` premiere at Disneyland,
Anaheim, California, USA, June 2013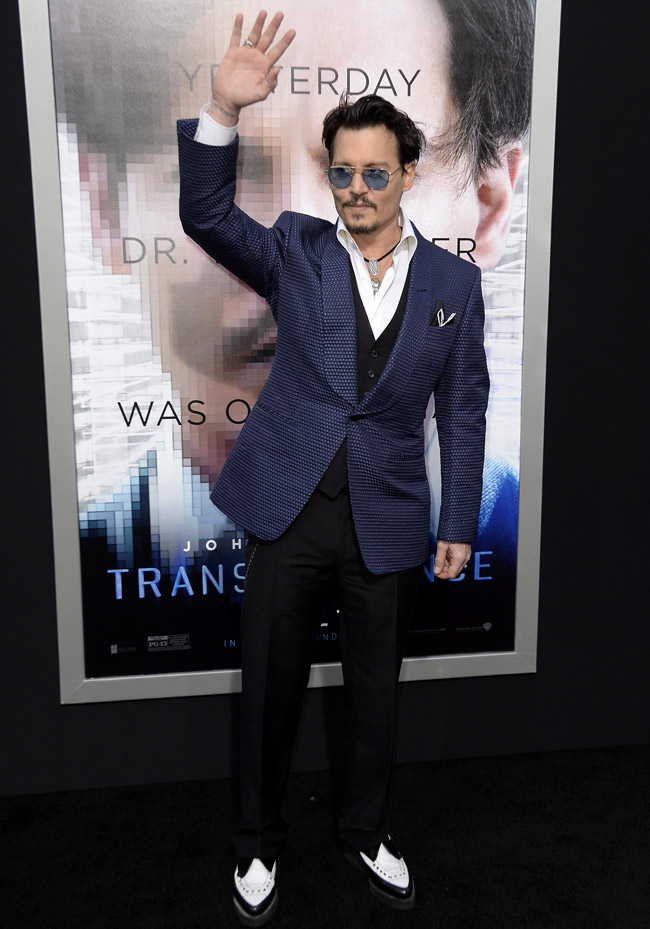 Johnny Depp poses at the premiere of `Transcendence`,
Westwood, California, USA, April 2014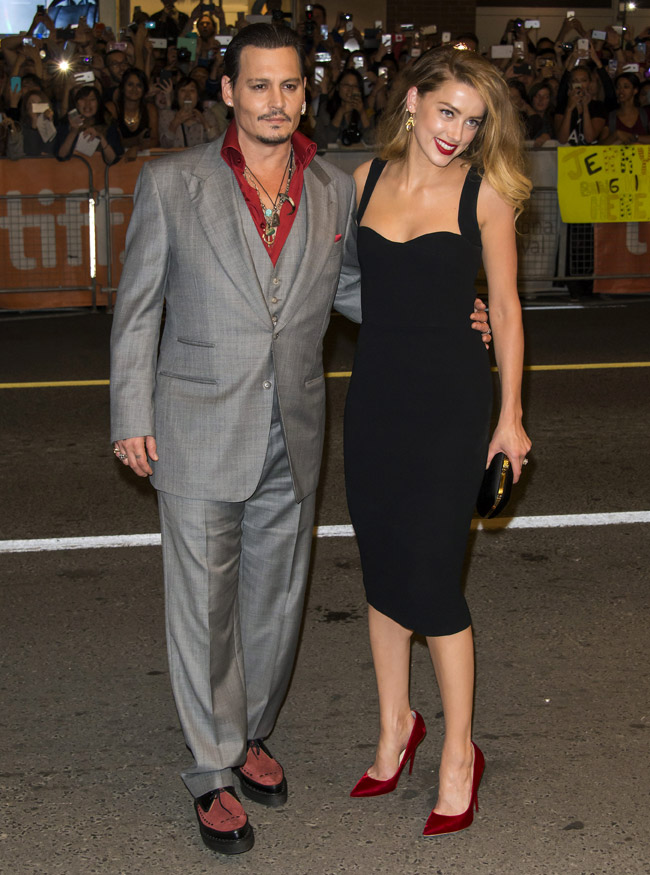 Johnny Depp and his wife Amanda Heard arrive for the screening of the movie `Black Mass`,
Toronto, Canada, September 2015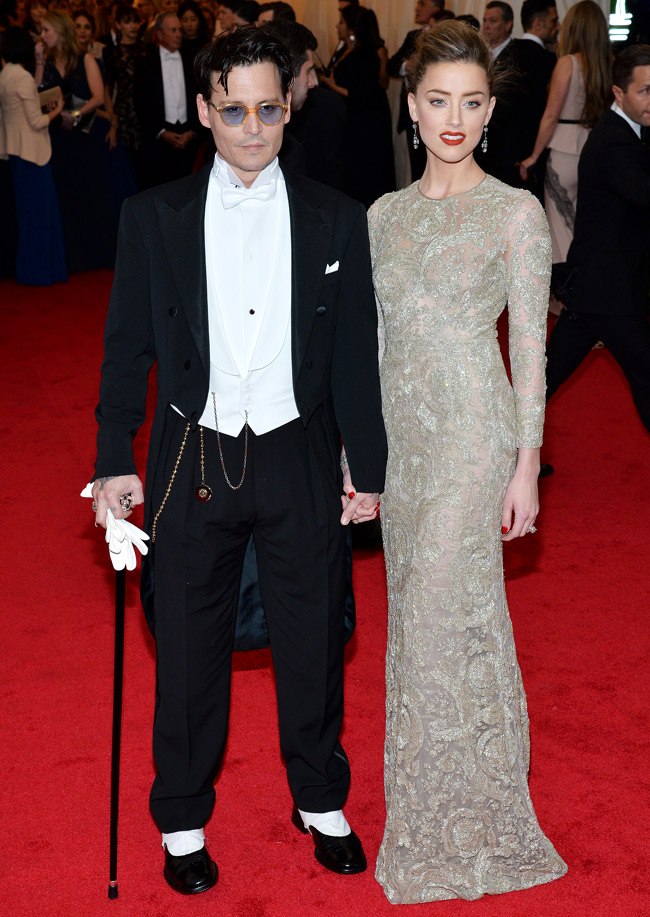 Johnny Depp and his wife Amanda Heard arrive for the 2014 Anna Wintour Costume Center Gala,
New York, USA, May 2014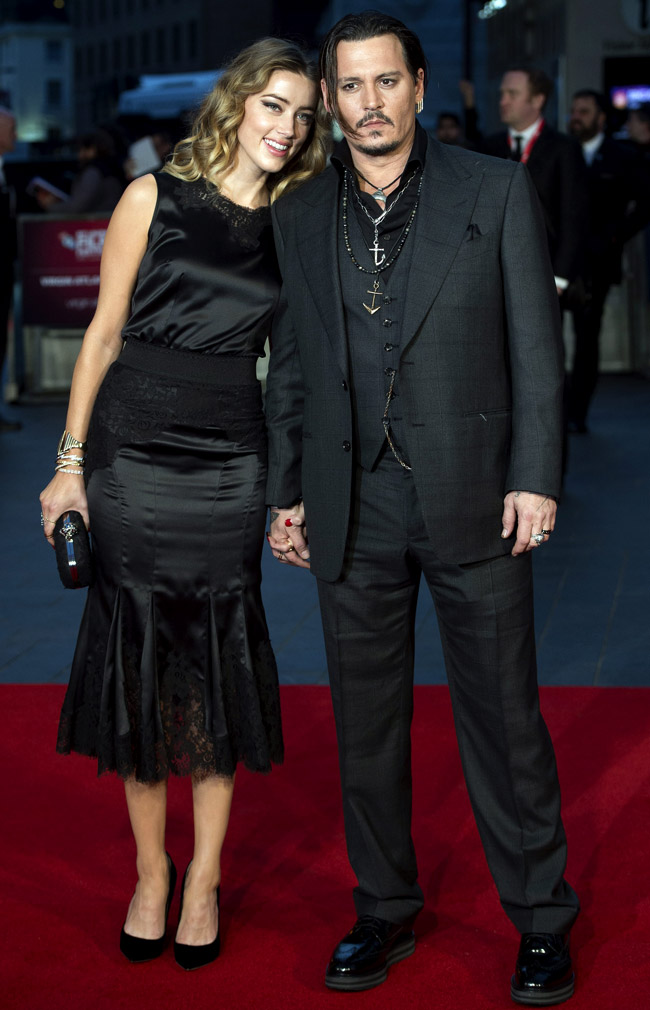 Johnny Depp and his wife Amanda Heard arrive for the premiere of `Black Mass`,
London, UK, October 2015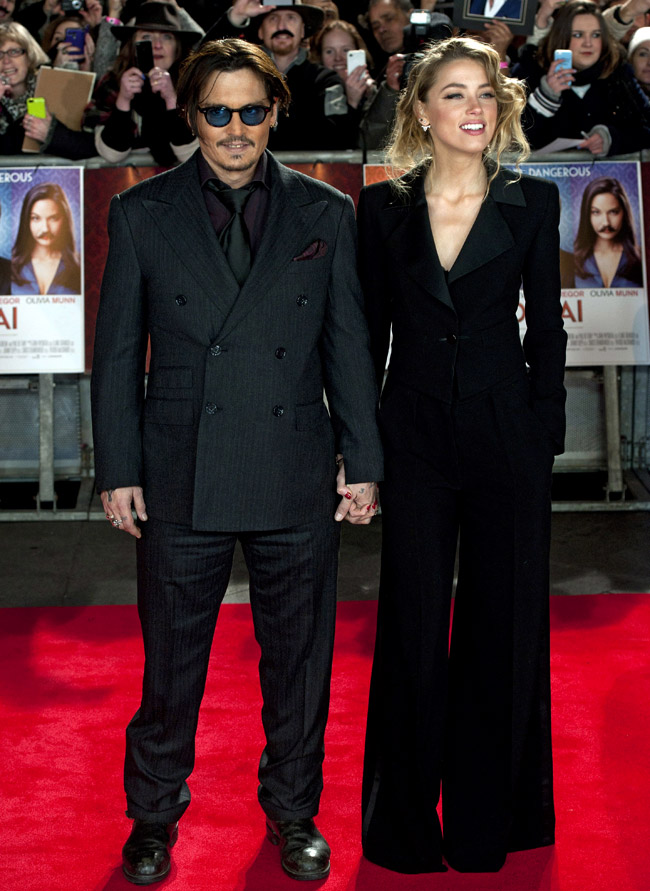 Johnny Depp and his wife Amanda Heard arrive for the UK Premiere of `Mortdecai`,
London, UK, January 2015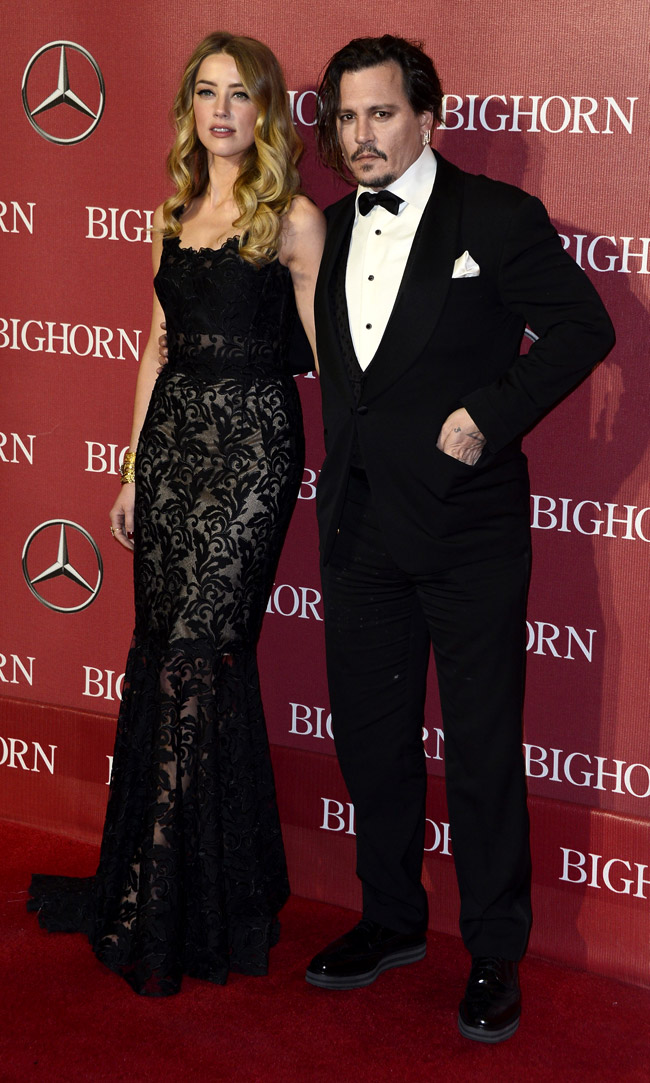 Johnny Depp and his wife Amanda Heard arrive for the 27th Palm Springs International Film Festival,
Palm Springs, California, USA, January 2016



If you like his acting and appearance support Johnny Depp in BGFN readers' Most Stylish Men voting.

Photos: © EPA


Hits: 21550 | Leave a comment