Mick Jagger at 72 - expecting eighth child and most stylish than ever
Sir Michael Philip 'Mick' Jagger is an English singer, songwriter, and actor, best known as the lead singer and a co-founder of The Rolling Stones. He was born on July 26, 1943, in Kent, England.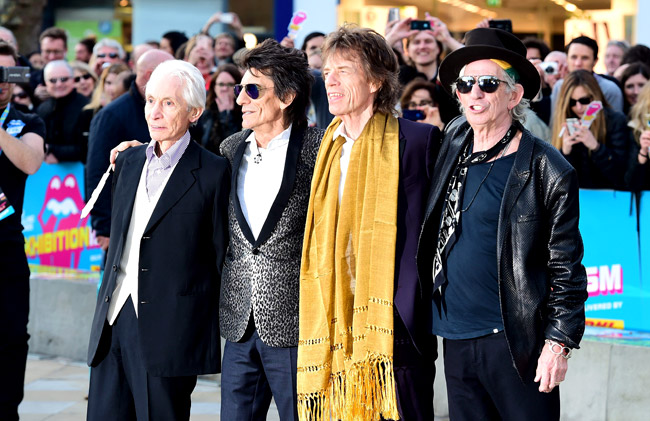 (L-R) Charlie Watts, Ronnie Wood, Mick Jagger and Keith Richards of The Rolling Stones arrive for
the opening night gala for Exhibitionism: The Rolling Stones exhibition, London, UK, April 2016

Mick Jagger has been described as 'one of the most popular and influential frontmen in the history of Rock & Roll' for his 50+ years on stage.
In the late 1960s, Jagger began acting in films, too.
In 2003, the musician was knighted for his services to popular music and in 2004 was inducted into the UK Music Hall of Fame with the Rolling Stones.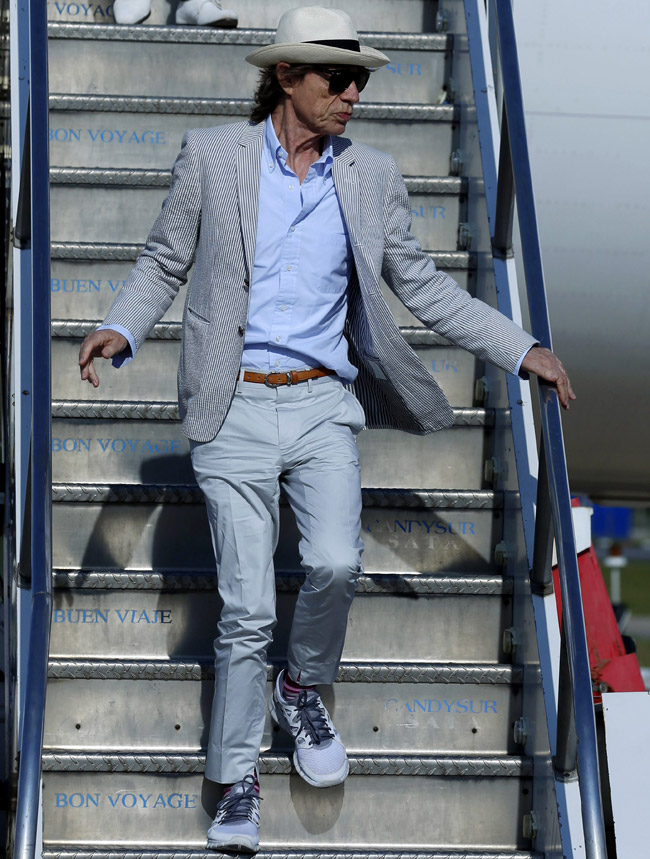 Mick Jagger disembarks from an airplane in Montevideo, Uruguay, February 2016

It was confirmed today that at the age of 72 (almost 73), Sir Mich Jagger is expecting his eighth child together with his 29-year-old girlfriend, American ballerina Melanie Hamrick. Jagger has seven elder children - Karis, Jade, Elizabeth, James, Georgia, Gabriel and Lucas - whose ages range from 45 to 17. He has five grandchildren and became a great-grandfather in May 2014 when Jade's daughter Assisi gave birth to a baby girl. Congratulations!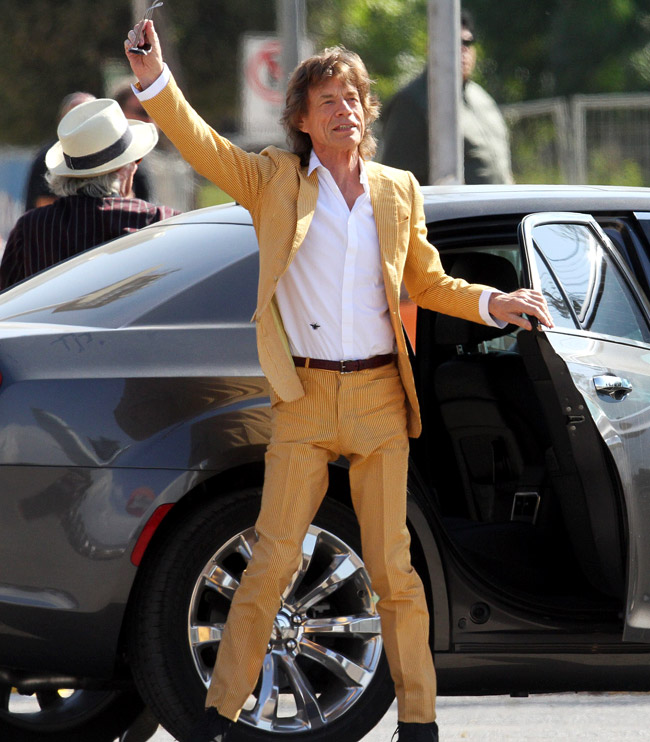 Mick Jagger arrives at the National stadium in Santiago de Chile, Chile, February 2016

For his stage performances Sir Jagger usually chose skinny black jeans paired with a colorful shirt and patterned - often sparkly - suit jacket. While for Red carpet and public appearances, he prefers monochromatic suits in bright colors with clean cut, worn tie-free.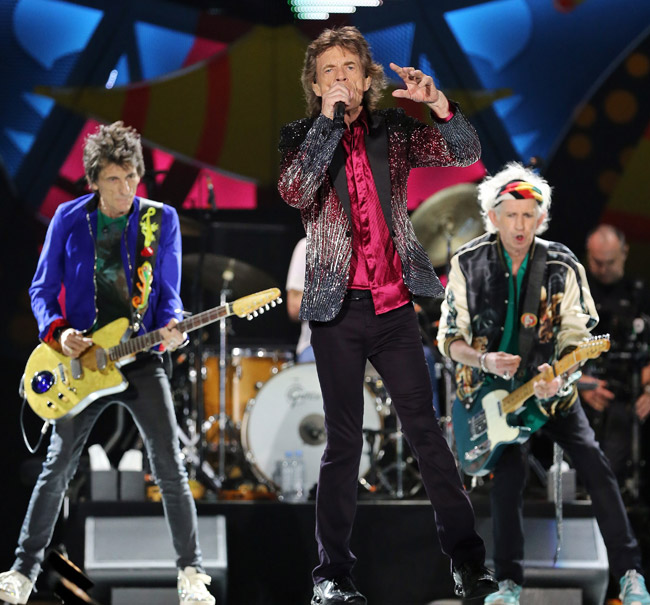 (L-R) Ronnie Wood, Mick Jagger and Keith Richards of The Rolling Stones perform during a free concert,
Havana, Cuba, March 2016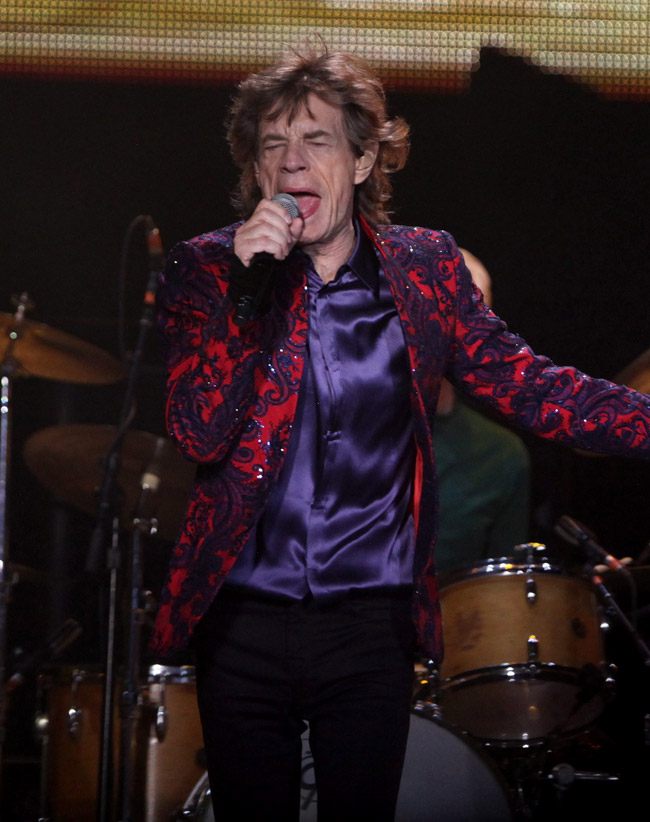 Mick Jagger performs during a concert in Mexico City, Mexico, March 2016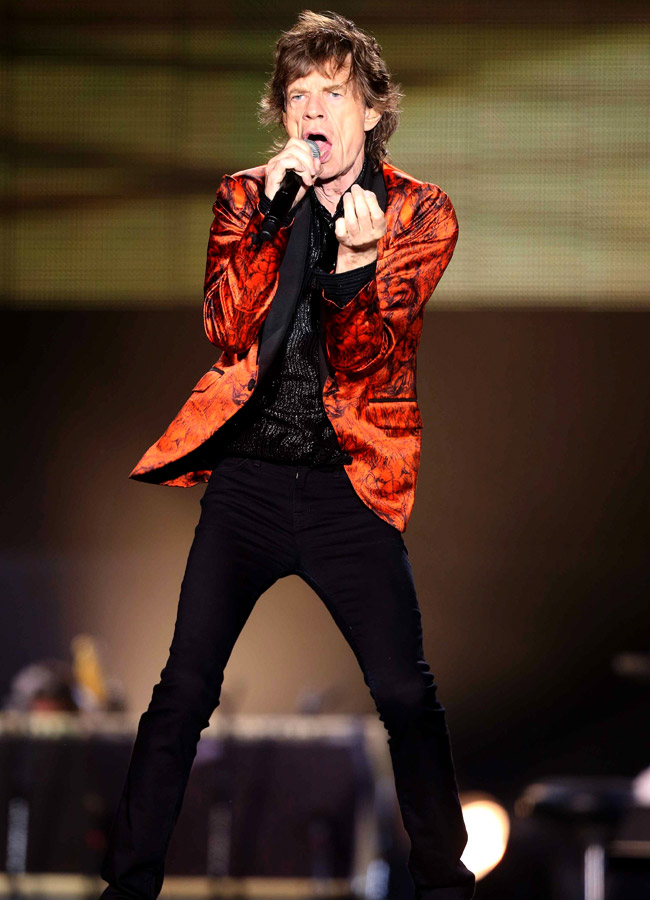 Mick Jagger performs during a concert in Lima, Peru, March 2016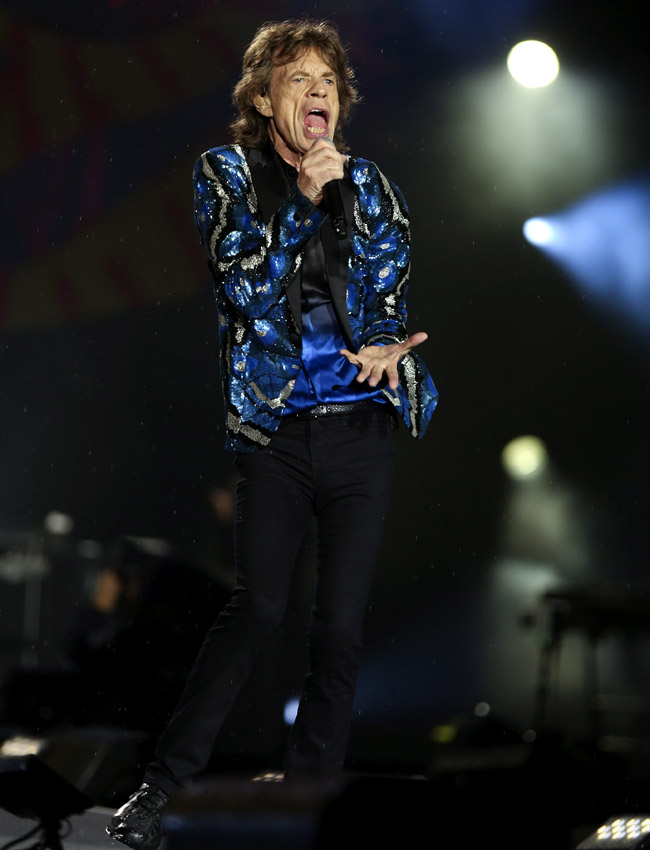 Mick Jagger performs during a concert in Sao Paulo, Brazil, February 2016

Mick Jagger performs during a concert in Santiago de Chile, Chile, February 2016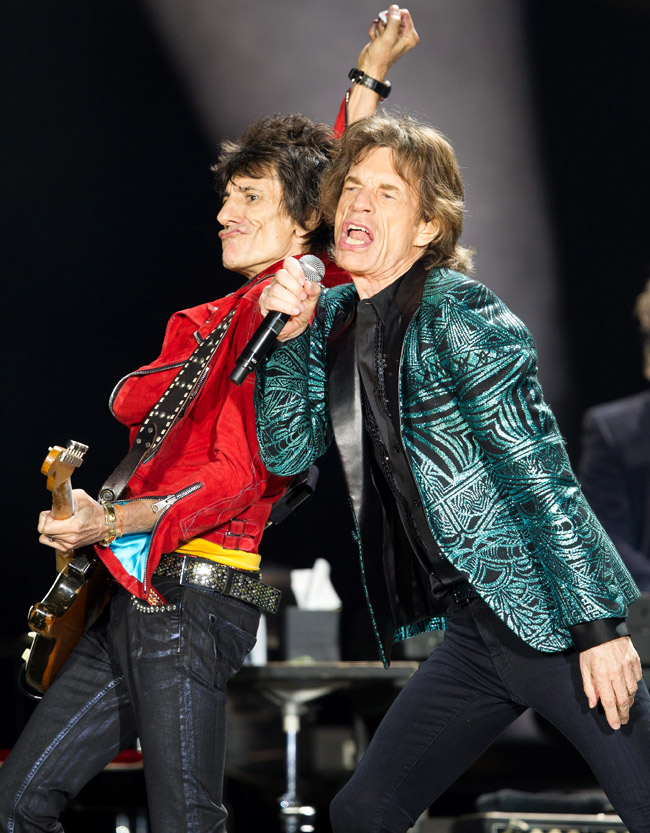 Ronnie Wood (L) and Mick Jagger perform in Adelaide, Australia, October 2014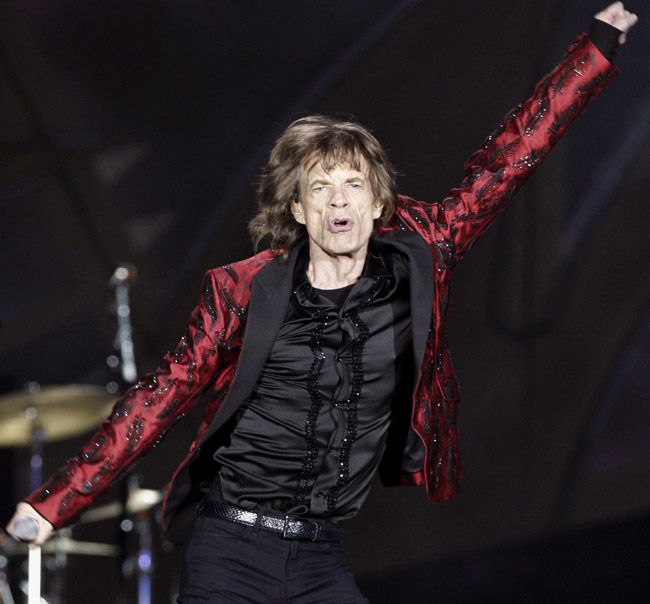 Mick Jagger performs during a concert in Madrid, Spain, June 2014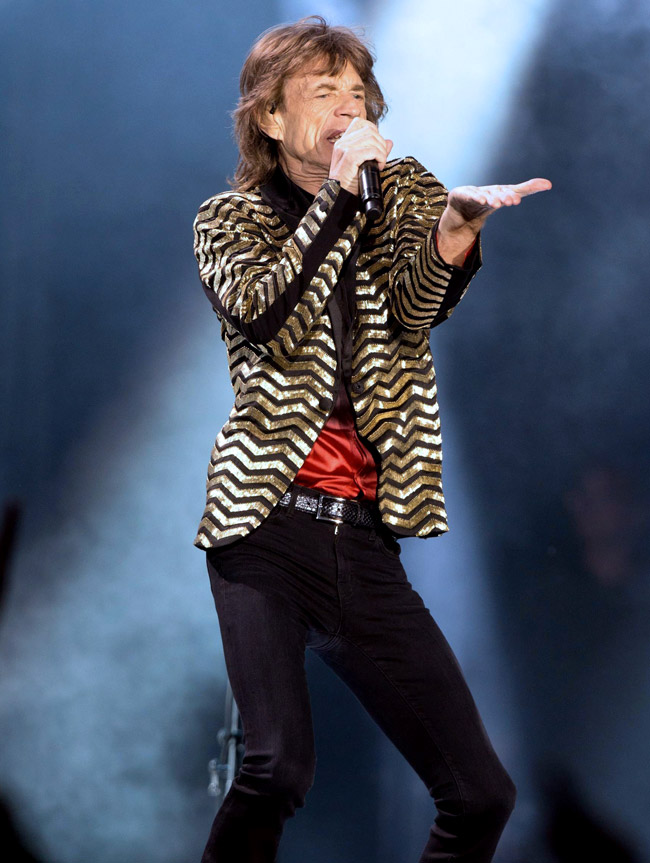 Mick Jagger performs at the Circus Maximus venue in Rome, Italy, June 2014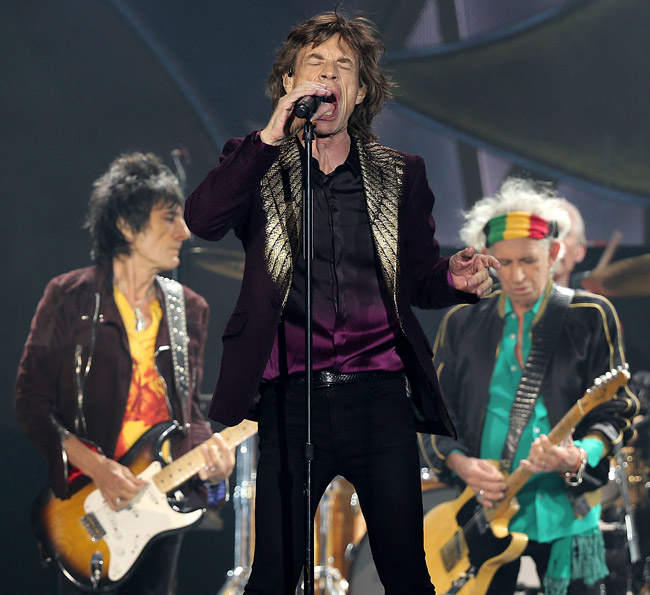 Mick Jagger (C), Ron Wood (L) and Keith Richards (R) of The Rolling Stones perform during a concert,
Duesseldorf, Germany, June 2014

Mick Jagger performs during a concert in Tel Aviv, Israel, June 2014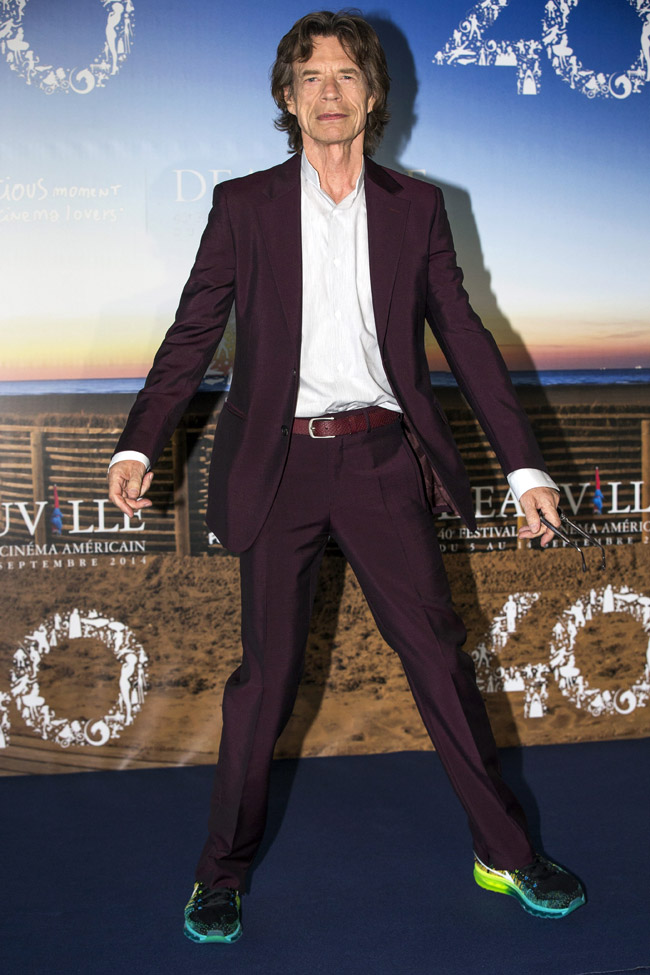 Mick Jagger posing at a photocall for 'Get on Up' during the 40th annual Deauville American Film Festival,
Deauville, France, September 2014

If you like his style and singing vote for Sir Mick Jagger in BGFN readers' voting for
Most Stylish Men.

Photos: © EPA


Hits: 9287 | Leave a comment