Men's Fashion Basics Tips by T.M Lewin - Tailoring a suit
T.M Lewin is a UK based menswear brand, founded in 1898. Today the label has just under 100 stores in the UK, with new stores opening in countries across the rest of the world, including Europe, Singapore and Australia.
'Every T.M.Lewin suit is spun from the finest quality fabrics. Our range caters for every sartorial style - from traditionally British to the more contemporary - and is complemented by an extensive range of knitwear, outerwear and essential accessories', says brand's statement.
And what are their expert advice when tailoring a men's suit?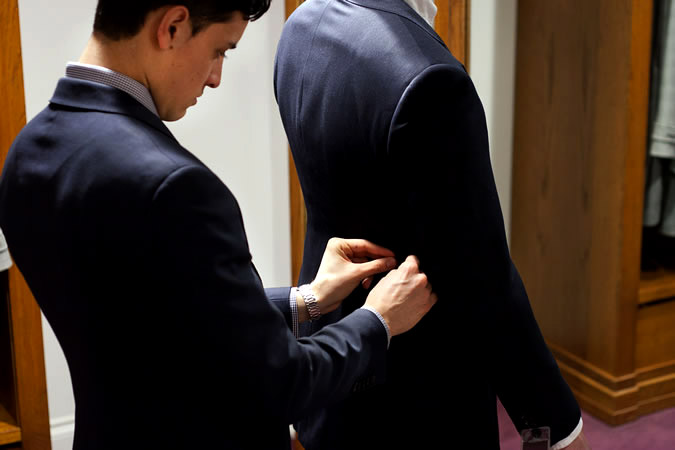 Step 1: Before You Start
Before you even consider heading to a tailor, you need to make sure that you at least get a few things right concerning the fit of your suit.
The jacket should fit you in the shoulder: it should hug your shoulders and encourage you to hold yourself upright. You should not be able to do an over arm throw comfortably in your jacket but you should be able to raise your arms. For example, I'm a 41'' chest in suit jackets but if I find myself in between sizes I opt for a 40'' to be on the safe side.
Furthermore, make sure that the trousers fit you in the thigh rather than at the waist. A tailor really won't be able to help you in this department if they are too tight as there is no more extra material available to widen the trouser and stop it looking like they're about to explode when you sit down. Don't worry if the waist size is too big, the tailor can take it in easily.

Step 2: Getting A Suit Tailored
The most common alteration a guy should be having done to his jacket is getting it taken in at the sides. This helps to create or emphasise the effect of broad shoulders and a slim waist (the highly desirable 'V' silhouette), which is then mirrored by the shape of the lapels. It's an easy alteration and really makes the world of difference.

You can read the full article here What tailoring a suit can do for you

Photos: T.M.Lewin


Hits: 7287 | Leave a comment