Atelier Umbrella costs 8 000 dollars
Тhe Atelier Umbrella from visvim's 2015 Autumn/Winter collection costs exactly $8,000. Hiroki Nakamura, founder of Japan-based visvim, has designed the Atelier Umbrella, which is result of six months of craftsmanship in Paris using carefully sourced materials.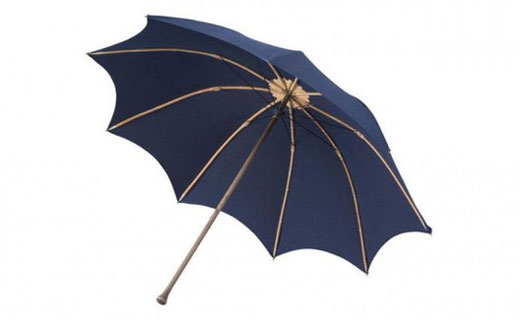 It notes construction from beechwood, fish oil tanned goat leather, brass tipped rattan and skein-dyed cotton.
This overvalued accessory holds true to the ethos of visvim: craftsmanship, quality, and material over quantity and affordability to the masses.
About visvim:
More than a single style, visvim embodies a singleminded methodology. Since its foundation in 2000 by designer Hiroki Nakamura, visvim has been an ongoing exercise in the pursuit of joy and timeless beauty through the discovery and creation of footwear and clothing products.

This pursuit has manifested itself in different forms - Gore-Tex outerwear, natural indigo-dyed kimonos, Native American-inspired sneakers - but the driving force behind each product has stayed the same.

Along this journey it has often been necessary to look back in order to progress forward, which just might be the truest way to articulate the visvim concept.

visvim is a journey to find happiness through creation, and the products and collections that are born each season are our most honest attempts at reaching towards that goal.


Hits: 2 | Leave a comment