Men's fashion events calendar for 2015
As gentlemen get more and more rigorous about their wardrobe, many of the world's fashion capitals dedicate Fashion weeks especially to menswear. They are held twice a year: in January (presenting the Autumn/Winter collections) and in June (presenting the Spring/Summer collections for the next year). Many fashion fairs and trade shows also have sections, dedicated to men's fashion.

The schedule for 2015 includes:
FASHION WEEKS:

Singapore Fashion Week
Ppreviously called the Audi Fashion Festival, Singapore FW gives local designers international exposure and access to CFDA's (Council of Fashion Designers of America) business expertise. It will be held at the Tent@Orchard, Ngee Ann City.
May 13-17, 2015 - a day or two will be dedicated to men's shows for the Spring-Summer 2016 season

London Collections: Men / www.londoncollections.co.uk
LC: M is a biannual showcase that takes place every January and June and celebrates the creative and commercial importance of the British menswear industry.
Spring-Summer 2016 dates:
June, 12-15, 2015, London, UK

Paris Fashion Week / www.modeaparis.com
Paris promotes its men's runway shows as a part of its regular Fashion Week schedule.
June 24-28, 2015, Paris, France

Men's Fashion Week Puerto Rico / www.mensfashionweekpr.com
First created in 2011 as Men's Fashion Show and grown into Men's Fashion Week in 2014 - the event presents latest trends in menswear and men's fashion products.
September 1-6, 2015

New York Men's Fashion Week / www. mensfashionweek.nyc
In 2015, Men's Fashion Week comes to the city of fashion - New York City - for the first time, with a team of international designers and models to present the trends in fashion and accessories 'Spring-Summer 2016' for men. There will be also a Men's Gallery - a space designed for the display of products for men.
September 9-13, 2015, New York, USA

Men's Fashion Week LA
Los Angeles is the 5th in the world to develop a Fashion Week for menswear, succeeding New York, London, Paris and Vancouver. During Men's Fashion Week LA (MFWLA), menswear fashion designers and retail brands present their latest collections to industry insiders. Dates unknown yet.

Men's Fashion Week - Vancouver / www.vanfashionweek.com
The first menswear event in Canada showcases established and up-and-coming menswear designers. In 2015, the 4th Season of MFW will be held in Prague, Czech Republic. Dates and place unknown yet.

Toronto Men's Fashion Week / www.tomfw.com
It aims to showcase the best in established and emerging Canadian menswear designers. The Best in Innovative Menswear in Canada. Dates and place unknown yet.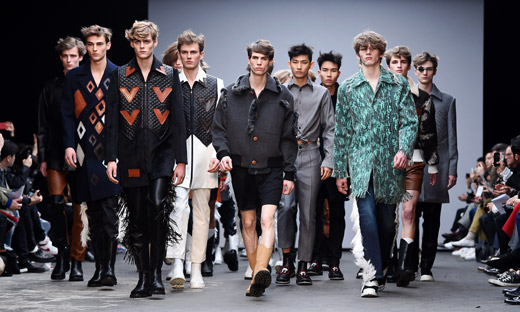 FASHION FAIRS AND TRADE SHOWS:


WWD Menswear Summit / www.summits.wwd.com
The event offers a peer-to-peer exchange of ideas with thought leaders and disruptors from across the fashion industry, curated by WWD editors exclusively for the designers, brands and retailers who are transforming the men's industry. Themes include Street Athleticisim Explosion. Power Of Culture, Lifestyle & Made To Measure, Merchandising Story, Future Of Menswear.
March 26th, New York, USA



COAST / www.coastshows.com
Men's and Women's trade exhibition / Women's, Men's and Accessories collections.
Launched in 2006, COAST is rapidly becoming a global tradeshow, offering the latest trends in women's fashion, men's fashion and accessories. It bridges international designers and retailers from around the globe.
June 1-2, 2015 and October 26-27, 2015, Miami, USA


Pitti Immagine Uomo 88 / www.pittimmagine.com
One of the world's most important platforms for men's clothing and accessory collections and for launching new projects in men's fashion.
June 16-19, 2015, Florence, Italy


WHITE / www.whiteshow.it
Leading international and contemporary fashion tradeshow during the Milan Fashion Week. WHITE offers to buyers a unique brand-mix that aims at showcasing the best designs from international contemporary men's and women's fashion. The careful selection relies on brands which are yet little known by the Italian fashion system, but are regarded worldwide as the most innovative voices among the emerging fashion labels.
June 20-22, 2015, Milan, Italy


Panorama Berlin / www.panorama-berlin.com
Marketplace for leading Brands. As an overview of the most important trends and tendencies of the coming season, Panorama Berlin presents a contemporary and relevant selection of women's and men's collections, shoes and accessories by market leading brands.
July 7-9, 2015, Berlin, Germany


Style Matters / www.modefabriek.nl
The new premium menswear platform at Modefabriek, brings together premium heritage and new generation menswear brands. The brand selection within Style Matters varies from casual sportswear to business smart, supplemented with an exclusive selection of accessory brands. In addition to menswear, Style Matters is also presenting a number of premium niche brands, varying from fragrances to electronics.
July 12-13, 2015, Amsterdam, The Netherlands


MRket / www.mrketshow.com
A global fashion trade show focusing on menswear brands and men's fashion industry, representing the best collections in all menswear categories from the United States and abroad. MRket is the only show in the US to spotlight a MADE IN ITALY section and a UK Design area. The event includes also Vanguards Gallery - an incubator for new and emerging brands curated specifically for the attendees.
July 19-21, 2015, New York, USA
MRket Las Vegas
August 17-19, 2015, Las Vegas, USA


The Gallery Düsseldorf / www.the-gallery-duesseldorf.com
Known as order platform and sectoral meeting point, the international fashion trade presents the perfect mix of womenswear, menswear and accessories, focused on one place. There are four areas:
Gold area - International agencies with premium brands and Independent internationally established collections.
Silver area - Contemporary fashion and Design-oriented brands.
White area - World of Accessories.
Red carpet - Haute couture
July 24-27, 2015
Red Carpet, July 26-28, 2015, Düsseldorf, Germany


Supreme Women&Men Düsseldorf and Munich / www.munichfashioncompany.com
The event is held twice a year and provides a wide-ranging order platform for the sophisticated and exclusive genre, but also for progressive labels. For many labels, Düsseldorf is the ordering entry into the German market, followed by Supreme Women&Men in Munich, which is used, around two weeks later, for concluding orders.
July 25-28, 2015, Düsseldorf, Germany
August 5-11, 2015, Munich, Germany


Copenhagen International Fashion Fair / www.ciff.dk
CIFF is the leading and most innovative platform in northern Europe, presenting carefully curated areas for premium brands. A new and exclusive men's collections and lifestyle platform, CIFF RAVEN, was launched in the Fall-Winter 2015/2016 edition. Uniting business with contemporary fashion trends, CIFF RAVEN is a meeting point for international buyers, press and retailers. Location for Spring/Summer 2016 is not yet known.
August 5-7, 2015



Revolver / www.revolver.dk
International fashion trade show Revolver presents Scandinavian design driven fashion brands as well as likeminded quality brands from outside of the region. This order-platform for both mens- and women's wear attracts the best buyers from the Nordic region as well as the best international buyers, in order to do business, discover and network.
August 5-7, 2015, during the Copenhagen Fashion Week


MEN'S / www.magiconline.com
As the original show at MAGIC, MEN'S sets the precedent for the marketplace. With a lasting and impressive collection of traditional, young men's, and streetwear brands, MEN'S continues its legacy as the go-to market for branded menswear. MEN'S is held in Las Vegas every February and August at the Mandalay Bay Convention Center.
August 17-19, 2015, Las Vegas, USA


Milano Unica / www.milanounica.it
The Italian Textiles Trade Show is held twice a year (February-September), presenting the finest quality products from both Italian and European textile manufacturers. It has a special section dedicated to men's fashion - IDEABIELLA.
The XXI edition - Fall-Winter 2016/2017 collections
Portello, Fieramilanocity
September 8-10, 2015



Apparel Sourcing Paris / www.apparelsourcing.fr.messefrankfurt.com
Textile manufacturing trade fair and an International business platform offering menswear, sportswear, shirting, tailoring, coats, underwear, swimwear, uniforms, knitting, ladieswear, childrenswear and fashion accessories (bags & leather goods, shoes, gloves & scarves, socks, hats & caps, ties & bow ties, etc).
September 14-17, 2015, Paris, France


Première Vision Paris / www.premierevision.com
Yarns and fibres, fabrics, leathers and furs, designs, accessories and components, manufacturing. For 3 days, 2 times a year, at Paris-Nord Villepinte, the six major industries supplying materials and services to the global fashion industry, come together in Paris. Six complementary shows, brought together in one place, where the entire fashion industry meets. Première Vision Paris is an essential business hub, where 62,000 industry professionals from over 120 countries come together to share ideas, do business, work and build their new collections.
September 15-17, 2015, Paris, France
The event is organized in other cities, too. You can see the agenda here: www.premierevision.com/home/agenda/


Photo:
Models presenting creations of Fall-Winter 2015/2016 collection by Chinese designer Xander Zhou during the London Collections: Men


Hits: 6389 | Leave a comment