XX edition of Milano Unica presents Spring-Summer 2016 fashion trends
'Most of all I Remember the Future'
The XX edition of the Italian Textiles Trade Show Milano Unica will be held February 4-6, 2015.
The project, which is held twice a year (in February and in September), presents the finest quality products from both Italian and European textile manufacturers.
During the next edition of the event, the exhibitors will showcase wide range of fabrics and accessories. Over 425 manufacturers, dealers, retailers and distributors will present their products during the show.
'Most of all I remember the future' - an eclectic phrase pronounced by Spanish artist Salvador Dali, interprets with almost pictorial clarity the concept that Angelo Uslenghi, coordinator of the Milano Unica Creative Team, wishes to underline in the S/S 2016 season philosophy - an appeal to treasure the memory, while innovating it with creativity and inspiration.

Main Focus on:
* Crispy: crepe effects, resembling untreated surfaces
* Glossy: silky, plastic, metallic brightness
* Breezy: airy structures like veils, mesh, openwork
* Denim-idea in formal, refined, fashion versions
* Art and Design as creative incentives
* Chromotherapy and positivity for techno artisan Accessories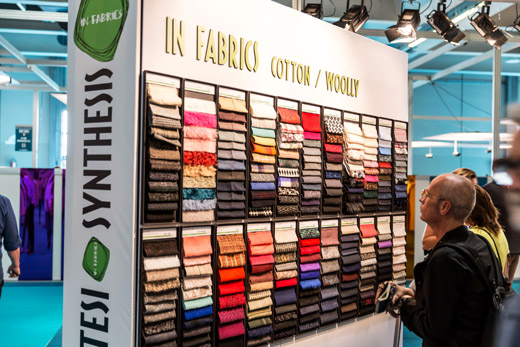 The upcoming XX edition, scheduled for February 4-6, 2015, will confirm an important innovation adopted last September with the correlated 'Japan Observatory' exhibition, featuring the finest Japanese firms specializing in techno fabrics.

Many other ideas and novelties are on the drawing board to keep pace with the times, in a world, as described by Angelo Uslenghi, in continuous evolution. Eco-sustainability is one of the latest themes to help modernize the textile industry, together with the catalog produced in collaboration with Sustainability-lab. 'Magazzini Aperti' focuses on the younger generation and their view of the future.


Antoine Arnault, president of Loro Piana, is expected to be the keynote speaker at the opening on Wednesday, together with the vice minister of economic development, Carlo Calenda; the mayor of Milan, Giuliano Pisapia; the president of the Lombardy Region Roberto Maroni; the president of Milano Unica Silvio Albini, and Carlo Marenzi, president of industry association Sistema Moda Italia.


Information: www.milanounica.it


Hits: 11268 | Leave a comment