Bachelor of Design degree at Whitehouse Institute of Design Australia
Whitehouse Institute of Design, Australia offers a Bachelor of Design at both Sydney and Melbourne campuses. It includes integrated core and specialist units, focusing on Fashion Design, Interior Design or Styling and Creative Direction as areas for specialization.
The Bachelor of Design degree is underpinned by a learning culture which insights innovation and creativity, built on academic imperatives as the foundations for life long learning, and a love of design. Integration of design knowledge and design practice is an imperative of the course.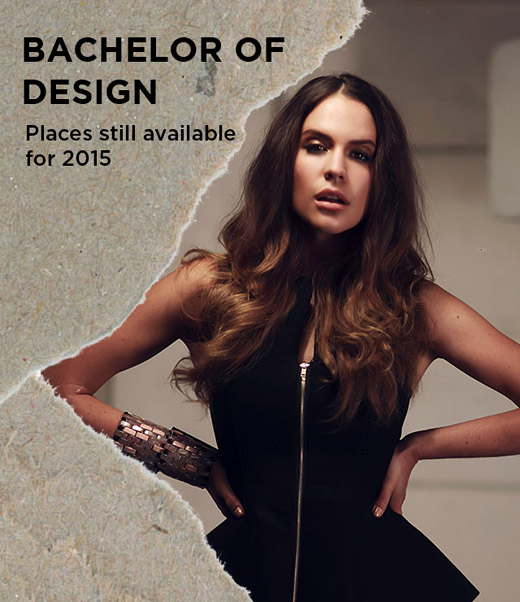 The Bachelor of Design is an industry-facing multidisciplinary program designed to develop students' design thinking and creative output within a range of specializations. The program allows students to conceive and execute an evolving body of work in one of three specializations, which emphasize innovation, creativity and socially responsible practices whilst locating student work within historical and contemporary design contexts.

Students in Interior Design address the challenges of designing interior environments that humans live and work in. Creative Direction focuses on the creation of images, environments and objects, while Fashion Design students engage with the challenges of evolving a personal fashion design ethos. All students are expected to develop an evolving body of work that integrates theory and practice in relation to their individual design thinking.

Whitehouse Institute's commitment to student welfare can be seen through student learning support materials and mentoring programs, and in the learning environments which invite experimentation and creative practice.


The Bachelor of Design runs on a trimester model (full time).
Three semesters per year allows you to complete your degree in 2 years
as opposed to the traditional 3 year delivery models.

Classes commence on 2 February 2015.

LATE ENROLLMENTS BEING ACCEPTED - NO LATE FEES WILL APPLY!


For more information:
Phone - 1300 551 433
Website - www.whitehouse-design.edu.au


Hits: 10062 | Leave a comment