Tag: Rubinacci
How to buy the perfect suit
You know that the Italians are famous with their sense of style and their tailor-made suits. We present you six of the best tailors in Italy, known with their masterpieces in the field of fashion and menswear.
ABC of the men's suit
As many of you know, Neapolitan tailoring is famous for the shirt sleeves. But what is this - shirt sleeves? They are called shirt sleeves because these are the very wide sleeves with very high armhole. And what does this mean?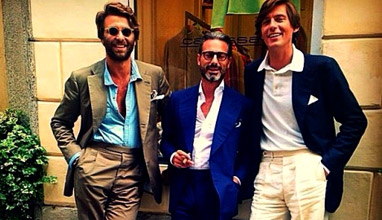 The dandy style
Luca Rubinacci is a real fashion sensation in London. He is the quintessence of the Neapolitan sartorial style combined with the British imperial conceptions of gentleman's wardrobe.