Tag: Miuccia Prada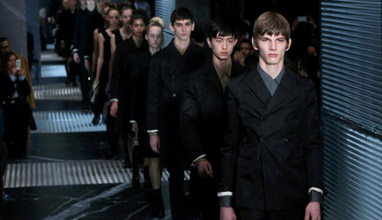 Menswear collections
Last night (January 18, 2015) Miuccia Prada presented her menswear collection for Fall-Winter 2015/2016 in Italy, during the Milan Men's Fashion Week (January 17-20, 2015).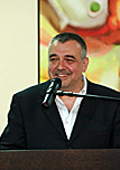 Fashion magazines and books
Prof. Lubomir Stoykov's new book World Fashion. Part Three: Italy is already a cultural and aesthetical fact. During its official premiere at Vitosha Park Hotel, it was presented by H.E. Stefano Benazzo – ambassador of Republic of Italy to Bulgaria who is also author of the introductory words. Mr. Benazzo notices: The work of Prof. Lubomir Stoykov has the merit to tell the story of the evolution of the Italian fashion through the stories of our biggest designers from the post-war period until the present, showing that fashion is most of all a result of the labour of really unusually people rather than of more or less inspired persons, more or less anti conformists. I am grateful to Prof. Stoykov, because thanks to him, many Bulgarians who love so much our country, will be able to "understand" the Italian fashion, will be able to explain its language and symbols, rather than only fall in love from first sight.
Fashion shows
The Italian designer doesn't want to be like other designers and bask in glory after debuting her collections.

She said: "I hate the cliche of fashion designers since the beginning. And so because I came from another background - and actually being a feminist at those times, not that I've changed so much - I didn't want to do anything that fashion designers were doing. And the first thing I didn't want to do was that."

Miuccia - whose celebrity fans include Tilda Swinton, Victoria Beckham and Mary-Kate and Ashley Olsen - also revealed she likes her designs to be ironic.