Tag: Euro 2016
Fashion in the industry
For Euro 2016, the players look stylish and hot in their perfectly fitting three-piece suits in navy blue, combined with gray ties and pocket squares in addition to white shirts. Small red ribbons on the jackets' lapels complete the looks.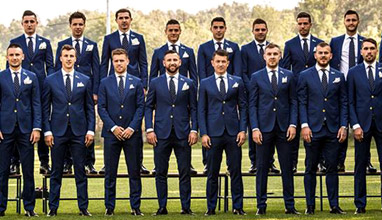 Fashion in the industry
Off the field, the Romanian national football team grabbed the attention with their beautifully tailored suits made to measure by Viggo using Dormeuil's Exel cloth 834.006.