Tag: Academy of Fashion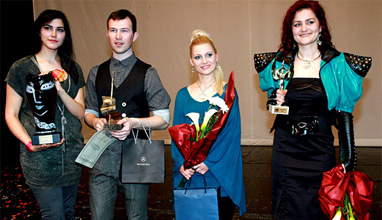 Equipment
Fashion, music and dance merged into an exciting spectacle - The contest for young designers "Richmart Innovation" during the International Fashion Forum – Ruse 2010 was held on April 23 at the City Theatre on the beautiful Danube city of Ruse.

The winner, Nikolai Bozhilov from the National Academy of Art with the project "Recycling Fashion" received the grand prize of Academy of Fashion "Golden Needle 2010" - a unique sculpture by the famous jeweler Angelo Krassin.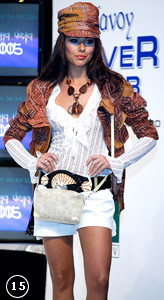 Competitions & awards
The Academy of fashion gave its highest award "Golden Needle 2005". This most prestigeous for Bulfarian fashion design event attracted for 12th year the media, journalists, fashion critics and the cultural public.

The glamorous event took place in the new Youth theatre. The jury comprising of 34 journalists in the presence of the lawyer Axenia Monova voted for the best fashion creators, make-up artists, photographers and organizers of fashion shows.

Designer of the year (for the second time) became Virginia Zdravkova, who showed an exquisite and elegant collection. Among her works was the first Bulgarian dress, worn on the official "Oscar" ceremony.

Fashion house of the year (women's fashion) became "Tani" with designer Tania Metodieva. Golden Needle for men's fashion received Atanas Parushev, and for fashion photography - Moni Frances.