THERMORE - a thermal insulation for apparel
About thermore
Thermore® was founded in 1972 in Milan and is a worldwide leader in the research, production and marketing of thermal insulation for apparel with operations in Europe, USA and Asia including production facilities in Thailand and offices in Hong Kong. Thermore's current product range includes Classic, Ecodown®, Rinnova, Pro, ARIA and EVOdown™. Thermore is a member of the Outdoor Industry Association (www.outdoorindustry.org), SnowSports Industries America (www.snowsports.org) and of the Camera Nazionale della Moda Italiana (www.cameramoda.it). Consistency and security is also earned for any Thermore® product, including hypoallergenic guarantees, thanks to the company's commitment to excluding the use of PFOA and PFOAS, as recommended by Greenpeace. This has helped garner the prestigious Bluesign Certificate for the CLASSIC, Ecodown®, Rinnova and Thermosoft® products and it is certified GRS (Global Recycle Standard) for CLASSIC and RINNOVA. Recently EVOdown™ and ARIA got the Bluesign certificate and ARIA got also the GRS (Global Recycle Standard ) certification.
Thermore's most innovative insulation solution recently launched :
The great novelty among Thermore® insulation solution is for the next season EVOdown™, a revolutionary product that stands apart from all other thermal insulation materials. It is confirmed as the only credible successor and current commercial alternative to traditional down fill.
Technically EVODown™ guarantees to avoid migration and clumping issues of conventional fiberfill because its unique structural design, best described as a 'rolled free-fiber composite', controls movement with its two external higher density webs surrounding a free fiber structure in the centre. This new composite ensures consistent high thermal performance, while maintaining its structural integrity through laundering and wear.
The research for alternatives to duck and goose down is an extremely topical trend in this very moment and EVOdown™ represents the best example in the market. EVOdown™was launched in the fashion sector officially during the last edition of Milanounica - SALONE TESSILE, and will be officially launched in Outdoor industry at the upcoming ISPO. For this occasion, EVOdown ™ will be also able to boast the recognition of the Bluesign Certification, a further confirmation of the responsibility that Thermore puts in all his work in the development and production. Soon we will be able to speak also of the brands that have chosen EVOdown ™ for their collection.
Brands choosing Thermore insultation innovations:
The complete menu of Thermore® performance insulation innovations have been chosen by notable and high quality brands:
COLMAR: Techno-Fashion collection. This leading Italian skiwear maker creates functional sportswear that's elegant and feminine, using silky shell fabrics in on-trend colours mixed with elegant trims and fur detailing. This brand chose Thermore® Classic 150.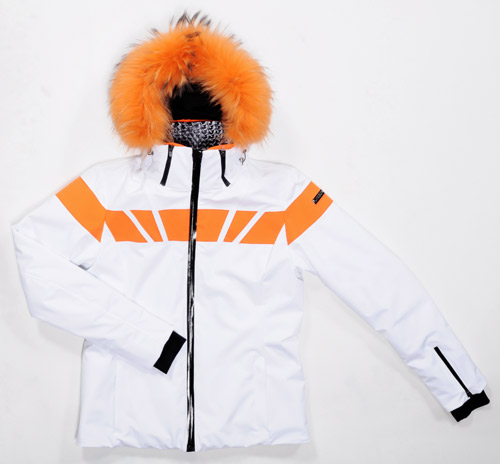 Thermore® Classic: Maximum design flexibility for outerwear and related accessories. The patented SR (special reduction) process allows up to four thicknesses of insulation per weight category:  High Loft, Compact, Super Compact, Ultra compact The SR process allows a variance in the thickness of a chosen weight without a proportional loss in thermal value. 
BOGNER: Colourful hooded zip jackets from Bogner Fire&Ice and Bogner Sport choose Thermore® insulation to enhance the products performance and function, but mix it with glamour and cool exclusivity.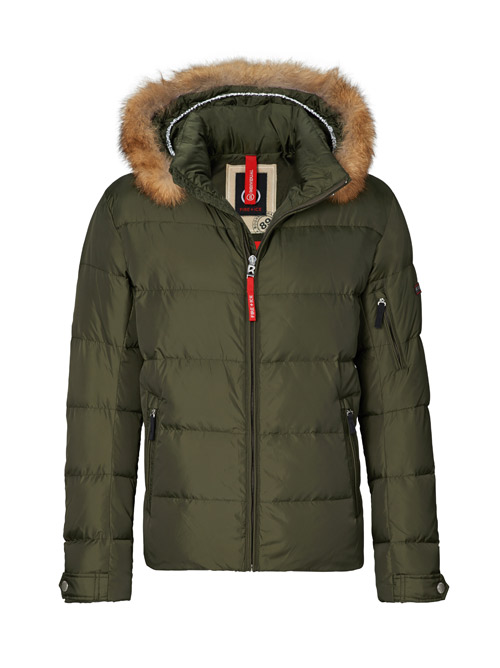 CHICCO: The Autumn/Winter 2014-2015 childrenswear collection uses bold colours, prints and material contrasts to encapsulate Thermore® insulation in the Snow Project range.
BOSS ORANGE uses Thermore® Aria to subtly enhance its urban casual collection. The multi functional and resistant, stylish garment's modern vintage allure is detailed with removable sleeves and collar.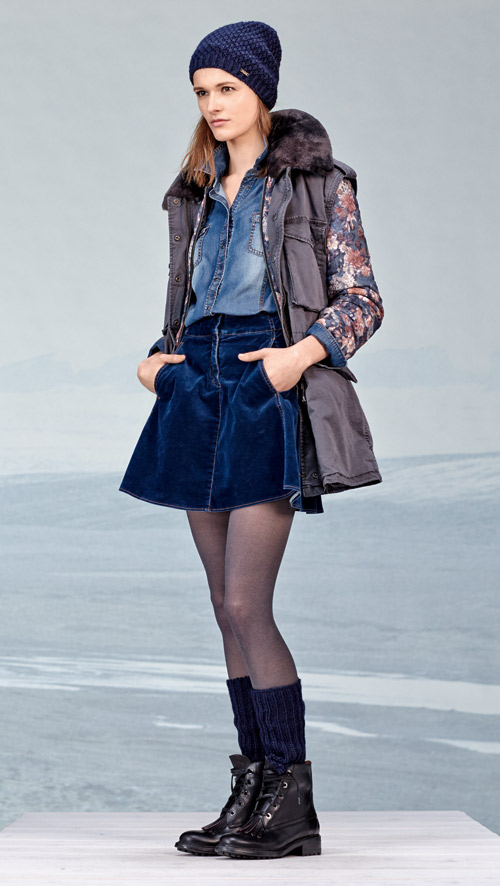 Thermore® Aria is the synthetic alternative to using real down feathers. The Italian word Aria when translated to English means "air". It perfectly describes this new insulation which is 98% air by volume: ultra-light, soft and an efficient high-loft insulator. Aria offers a superb alternative to down in every regard: appearance, health and ethical concerns, cost, availability and overall performance.
ELENA MIRO: prefers a more refined silhouette for its padded collection. Using a pearly finish, the fuller figure brand, and part of the Miroglio Group, specified Thermore® insulation to enhance its 'curvy' appeal.
PAUL & SHARK: This luxury sportswear brand always plays the nautical card, and this garment from the Husky collection uses the extremely resilient and elastic Thermore® Stretch insulation to complete its look and performance.
Thermore® Stretch offers excellent stretch capability and completely recovers to its original shape time after time. Also, it is available in a thin profile configuration to best fit the current trends in outerwear design. Thermore® Stretch is also an excellent substrate for bonding and lamination. Totally machine washable and dry cleanable - it also features Thermore's exclusive fiber migration treatment.
TUCANO URBANO: Here ease, warmth and lightness combine with style, fashion and lifestyle in the 360° collection using Thermore® insulation which guarantees optimal thermal comfort.
ZEGNA SPORT: Combines urban style with technology and performance using Thermore® innovations in a new generation of multi function all season pieces that this brand is famous for.
Photos:
1. The thermore fabric
2. A model of Colmar
3. A model of Bogner
4. A model of Boss
5. A model of Paul&Shark
6. A model of Zegna


Hits: 12745 | Leave a comment