Polish fashion at Poznan Fashion Fair
Poznań Fashion Fair, the most important event for the industry in Poland, will be held from 2nd to 4th September. It will include top brands, professional trainings and a preview of new trends.
Nearly 400 companies and brands from 17 countries, including Poland, Italy, Great Britain, Germany, the Netherlands and Spain, will present their collections during the upcoming edition of Poznań Fashion Fair. Visitors will have an opportunity to get familiar with the latest and forthcoming collections of clothing, footwear, leather goods and accessories. Traditionally, the event will be held on Poznań International Fair fairgrounds.

Poznań Fashion Fair exhibitors' stands will be located in four exhibition halls connected by Linden Avenue where visitors can relax and absorb new trends while watching original and commercial fashion shows. Another attraction worth paying attention to is the "Live Sewing Factory" organised in hall 8A by Strima company where visitors can watch the entire process of creating a garment - from designing through size grading and modelling with the use of AUDACES production management computer system, to automatic face to face laying up of fabric, cutting, sewing and ironing.
A special event has been planned by organisers for the first day of the fair - Polish Fashion Show. The evening show will open the "Polish Fashion" project which aims to promote domestic manufacturers and designers. The effects of the campaign will be also noticeable to the end customers. Since joining it, companies will label their products with "Polish Fashion" tags to distinguish them. According to the rules, only companies that manufacture exclusively in Poland can join the campaign.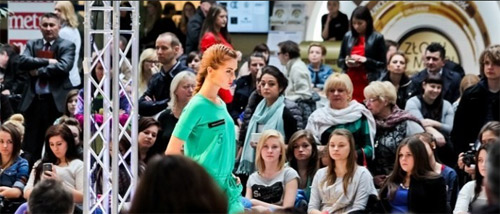 The entrance to Poznań Fashion Fair for people from the industry (owners and employees of shops, designers, wholesalers, students of design schools, etc.) is free of charge upon prior registration. For others, a ticket price is PLN 50. You may register your participation in the event on-line at Poznań Fashion Fair website or at the cashier's counter during the Fair.


Hits: 7455 | Leave a comment