Highest quality digital printing by the metre presented at Munich Fabric Start
Print Logistics is an innovator in textile and direct-to-garment (DTG) printing in Poland. They are able to print on nearly all fabric from cotton to knitwear and everything in between. They also have a micro factory and they can print, cut and sew, offering a full service to many of their clients.
They are the only company in Poland to offer an innovative logistics system for online stores for printed clothing and textiles. They offer a comprehensive full service including printing, cutting, sewing, warehousing, picking and dropshipping direct to your customer. With this service you save time, increase your shop's stock availability and do not tie up your capital in printed stock on your shelves. This is the made-to-order trend that has started several years ago and we think is the future of the fashion industry.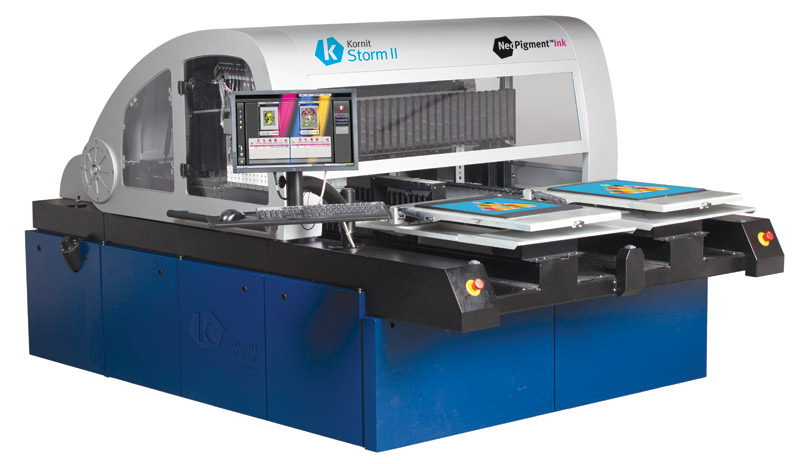 Print Logistic offers direct digital printing on various types of materials. Digital technology has been available in many European countries for several years now, offering high, even photographic quality of printing and competitive prices, especially at low print runs. In Poland Print Logistics is the first to offer this technology, offering their clients high quality digital printing in full color with tonal transition.
Print Logistic uses Kornit machines with patented technology of printing on colored materials. They use only eco-friendly water-based inks and the print is applied directly onto the material, which greatly improves the production process.
Advantages of digital printing:
unlimited range of colours,


very high print quality,


speed of implementation,


resistant to external factors,


retains its excellent quality after washing,


possibility of printing on finished products (shirts, blouses, trousers, caps, children's clothes.)


possibility of printing on products together with buttons, expresses, pockets with printing of all these elements,


use of ecological water-based paints,


printing of small quantities - from as little as 10 pcs.

Print Logistic is unique in Poland and Central and Eastern Europe. The team consists of young people with passion and knowledge. What distinguishes them is the ability to source high quality materials, digitally print with the most advanced printers in the global market and cut cloth using the most efficient digital mastered cutter from Switzerland. They also offer hand stich and finish to order. All under one roof and supervised by experienced owners with a long family history in the sector. Thanks to such a service they are able to make the whole product from A to Z, and deliver to the highest expectations of the customers.


Hits: 6244 | Leave a comment