Types of buttons for clothing
Buttons are almost as ancient as clothing. Information exists that buttons from the Bronze Age are found in India during excavations and in Turkey buttons are found dating back to 10,000 years B.C. Their history is more than rich. During the millennia they revived for use at times and at times were forgotten. They were characteristic of the clothes of the rich and noble circles and inaccessible to ordinary people. Any kinds of materials were used, from wood and stone to precious metals and diamonds. In 18 – 19 century their decorative value reached unexpected heights, and after the World War II showed up their utility function – then they were used completely as intended – for fastening. We are going to present you the different types of buttons:
Polyester buttons
Polyester buttons can imitate almost any material – even completely natural ones, such as horn. And this could be done with such quality that it will be difficult for a non-professional to recognize the imitation. This versatile material, with its endless colour combinations, allows our customer to create all kinds of customised buttons with personal shapes and sizes to meet their brand requirement or needs. In addition to shirt buttons, our outerwear buttons are also very popular.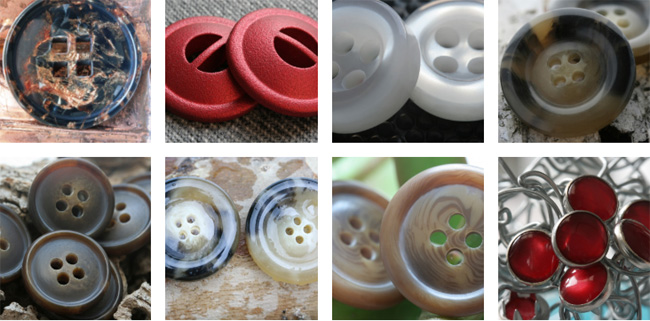 Mother of pearl buttons
Mother of Pearl buttons are a classic detail favorited by high-quality shirt makers. Made from the inner layer of pearl oysters (also called nacre), they have a little more depth of color than plastic resin buttons do. These buttons can have a tendency to crack, but usually only do this with particularly brutal dry cleaners. They do not dissolve after repeated washes like resin plastic buttons can. Mother of pearl buttons are made with a very fine natural material called nacre or mother of pearl, taken from the inner layer of certain kinds of shells. Its iridescent color, pearl white or pearl grey, depending on the type of shell used or its country of origin, make it perfect for refined luxury buttons that maximise the beauty of the clothing they are sewn onto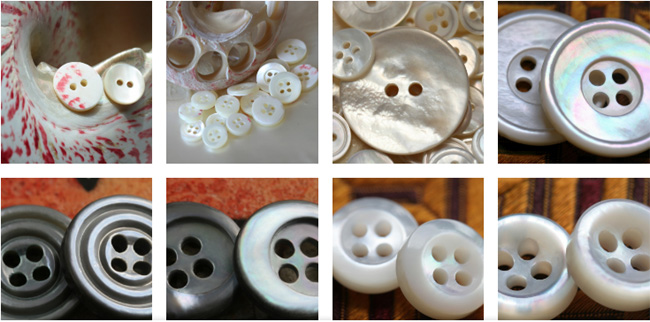 Real horn buttons
Horn buttons are made from real horn in compliance with animal protection laws. Real horn buttons have unusual colours and special grain patterns that make them a very versatile product. They lend character to high-range elegant jackets and sportswear. The brand Maribert ® enhances the special characteristics of horn with laser decorations, glossy/matte effects, vintage and other finishes, creating exclusive, sophisticated customised horn buttons.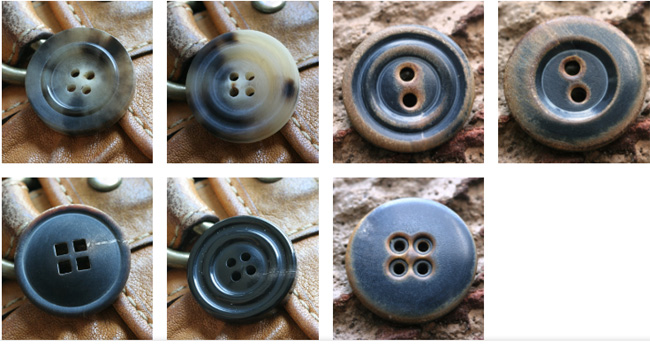 Corozo buttons
The corozo nut used for carving figurines, turning buttons and crafting other fashion accessories is the seed of a tropical palm, a species scientifically known as phytelephas macrocarpas. The name of this species derives from the Greek roots and meaning plant and elephant respectively, in reference to the very large size of both, the fruit and its seeds, and also in reference to the great similarity elephant ivory keeps with the whitish endosperm of these surprisingly versatile nuts. Other variations of Phytelephas are known to grow in the same regions where Macrocarpas do; however, their seeds behave in a less homogeneous way and dyeing result less consistent.
They are 100% natural. For its resemblance to ivory in terms of colour and texture, corozo is also known as vegetable ivory. The material's grain characteristics are increased by the dyeing process, making corozo buttons unique. Customised corozo buttons are original and creative, with logos, trademarks or any kind of texture, shape and style.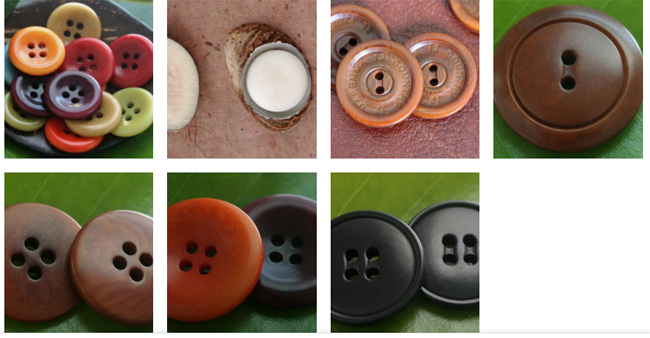 Bone buttons
Horn buttons and bone buttons add a striking natural element to any outfit. Our traditional, narrow-rimmed four-hole buttons are the definitive classic fastener for many casual jackets and shirts. We carry a variety of toggle horn buttons, including antler horn buttons, with their tawny subtly variegated coloring. Many of our horn buttons are designed with an organically shaped irregular edge, which lends to their dash and their charm. Maribert ® button manufacturer uses laser decorations, glossy/matt effects and vintage finishes to produce exclusive, refined, customised bone buttons.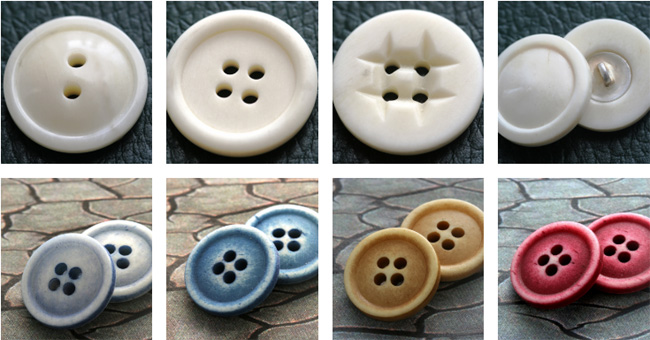 Buttons for garment dyeing
Garment dyeing is a technique used for colouring fully fashioned garments in linen and cotton. Maribert ® button manufacturer supplies 100% eco-friendly buttons for garment dyeing. These buttons are white and porous for better colour absorption. Ever shorter lead times in fashion production make buttons for garment dyeing a practical product for the clothing industry.

Snap fasteners buttons
Snap fasteners in nickel-free brass are produced with a polyester insert and available in a whole range of colours to match shirting. Snap fasteners with insert in coloured resin are versatile, practical and cheerful

Covered buttons
Covered buttons (or coated buttons) consist of two main parts: the front (that is covered by the fabric) and the back that is sew to the cloths. You can find covered buttons with plastic core and covered buttons with metal core in different sizes and shapes: flat covered buttons, domed covered buttons and half ball covered buttons.
Customised buttons
Maribert ® S.r.l. produces customised buttons of all kinds, in many different materials. They customise buttons to meet clients' requests, with names, logos, brands, designs, geometric graphics or patterns, to guarantee a unique, easily recognisable identity for the finished garment. This exclusive mix of style and elegance has made Some of the clients of Maribert ® are the Armani group, Bagutta, Fendi, Peuterey, Dondup, Jacob Cohen, Ingram, Ferragamo, Invidiauomo and many others.

NFC buttons
The NFC Tags in a chip applied to the button contain information that can be read by any new-gen Android smartphone with NFC capability. It is used for: Washing instructions, Anti-counterfeit certificates, Links to client's websites or social media pages, Anti-shoplifting and more.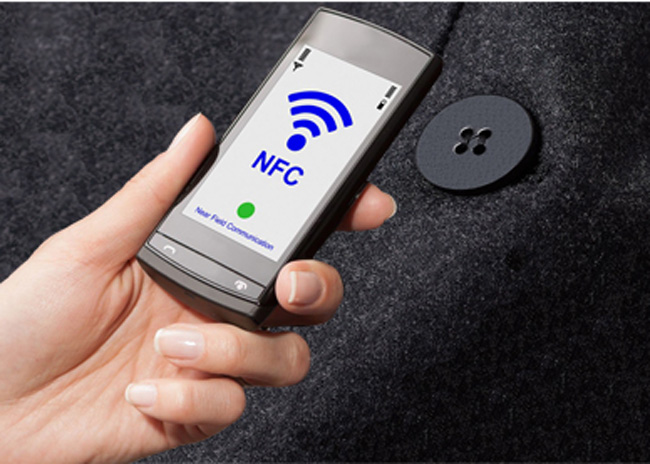 Buttons digitally printed
Starting with images you can customize your buttons or accessories to make it unique and unmistakable with text, drawings, textures and geometries.

Galalith buttons
This natural material was invented by being extracted from casein, and has since revolutionised the button industry, thanks to its amazing application capabilities. In fact, it is possible to create structural effects and colours with infinite intensity with Galalith. It is used for producing high-quality buttons by means of polishing processes that provide unique products.

About Maribert ®
Maribert ® S.r.l. is an Italian company that has manufactured clothing buttons and shirt accessories since 1970. Thanks to more than 40 years' experience, Maribert ® today specialises in the production of buttons in polyester, real natural horn buttons, mother of pearl or nacre buttons, corozo buttons, bone buttons, coconut buttons and other natural materials, such as wood. Alongside buttons, the company is also a renowned manufacturer of shirt accessories, such as collar supports (butterflies), plastic shirt collar bands (collar interlay strips) and shirt collar stays (stiffeners).
Thanks to the constant upgrading to new technologies Maribert ® can meet any brand request, such as custom buttons and buttons can be lasered with logos, trademarks, names, special designs and patterns in a wide variety of shapes and colors. Custom shirt accessories are made possible with special pad printing and stamping processes. To ensure a complete service, Maribert ® provides its clients with shirt pins, metal shirt clips and plastic shirt clips. Attention to detail has meant that Maribert ® products 'Made in Italy' are well-known in the national and international fashion industry, gaining the trust of many important brands.


Hits: 16219 | Leave a comment

We are looking for men's suit tailors, fashion designers, managers, fashion consultants who want to share their knowledge and tips in an article or video and contribute to the site! Please email us at contributor@bgfashion.net Don't miss the opportunity as this will be a free advertisement for yourself and your menswear brand!