Munich Fabric Start awards - 7th Hightex Award
The winners of the 7th HighTex Award have been announced. Given the large number of competitive new products from international fabric producers, it was no easy task for the expert jury consisting of Philip Langer, Iris Schlomski, Christoph Hornung, Alex Vogt, Simon Angel and Jo Baumgartner to reach an unanimous decision.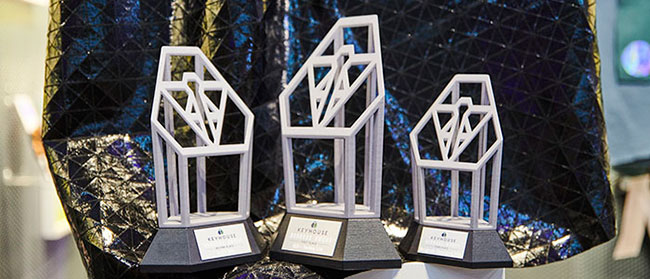 RDD TEXTILES from Portugal wins first place with a bonded double-sided jersey quality. Outstanding was the jury's assessment of the development of this new bonding technique through an environmentally conscious mechanical process and newly developed without any additional adhesive. For the filling, 100% Tencel TM which uses an environmentally friendly fiber. According to RDD Textiles this excellent jersey quality, first introduced at MUNICH FABRIC START, is breathable, warming, comfortable, extremely lightweight and absolutely fashionable.

Second place goes to M.T.T. SPA MANIFATTURA TESSILE TOSCANA from Italy for a wool quality with 14 percent polyamide content currently offered at a high fashion level. This is ensured by a graphic PU print in a technically aesthetic vinyl look. Abrasion and pilling are drastically minimized by this fashionable way of coating. Ideal for trend-setting womenswear with classic wool properties.

Third place goes to fabric specialist BRUGNOLI, also based in Italy, with a highly functional 3-layer technology. New is the use of bio-based polyamide. The elastic protective membrane is waterproof, windproof and breathable and therefore predestined for outdoor fashion. The first layer is made of extra fine merino wool and bio-based polyamides. The second layer offers a high degree of comfort and functional protection as an extra thin elastic membrane. With the third layer featuring extremely thin polyamides plus elastane. The result is a soft shell quality for jackets and pants that is already used by well-known Italian fashion and function brands.

The HighTex Award is part of an overall conceptual approach by MUNICH FABRIC START as one of the world's largest textile fabric fairs for intelligent process solutions, innovative highlights, biotech, digitization and sustainable innovation.


Hits: 5228 | Leave a comment