Premiere Vision Paris strengthens its commitments to responsible creation
Nowadays ethical and sustainable fashion are main themes in fashion industry. Most of the brands include strategies for make better their nature responsibility.
In the heart of Hall 3 at Premiere Vision Paris, on a widen area of 1,000 square meters, 33 new smart players will introduce a new generation of responsible innovations and alternative materials, all readily available in the marketplace, while experts will discuss ways of conducting business that speaks to today's contemporary conscious consumers.

Introduced five years ago by Premiere Vision, the Smart Creation program is a platform for study and communications that aims to promote smart initiatives of the shows' exhibitors, as well as to highlight a new generation of values that create new strategic perspectives and competitive advantages for the entire value chain of the creative fashion industry.
Why and what smart means? It represents a product, an approach, a system which include all new key dimensions that the contemporary consumer is looking for: creativity/design, innovation and responsibility at the same time..
The Smart Square is an annual visionary and didactic space launched by Premiere Vision in 2016, where exhibitors, designers, retailers and brands, along with media and material experts, can visualize and touch these new values and systems that drive contemporary consumers toward better, smarter choices. The Smart Square is the key activity of Premiere Vision' Smart Creation program implementing its objectives: unlocking the potential of sustainable fashion by rethinking creativity, driving innovation, accelerating responsibility and sharing culture.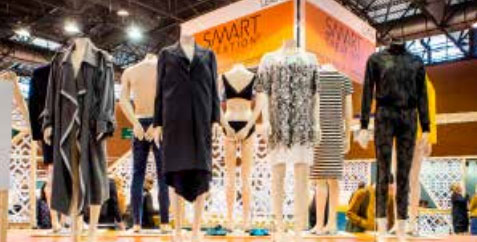 SMART LIBRARY
A forum made of smart products highlighted by the Smart Creation team among the collections of Premi?re Vision's exhibitors. They represent all sectors such as yarns, fabrics, leathers, accessories and components, manufacturing solutions.

SMART WARDROBE
A new way to showcase examples of outfits that express the smart values at 360 degrees. The highlight of this year includes: AEANCE / BETHANY WILLIAMS / MARIA CORNEJO / MARINE SERRE / BOTTER / ROMBAUT / SYLVIA HEISEL / DAQUINI

SMART SERVICES A space dedicated to a selected group of companies specialized in services to support the whole supply chain with new solutions where responsibility is a key and competitive advantage value. Some names of this edition players: BLUESIGN TECHNOLOGIES (CH) / BUREAU VERITAS CERTIFICATION (FR) / CENTROCOT (IT) / CFDA FOUNDATION (USA) / CSCB – CENTRE FOR THE BRAZILIAN TANNING INDUSTRY (BR) / EURATEX (BE) / C.L.A.S.S. (IT) / MCL NEWS & MEDIA (UK) / PARLEY FOR THE OCEANS (USA)

SMART TALKS
28 leading fashion industry, innovation and sustainable experts who share their knowledge, culture, innovation and values to enable the audience to better understand a modern and a smarter business approach. According to this season's theme, key subjects will be about the new role of design and smart innovation in the circular economy business model.

NEW ENTRY – SMART MATERIALS
Last but not least this is new key area is dedicated to highlight new and sometimes unique concepts of innovative materials - yarns, fabrics, leathers, accessories – or processes - manufacturing, finishings: ANANAS ANAM – PINATEX (UK) / ASAHI KASEI CORPORATION ROICA (JP) / CHARLE BERLIN (DE) / DEEPMELLO (DE) / EVRNU, SPC (USA) / FLOCUS (IT) / FRUMAT (IT) / EASTMAN NAIA (USA) / IVN INTERNATIONAL ASSOCIATION OF NATURAL TEXTILE (DE) / MYMANTRA (IT) / ORGANIC COTTON COLOURS (ES) / RE-VERSO (IT) / RECYC LEATHER (HK) / RIOPELE – T?XTEIS (PT) / SAGA FURS OYJ (FI) / SEDACOR – SOCIEDADE EXPORTADORA DE ARTIGOS DE CO (PT) / SMART MATERIALS (IT) / SMARTFIBER (DE) / STAHL HOLDINGS (NL) / TINTEX TEXTILES (PT)WE ARE SPINDYE (SE) / WET-GREEN GMBH (DE)


Hits: 10104 | Leave a comment