Fashion Influencers - the victims of the Big Brands
Nowadays, the word Influencer is associated with a person who has the power to influence the decision of others to impulsively buy a product.
In fact, the Influencers are people who spend a lot of energy, effort and much of their time in continuous communication with their followers.
Sometimes they wake up with the smartphone and fall asleep in the same way. They travel around the country and abroad, look for suitable places for photos, arrange meetings with photographers in an attempt to be unique. They constantly invest in themselves by conducting special workouts for their figure, using special diets, visiting hairdressers daily, often changing their clothing within one day and more, and more. This is a big investment, isn't it?
They give so much, but what do they get?
The facts show that a large part of the Influencers are in direct competition with each other in a fight to find the "Big Brand".
This Big Brand will offer them a long-term contract and give them a brilliant future. Is this a true?
In most cases, the Influencers are used as MARKETING INSTRUMENTS. They do not get what they deserve.
Sometimes they are given a product they advertise, and if the product is more expensive they are offered to buy it with a discount.
Some brands pay the Influencers 30-50 Euros for a picture and sharing their product. But it is more complicated - the influences pay photographers, choose the right places, and invest much of their time. For 30-50 Euro per picture ??? They upload a picture once a week or even for a longer period of time.
Other practice - the "Big Brand" invites Influencers to participate in international fashion fairs such as Pitti Uomo.
There, in the framework of the fair, they are dressed, defiled and continuously photographed to be able to promote the brand to the visitors, and then to the social media. The amount they receive is between 150-400 Euro depending on the popularity of the Influencer.
That is great, but Pitti Uomo is only twice a year and the best scenario is: we divide 400 Euros at 6 months we get about 70 Euro per month. Well, their fitness workouts costs more. But most of the Influencers do not even get an offer - they go to fairs, invest in themselves, hoping to be spotted.
From what has been said so far, we can clearly emphasize that Influencers are dependable of "Big Brands".
But do they have a future when they only invest, but in practice they get nothing. Many of them work extra to feed their families and set aside money to maintain their extravagant look.
And here is the dilema - to be a Influencer or not, they have the passion in photos, communications, social media, but the prize they pay is too high.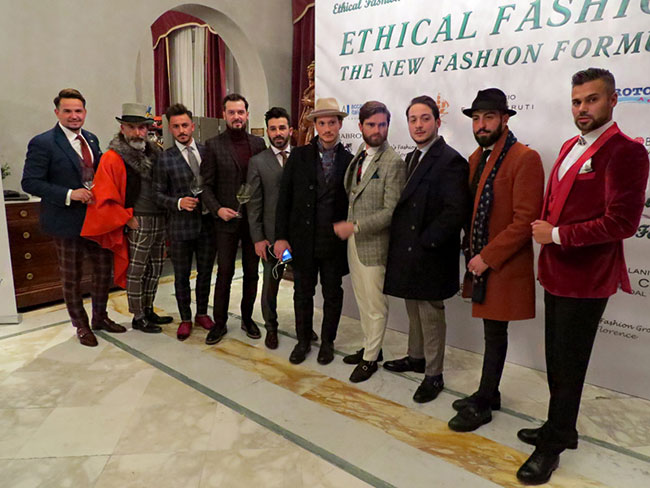 An event in Florence was held and the topic was "How to create a brand through ethical values". There, 303 Tuscans Ethical Fashion organizers have clearly shared their vision of harmony between Business, Nature and Society.
But how the Influencers are involved? Ethical fashion?
The purpose of the event was to distinguish ethical from unethical fashion and many Influencers uniting against exploiters - "Big Brands".
The most frequently asked questions in the fashion industry are: "Who Made My Clothes?", "What Materials Are Used?", "Are They Sustainable?", " Are Ethical Standards Used in the Production Processes?"," Is there a Transparency in the Supply Chain? "," Is the Cost Fair for the End-User?"
Many of the leaders in the Italian supply chain have supported 303 Tuscans Ethical Fashion as a solution to the fight against unethical fashion.
"We are ready to invest in any influencer who dares to abstain from big brands and build his brand through ethical values," said a leading entrepreneur from the Italian fashion industry.
"Support the Influencers - the ambassadors of Ethical Fashion"
During the event was announced the Beginning of the Ethical Project "HOW TO ESTABLISH A STRONG BRAND THROUGH ETHICAL VALUES".
The sponsors provide support to each Influencer:
- Creating and popularizing your ethical fashion brand
- Business plan and marketing strategy
- Create your own online platform
- Photo sessions with ethical men's suits
- PR and Advertising of your ethical brand
- Participation in the award ceremony for ethical influencers
- Access to ethical factories for fabrics
- Access to ethical clothing factories
What are the duties of the Influencers:
- Join the Ethical Society of 303 Tuscans Ethical Fashion
- Invest time in training, but NOT financial resources
- Continue to do what they do best - Communicating and sharing photos of their newly created ethical brand in social media
- Build a fashion image among their followers
Guaranteed result: High profits, cleaner nature and a happier society.
"WHILE DO BUSINESS, DO GOOD DEALS"

Hits: 12200 | Leave a comment