How to choose the right suit?
Every man - no matter of his body shape - looks good in an elegant custom-made suit. Most men go to weddings, job interviews or at work with really ill-fitting (too wide or too slim) suits, i.e. works against his own image. Now, thanks to the new made-to-measure system, each gentlemen can receive his individuality on a proper price.

Choose your style: slim or comfort
The suit must be made to measure in a way that makes you look good and helps you make good impression - so, you should define your style, according to the occasion. You can choose a business suit, sport suit, ceremonial suit or travel suit. You'd better choose a design with two slits - this allows you to move freely.

Define the proper size
It is extremely important, the suit to fit well on the shoulders and the chest. The shirt's sleeve should be 1-1,5 cm longer than the suit's one. The coat should cover the slit of the trousers, which have to fir perfectly on the waist and the hips. Depending on that how slim is the fit, the length of the legs should reach the heel of the shoes or a little higher.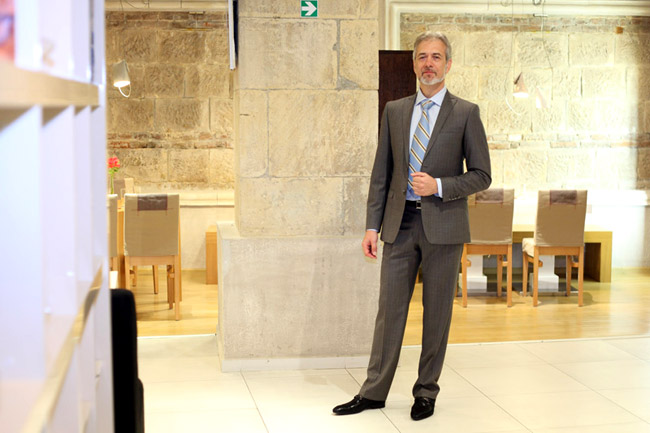 Choose the right pattern for you - plain, stripes, checks.
Use only natural fabrics from approved manufacturers. The best ones are from Italy, England and France. Choose the cloth depending on the season. 190-240 gr - for Summer, 240-280 gr - for all seasonal, and 280-340 gr - for Winter suits. Colors have huge impact on our presentation:

- Darker suits are more appropriate for Winter. If the fabric is pinstriped this gives to the man more formal, business-like outfit.

- Chalk stripes in beige or other light hues are better for casual Summer coats


Lining and buttons are very important elements, which are however often underestimated by the customer. Currently printed linings are extremely trendy, because they highlight the man's individuality. The most commonly used materials are viscose, cupro and silk. Horn, pearl, urea and corozo are the most fashionable button types. Every made-to-measure suit jacket's sleeves buttons should be able to unbuckle - this differentiates it from the ready-to-wear pieces.


Other key parts of the made-to-measure suit are interior design, contrast buttonholes, embroidery with the name of the client.

The Made-to-measure suit gives many possibilities for own design and individual approach.

Every man deserves to wear a made-to-measure suit.


Hits: 4255 | Leave a comment