The lapel buttonhole - purpose, history and usage
The traditional men's suit has become such a classic look, that we rarely stop to think about all the small details make it so unique. One of this details is the lapel buttonhole.
History
Ever wonder why your jacket has a buttonhole on the left lapel? Ever stranger, there's no matching button to be found on the right lapel. The most popular explanation is it's a flower holder inspired by England's Prince Albert, who after he was presented with a small bouquet from Queen Victoria on their wedding day, made the gentlemanly gesture of cutting a hole in his lapel to hold the flowers.
In the U.S., it is called the lapel buttonhole. In the U.K., it is called the 'boutonniere'. Boutonniere is French for buttonhole, so this latter is easy to comprehend.
In the U.S., the word 'boutonniere' is associated with proms or weddings, as in the flower itself that adorns the lapel. In men's fashion, the word, 'boutonniere' can mean the hole in the lapel or the flower which decorates it.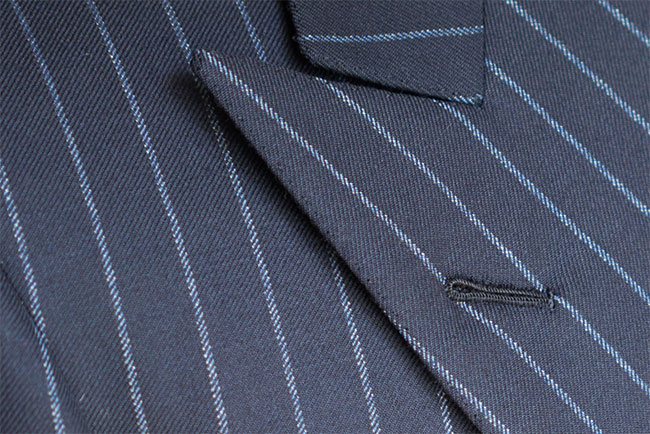 Uses for the Button Hole Today
Because the button hole is not used for its originally intended function, it is now typically called a boutonniere, a french term for button hole. It is also utilized mostly to add character to the suit, as it can hold a small grouping of flowers or a pin that says something about the suit wearer. Avoid using pins if possible, however, as the pin can pull threads lose or otherwise cause damage to the lapel of your suit.
When it comes to flowers in the boutonniere, a discrete loop is commonly sewn behind the lapel to hold the flowers in place when they are pushed through the button hole. This eliminates the need for a pin to secure them and still holds them there so the wearer need not be concerned about them while they are otherwise engaged.
If you are attending a formal event, opt for red or white flowers through your boutonniere. Meanwhile, informal events allow for more flexibility in color and variety of the flowers you wear. If you choose to wear a pocket square while wearing flowers, make sure to match the shade to the flower.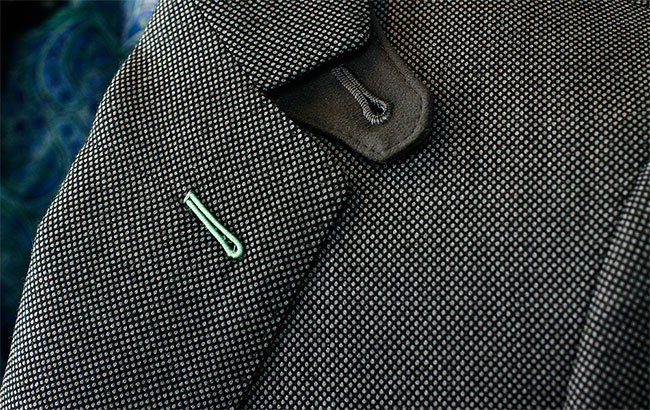 A very iconic type of buttonhole is the Milanese buttonhole.
lso known as Asola Lucinda, this is a rare and fine work of art seen on very few suits today. It's a differentiating element that is whipstitched. Nowadays only few tailors are able to make such impeccable buttonholes since they a challenge to properly execute on. With their clean, tight appearance, Milanese buttonholes require extra labour and a higher cost that many consider unnecessary.
The core technique is that the silk thread is wound around the gimp instead of being knotted. The winding process asks for consistent tension throughout the creation of this buttonhole, otherwise its perfect line is not straight. Any small mistake is visible since any overtightened loop will make a kink. If you happen to meet a tailor who can make a proper shiny buttonhole, do not hesitate to get it done: this staple of old school Italian tailoring is a fine detail that will not be ignored by any gentleman with a high fashion sense.
Nowadays, to make use of the buttonhole, most men wear tiny flowers or interesting pins that add a bit of character to their suit. Therefore, we make sure that all of our custom made suits have a lapel buttonhole. However, don't pinning a flower to your lapel: a pin can poke you or easily pull a thread loose in your lapel.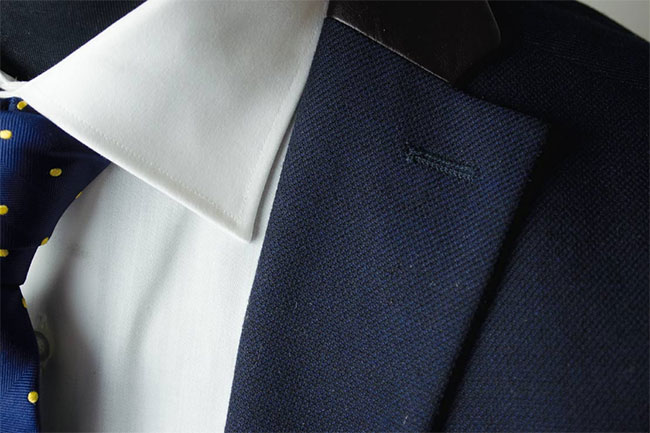 The professional photos matter a lot in marketing and making a product popular, so if you're going to create something popular, look through some clothing photography tips.


Hits: 34548 | Leave a comment