The British Exhibitors at Premiere Vision Paris September 2017
British Exhibitors at Premiere Vision Paris (Designs) presented their design concepts for 2018/2019. Below you can find a brief presentation of each of them:
NEW to Premiere Vision, STUDIO BODHI creates trend focused sustainable textile designs for the fashion market providing woven sampling and commission weaving for designers and mills. "We use a range of traditional weaving structures and innovative techniques and ensure all warps are ethically sourced and eco-friendly. Our collection offers a variety of weights and explores a spectrum of colour and texture and is applicable for womenswear, menswear, trims and interiors".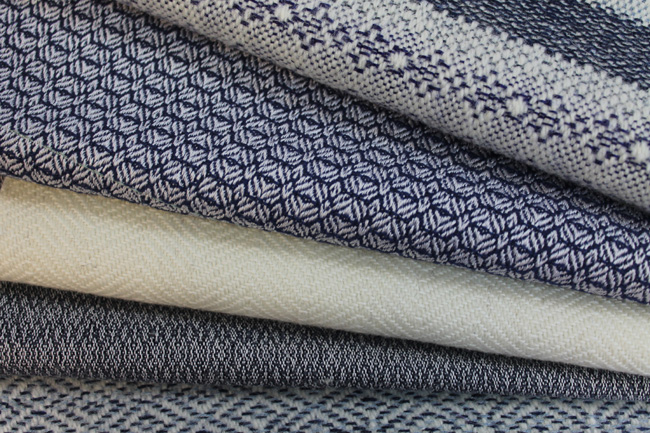 BARRY DANIELS STUDIO ARCHIVE: "This is our first showing of an amazing trove of designs from the pre-digital era left by Barry Daniels (1931-2010). Barry was an artist and co-founder of the pop-art collective Danad Design who began to apply art to surfaces in 1958. His print design studio took on other artists, supplying Europe and America's iconic fashion brands with hand painted, drawn and collaged designs throughout the 1960s, '70s and '80s. Every design is unique and previously unpublished.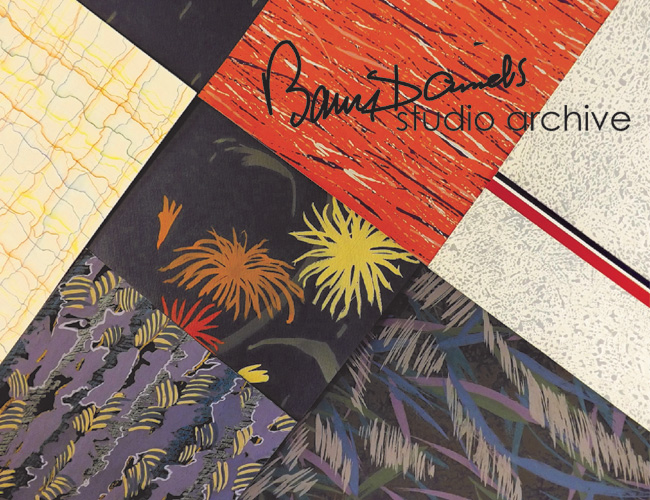 "At ALL KNITTED we are excited to be launching our new range of knitted swatch design concepts for 18/19 at Premiere Vision Paris in September. We have invested in the latest Shima Seiki APEX3 CAD system which allows us to give our customers more options for their design sampling. The APEX3 CAD software allows for multiple colourways, cost & time reducing virtual sampling, presentation material, and factory liaison anywhere in the world utilising cloud server access".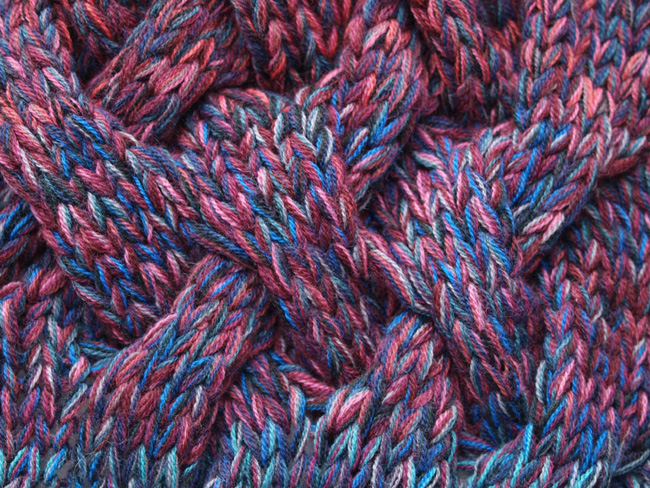 BEYOND THE SKIES is a small Manchester based print studio. Each of their collections is carefully designed with passion and care, with a focus on trend originality, stunning colour and beautiful design. Our key print areas include; eveningwear, lingerie & swimwear and activewear.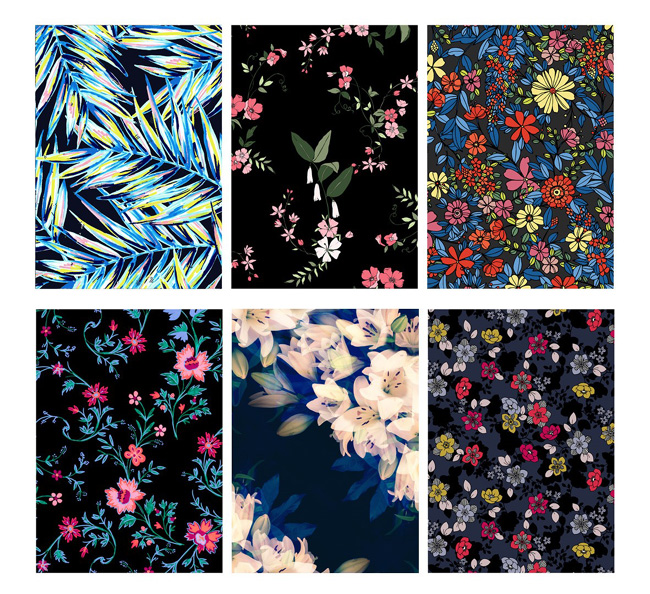 This year SUE BRADLEY has developed her brand into a finished garment collection, which can be offered as a total design service to include the original design and garment ready for production. She will be showing a wide range of creative and unique swatch designs inspired by vintage fabrics. Her work is highly patterned, colourful and decorative and she combines knit with print and embroidery. Sue anticipates that showing at Premiere Vision will expand her client base and promote her collection worldwide.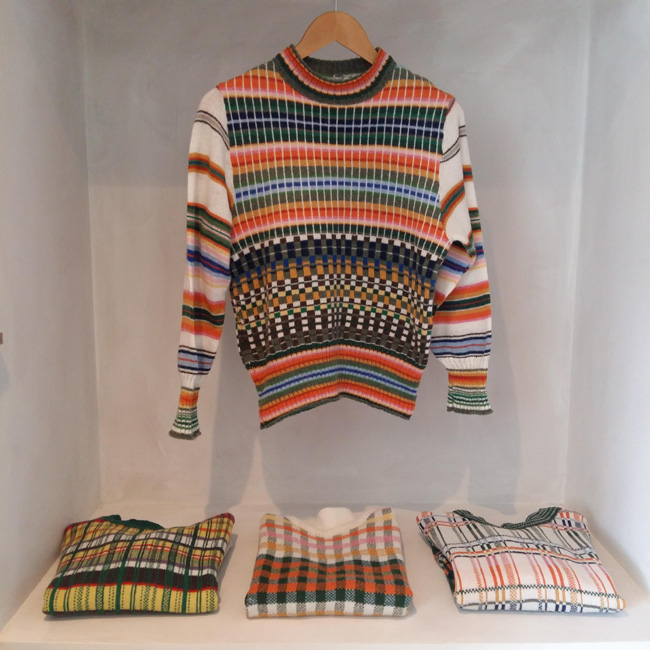 ENSELL & HALL LTD continues to gain momentum with their vast array of contemporary and innovative printed textile design concepts. "We aim to surprise and delight the market with resolved, fully repeatable, prints developed with contributions from our growing team of both young and established creatives. Trend informed, but not trend led; accessible, but never boring. With the diverse backgrounds of our team, we are able to offer a broad range of dynamic approaches to print design solutions".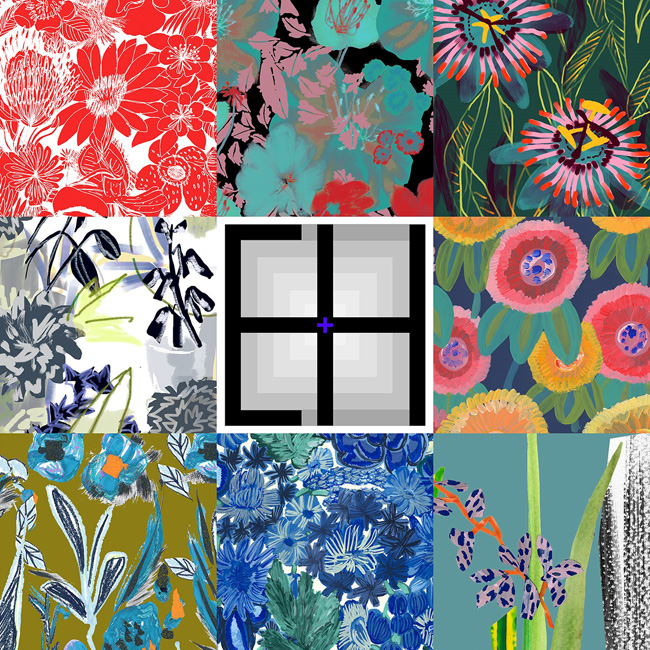 JAYNE GOULDING is a fashion and interiors embroidery designer and studio. Jayne is excited to present her AW18/19 collection at Premi?re Vision Designs. The range includes digital embroidery and fabric manipulation techniques. Jayne combines the use of hand drawn designs with CAD technology, offering trend driven, innovative but commercial designs and inspiring bespoke concepts. The new collection explores floral, mark making and geometric designs through 3D embroidery techniques and texture with beautiful colour stories on sumptuous fabrics.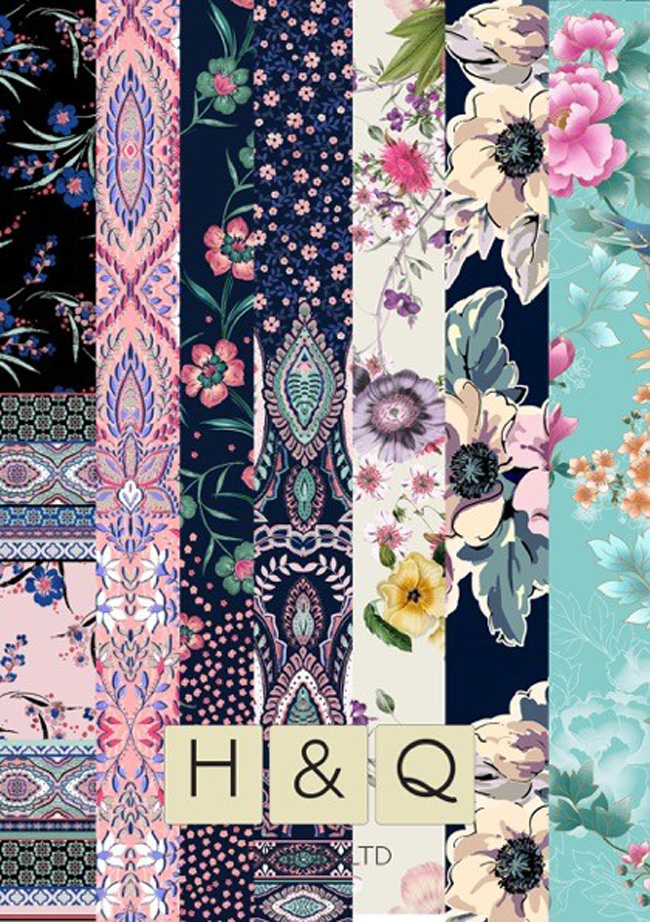 H & Q DESIGN LTD: "Showing for our third year at Premi?re Vision Designs is very exciting. We believe that our mission statement of 'a return to quality' is now more important than ever. For this collection we are continuing to play to our strengths by including beautiful colour saturated florals, colourful geos, moody tribals and soft ethnics. We are also excited to have added menswear customers to our client list to sit alongside our womenswear, homewear, swim, sleep and lingerie customer base".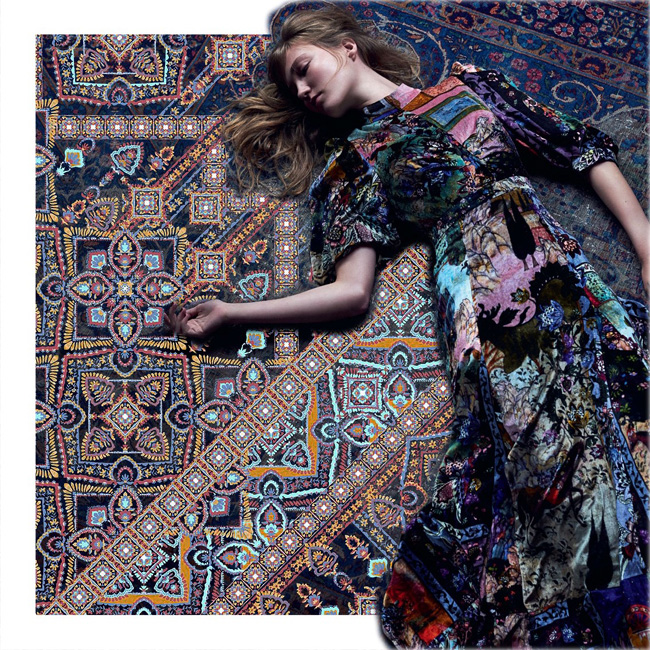 HER STUDIO LONDON will be exhibiting at Premi?re Vision for the first time this September, having launched their studio in January 2017. The studio may be new, but the team behind HER Studio includes seasoned professionals who have been working hard this year to bring you an exciting new collection from a forward-thinking design team. HER offer a decorative feminine handwriting that is commercial and executable, yet still wholly unique and original. Founders Bex and Helen can't wait to share their new ideas for the season with you in Paris.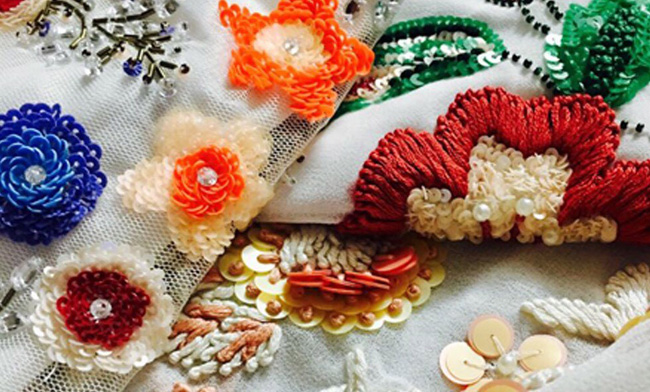 NASCENT FASHION STUDIO produces original embroidery concepts for the fashion industry. "Our collection showcases a beautiful mix of hand-made embroidery, appliqu?, bead work and sequins, thread work and fabric manipulation, making each hanger unique. We also offer specialised and customised fashion design consultancy services to international fashion designers & fashion houses".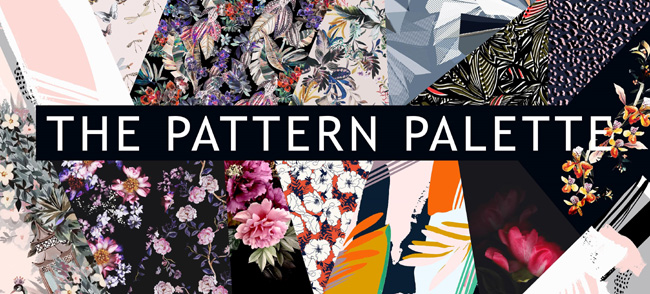 THE PATTERN PALETTE are excited to be exhibiting for the second time at Premi?re Vision Paris. Founded by 2 industry professionals with a wealth of experience in design, The Pattern Palette specialises in creating beautifully drawn, unique pieces in stunning colour palettes. With plenty of highly commercial and on trend designs in their collection, they also demonstrate a real freshness and keen eye for something new.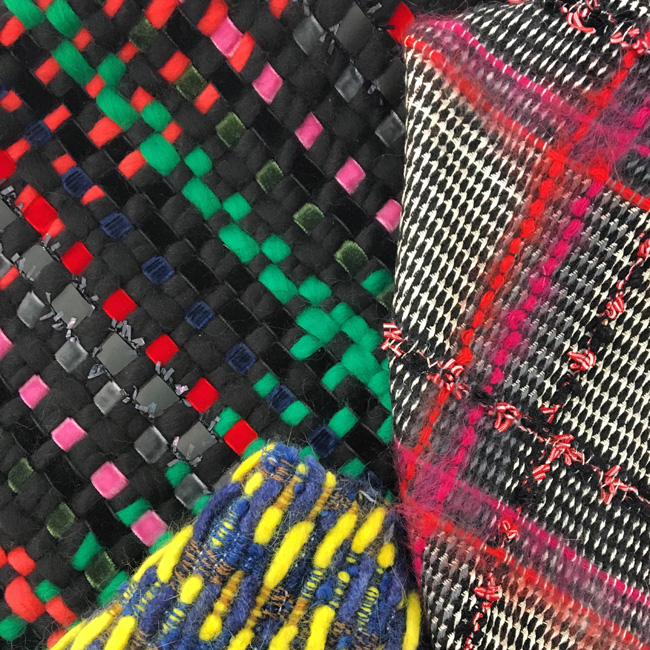 RARE THREAD is a textile studio, consultancy and micro mill comprising 6 specialist woven dobby and jacquard designers and weavers. The studio champions hand and machine woven textile design and finishing for a broad variety of textile outcomes including Fashion, Interiors and CMF to Material Development and Trend. Rare Thread produces a seasonal collection of designs for inspiration and also manufacture to sell, alongside providing design development and consultancy for a range of markets. "We are excited to exhibit in Premiere Vision Designs for the first time to build on our existing international relationships and forge new ones".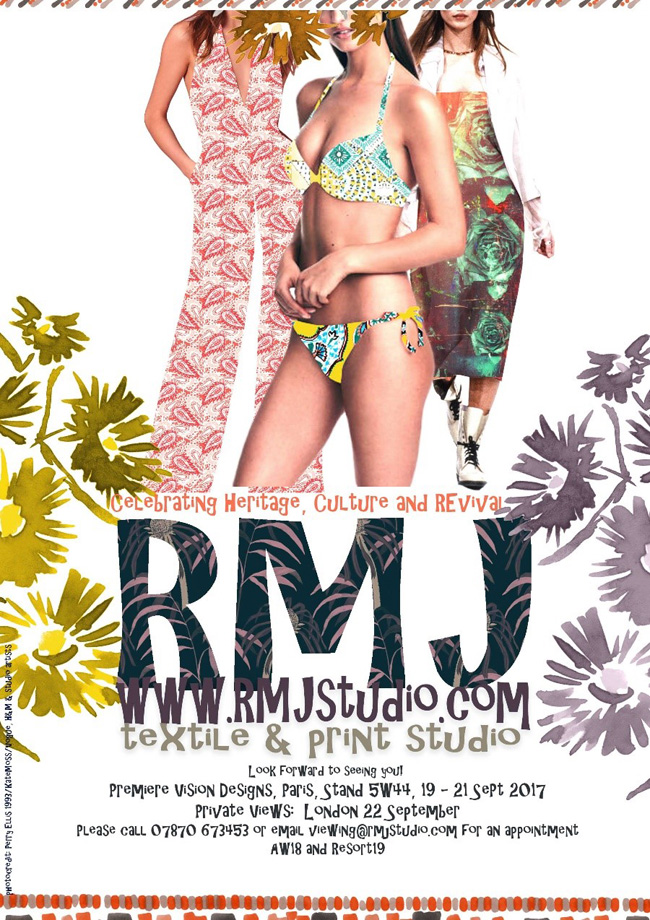 RMJ PRINT STUDIO launched in February 2016. "We are the only textile design studio in Pembrokeshire and participating at Premiere Vision Designs has enabled us to create artistic opportunities, connect on an international platform, increase our visibility and gain contacts. We are now in our 18 month of trading and have had success in local and overseas markets. Our collection is trend inspired but always unique and hand-painted. We have been privileged to work with exciting new clients and have glimpses of our work shown at London and NY Fashion Weeks."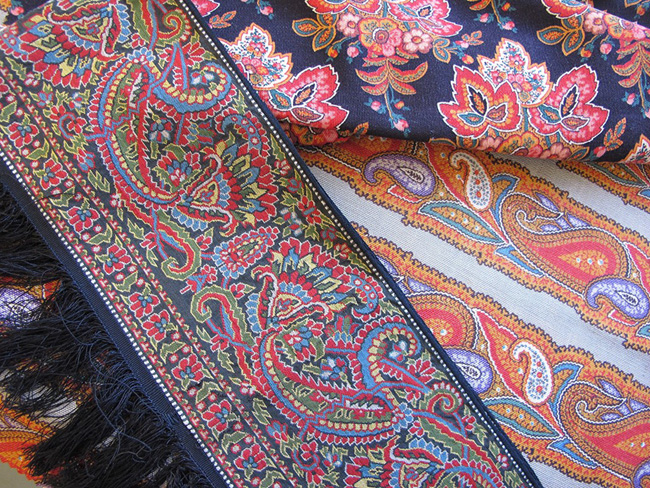 ROWENA BRISTOW STUDIO is back again at Premiere Vision Designs to showcase their highly creative and individual collections. "With inspired drawing techniques and an original twist on the trends, our designs should inspire and excite you. We have a wealth of experience and have been successfully selling designs for over 20 years. Throughout this period we have gained international recognition from high street through to luxury brands. We look forward to meeting new customers and showing you our latest range of beautiful prints".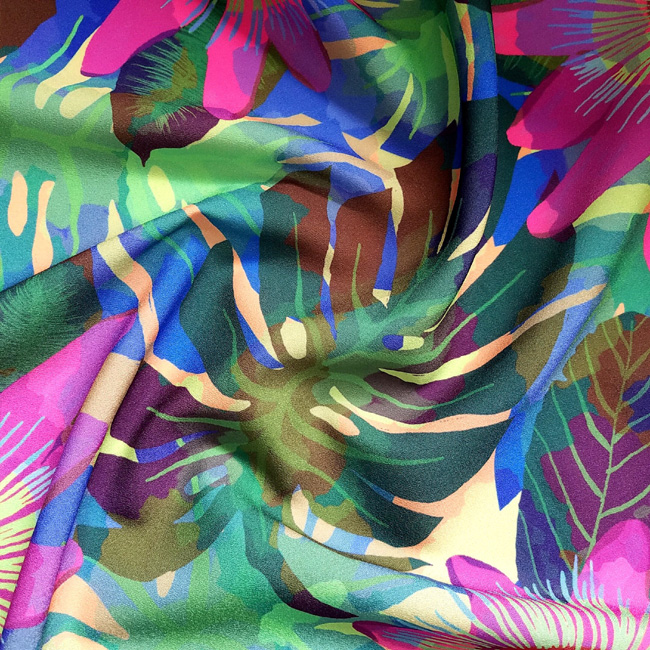 London-based vintage fashion archive SOURCED VINTAGE STUDIO will be presenting a beautiful new range of unique vintage samples for the A/W 18/19 season exclusively at Premi?re Vision Paris. Founded by fashion trend expert Claire Foster, the collection of unique vintage garments, print and embellishment swatches are curated with inspiration and commercial design development in mind. Focused on the womenswear, children's wear and interiors markets, Sourced Vintage Studio are looking forward to meeting with new and existing clients during the show.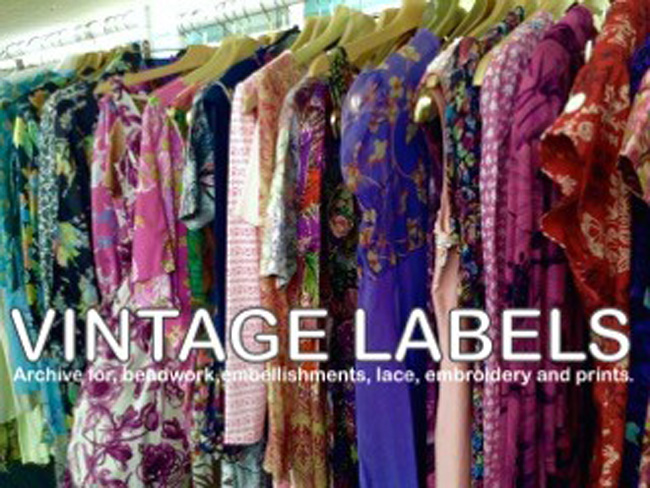 STAIN & REVERIE is a vibrant new print design studio showing at Premi?re Vision for the first time. "Formed of international designers, we take an obsessive approach to trend research and apply our rigorous creative process to come up with unique contemporary prints ready-made for fashion. Whether it's a traditional hand drawn design, or created using cutting-edge 3D software, our exclusive prints are designed with apparel application in mind". Founded by international designer Rachel Yancey, a Parsons School of Design graduate and textile design professional, Stain & Reverie seeks to deliver fashion forward prints to womenswear brands around the world.

VINTAGE LABELS is a vast, London based archive of women's wear sourced specifically for film and fashion. Knitwear, printed, embroidered and embellished garments dating from the 20th century have inspired many design studios and high street brands for the past 10 years. The archive is excited to launch its new curation of vintage printed swatches at Premiere Vision.


Hits: 4603 | Leave a comment