"Migration" NABA Fashion Show 2017
The traditional final event of the academic year took place on July 5th at 9.30 pm at the NABA campus in Milan. Almost 200 students from the BA in Fashion Design (60 of which attended the course in Fashion Styling & Communication) and 45 students of the MA in Fashion and Textile Design were able to celebrate their hard work with a catwalk attended by press, fashion institutions, companies and influencers, besides their teachers and families.
During the year, under the supervision of Colomba Leddi, Course Leader of the BA in Fashion Design, the students were asked to work divided into six thematic groups following the general theme "Migration", conceived by Nicoletta Morozzi. Migration intended as a transfer of ideas, but also as a cultural exodus represented by the many students who had to move to Milan from 70 different countries in the world to attend NABA and specialize in their industry of choice. Fashion represents one of the most immediate and resonant effects of this phenomenon, producing hybrids and new aesthetic languages.
The exchange of ideas, functions and skills is at the basis of the students' work in the Academy. From the beginning, students are required to test themselves with concrete and challenging projects. Paolo Bazzani, industry professional and Art Director of the Fashion Show, said: "Thanks to the course in Fashion Styling and Communication, we try to recreate the concept of team work, involving fashion designers and other professionals related to the representation of fashion such as art directors, stylists, graphics and video makers. Together, they design the images for the communication of the collections created within the course in Fashion Design."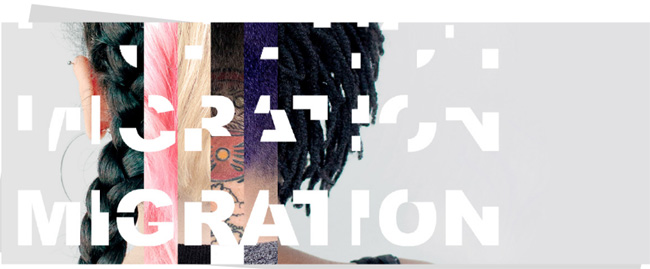 In addition to the projects carried out individually on the collections, the students had to manage the organization of the event: the catwalk, the realization of a magazine under the theme "Migration". The idea of addressing the world of fashion communication also through a magazine, means the opportunity to apply in a practical and complete way all the professional skills learned during the course of their studies.

During the day, a jury of journalists and industry professionals viewed the collections of the 3rd year students (consisting in three outfits for each student) and selected the top 21 projects, which had the opportunity to be presented on the catwalk during the evening Final Fashion Show which was open to the public. The chosen finalists were: Agnese Beccati, Annalisa Accica, Bianca Teglia, Elisabetta Bizzotto, Erica Caputo, Giuditta Tanzi, Giulia Masciangelo, Giuseppe Sottile, Helena Pardo Marin, Ilaria Saini, Manuela Riboldi, Marisabel Damato, Mateusz Jakubczak, Stevina Christhy, Susanna Recchia, Valentina Mariani, Valeria Accurso, Vesela Zheleva, Yanan Ni, Yixuan Wang and Yunyao Ji. The jury was composed by Marie Claire journalist Antonio Mancinelli, Elle editor Marta Saladino, co-founder of Alla Carta magazine Fabiana Fierotti, journalist and illustrator Fabrizio Sclavi, I-D Journalist Mattia Ruffolo, founder of Between Design Research Sabrina Damassa, journalist Miyuki Yajima, creative manager of LaGente Valentina Colombari and Luca Rizzi, founder of Creative and More.

During the show, NABA MA in Fashion & Textile Design students (Course Leader Aldo Lanzini) presented the collections realized under the guidance of Romeo Gigli and Claudia Nesi. The catwalk also included the NABA uniforms "NABA Collection 2017" created during the course led by Cinzia Ruggeri. The catwalk also included projects designed by the students from the Tsinghua University of Beijing and the East China University of Shanghai.

The catwalk was accompanied by music produced by the students of the Certificate Program NABA SOUND, curated by Igor Muroni. This course offers a complete training ranging from music production to sound branding, from sound design to cinema television and radio, to experimental music and sound art. During the day, Lectra, world leader in integrated technology solutions for companies using fabric, leather, technical textiles and composite materials, awarded student Helena Pardo Marin, with a free license of Modaris® software – Lectra's solution for modeling, grading and prototype – and Diamino® software – Lectra's solution for marker-making. The winner of the Lectra prize was also awarded the opportunity to have an internship in Missoni.

About NABA
NABA, Nuova Accademia di Belle Arti, is an education Academy focusing on arts and design: it is the largest private Academy in Italy, and the first one to have been recognized by the Italian Ministry of Education, University and Research (MIUR), back in 1980. As a recognized Academy, NABA offers academic diplomas equivalent to first and second level university degrees in the fields of design, fashion design, graphics and communication, multimedia arts, scenography, and visual arts. The Academy was founded in Milan in 1980 upon the private initiative of Ausonio Zappa, Guido Ballo and Gianni Colombo and since 2009 belongs to Laureate International Universities. NABA was selected by Frame and included in the Masterclass Frame Guide to the 30 World's Leading Graduate Design, Architecture and Fashion Schools, by Domus Magazine as one of Europe's Top 100 schools of Architecture and Design as well as by Business of Fashion as one of the 50 World's Bests Fashion Schools.


Hits: 4272 | Leave a comment