Popular custom tailors in Minnesota
We continue our series of articles about the custom tailors from the separate states in USA. It is time to show you the custom tailors in Minnesota. These tailors are with a rich experience in custom made suits and accessories. Some of them provide the tailoring service in more states but also have a workshops in Minnesota.
King Brothers Clothiers - Twin brothers, Kenny and Danny King are King Brothers Clothiers. Based in Minneapolis / St.Paul, the King Brothers specialize in balancing timeless style with today's trends. They set themselves apart, and above, the competition by the bespoke process they use, and the pricepoints they offer. The King Brothers work with some of the area's most prominent athletes and have been featured nationally on FOX, ABC, ESPN, NBC, CBS, and NBA TV as well as many national and local publications including MSP Magazine, MR Magazine, NBA.com, Minnesota Monthly, Twin Cities Business Magazine, among others.
Top Shelf Clothiers and Consultants - Since 1976, a strong service ethic and an imaginative staff of loyal and dedicated tailors, combined with energy and panache, have built Top Shelf into one of the largest sellers of custom clothing in America. We provide three primary functions to their clients: Education, Consultation, and Professional Services. Principal reasons to purchase custom suits are; fit, selection, quality, and professional service. Rather than buy whatever fashion dictates in a given season, a custom suit is designed from the ground up to flatter the individual with styles that are suited to their personal shapes, tastes, and needs. Many clients who can fit an off the rack suit very well still choose custom in order to have a much broader range of fabrics to choose from, and to control the detail features of design to suit their own tastes.
John's Tailors - As one of the oldest, most highly recognized, recommended, and awarded tailor shops in Minnesota, John's Tailors strives to provide customers with exceptional quality and timely completion of work, superior service, and guaranteed satisfaction. John's Tailors offers a complete line of custom and made-to-measure executive apparel. They offer an unparalleled selection in the latest styles, along with top-notch alteration services. You can choose from more than 500 suit fabrics and over 250 shirt fabrics. They carry all the accessories for your complete wardrobe, including hundreds of ties to choose from. Dozens of careful and exact measurements for both shirts and suits guarantee that every garment is tailored and fitted to your body style and personal taste.
Hubert White - Hubert White has been the quality standard of men's apparel in Minneapolis since 1916. Founded in Saint Paul by Hubert "Bert" White as a haberdashery, the young store soon added clothing. As Bob White explains, "my grandfather had exquisite taste and set a tone we strive to maintain even today." Hubert White remains family-owned and operated to this day. Hubert White is proud to offer an extensive selection of Made to Measure tailored clothing and shirting from the finest men's clothing manufacturers in Italy and North America. Their specialists are here to provide friendly and knowledgeable assistance each step of the way. Whether you're considering your first ever Made to Measure garment, or choosing new fabrics for your measurements that we keep on file, they love helping their clients sort through the options to create a garment that fits and looks the way you want it to.
Milbern Clothing - Founded in 1946, Milbern Clothing is a family owned third generation business that has been providing its clients with "Quality at a Discount" in the Twin Cities area for over 60 years! Their first store was established as Milton Clothing, a wholesale jobber, in the warehouse district of downtown St. Paul, Minnesota. From the beginning, their philosophy has been to provide their customers with "Quality at a Discount". Well known brand names are their stock in trade. Personal service is their hallmark.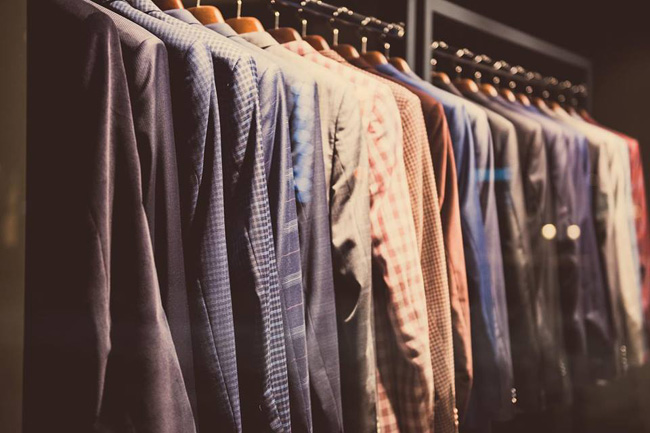 Judd Frost Clothiers - A certain low-key aura. Experienced professionals. The highest standard of personalized service. A remarkable attention to detail. Just a few of the reasons why three generations of the most discerning gentlemen have turned to Judd Frost to create a style all their own. At Judd Frost, it's the unique personalities and their wealth of experience that makes us tick - and click with customers.

Judd Frost Clothiers - A certain low-key aura. Experienced professionals. The highest standard of personalized service. A remarkable attention to detail. Just a few of the reasons why three generations of the most discerning gentlemen have turned to Judd Frost to create a style all their own. At Judd Frost, it's the unique personalities and their wealth of experience that makes us tick - and click with customers. For all of their services, they prioritize customers who have shopped with us in the past. Whatever you need from their store or staff, they're committed to 100% customer satisfaction. Their basic services include Personal Shopper, Custom Suit Design, Custom Shirting and In-Store Tailoring.

The Foursome - The Foursome offers a full service, on-site tailor shop. Their goal is your satisfaction in fit and comfort and we will do everything we can to help your garment fit right. Expert tailor, Hyo Shik Chong, has over 40 years of expertise and specializes in tailored clothing.

Persona Custom Clothing - Infuse your own personal style into a handcrafted suit that's tailor made exactly for you. If you thought that a custom made suit was too expensive, think again. Persona is redefining the custom suit buying experience! Choose from a large selection of fabrics and patterns ranging in price from $850 to $1299. Each suit is individually custom made to your precise measurements and specifications. Whether you're looking for a classic black suit or a more modern slim fit, their Style Consultants will guide you through their customization options to find the look that's right for you.

Andre Lani Bespoke - For the last 40 years, Andre Lani has lent his expert craftsmanship as a bespoke clothier to discerning gentlemen around the world, merging timeless style and modern fashion to help them look their best. Long before he began honing his craft alongside some of Hong Kong's most renowned tailors, Andre's sartorial passion was born when he was just a child in his father's humble tailor shop. Growing up, Andre discovered he had a natural talent for art, creativity and design. Having been surrounded by the world of sartorial detail from a young age, he quickly learned to put his penchant for the aesthetic to work in tailoring. Since then, Andre Lani has worked with some of the most talented minds in the world of fashion, design and menswear, assembling a team of Custom Clothiers who who have the talent and experience to produce garments of unrivaled fit and quality for men around the world.


Hits: 5411 | Leave a comment