Popular men's suit bespoke tailors in Berlin
Today, we are going to present you some of the most popular in the capital of Germany - Berlin. The city is well known with the fashion events that are hosted there. We all know about Berlin Fashion Week, but nobody is thinking that there may be find some of the master tailors in Europe.
1. Monokel - Monokel Berlin is the made-to-measure manufacturer for the new generation of men in suits. No matter if it's for evening wear, for a business or a leisure suit, together with you, we will create your tailor-made suit, shirt or chino-trousers. We would be happy to also advise you on your wedding suit. We can supply you with made-to-measure clothing, including the matching accessories, such as ties, pocket squares and men's shoes, available in always changing collections. Our custom-made suit is made of high-quality virgin wool; the custom-made shirt is made of the finest cotton; the tie of Italian silk and the shawl of hand-combed Cashmere. Monokel Berlin is the address for the modern gentleman of today. Starting from the inlay, the yarn and up to the buttons, we only use selected products for our tailor-made suits and shirts. Every fit is developed for every individual client, according to his size and personal preferences. We combine classic fashion with today's requirement for fashion, cut and fit. At Monokel Berlin we follow the vision of perfect fitting suits, shirts and clothes of excellent quality which won't cost you a fortune. Affordable fashion which dresses you without disguising you. Book a fitting for your custom-made suit today.
2. Brandstetter - Love of details, meticulous craftsmanship, a passion for precious materials and the finest cloths combined with natural curiosity and openness, a delight in making beautiful and sustainable products, creative thinking, and a close working relationship with clients – all these are things that define our daily work, characterise our bespoke tailoring service, and fill us with the utmost pride. Their bespoke suits are characterised by individual pattern construction, the highest standards of craftsmanship and the finest fabrics.
3. Hellmann - If you are looking for exquisiteness, true elegance and the best in mens fashion, Hellmann Mens Wear offers you all services from custom-made suits to 360 degree personal service. Experience a unique consultancy on your complete wardrobe planning. Each Hellmann Mens Wear product is the embodiment of uncompromising quality and exceptional tailoring and craftsmanship. Sharing the passion for excellence and precision while creating unmatchable style and the highest level of comfort.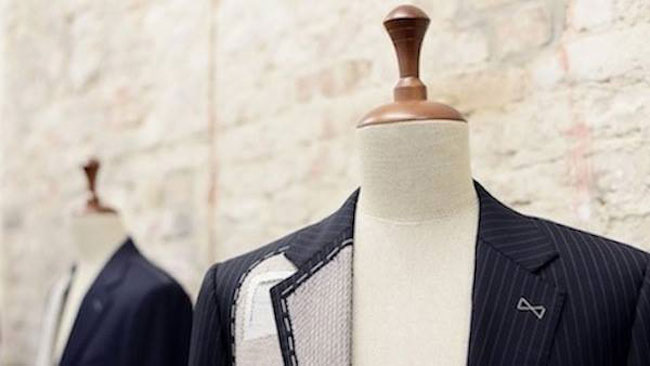 4. Purwin and Radczun - They love the traditional craftsmanship of bespoke tailoring. After having been displaced by ready-to-wear for so many years, today bespoke tailoring is having a global revival. While the tradition was kept alive in the two main centers of tailoring in Italy and England, the huge community of bespoke tailors which once worked in Germany, and particularly in Berlin, were almost completely forced out by modern industry. Purwin & Radczun are bringing this tradition back to life right in the center of Berlin, close to where the old tailors worked. Their partner James Whitfield heads a team of tailors which manufacture all steps from the individual cutting of the pattern, through the fittings up to the finishing in the atelier. More than four thousand fabrics of the most renowned mills are available for customers to choose from.

5. Alexander Amann – Berlin's Youngest Bespoke Tailor - He is very approachable. Even bespoke newbies who do not know what bespoke really means should have no problem with Amann's down-to-earth mentality and willingness to explain everything. Amann has a passion for tailoring, but he was also proud of being a tailor and for him that all garments are cut and sewn in-house from start to finish. Sometimes, if he is really busy a freelance worker may come to the tailor shop in order to sew the buttonholes or finish other little details. Generally, Amann makes a suit from start to finish in about 60 to 70 hours, depending on the style.

6. Volkmar Arnulf - Volkmar Arnulf stresses that to him bespoke tailoring is about the customer's need, not imposing a style on the customer. Evidently, as a tailor you are embedded in a certain history of tailoring but a first class bespoke tailor should really try to find out, what serves the customer using all his knowledge and tools. "I always try to figure out, which line will make the customer look as good as he possibly can. Later, when striking the pattern, I apply various thought models to reach the right result," Volkmar Arnulf explains.


7. Berlin Bespoke suits - Under certain circumstances MTO and MTM are very narrow and can even overlap at times. It depends on whether an individual pattern has to be designed or a block pattern derived from a default suit. In both cases the results could be fatal, if individual details of a correct fit could not adequately be implemented within the pattern. In addition, coarse pattern construction errors within the basis constructions are possible, if the cutter had not gone through a traditional apprenticeship/cutting school and by applying designer programmed pattern software. Examples to be mentioned would be falsely justified front neck points, chest measurement ease and armholes too large in connection with false back- and scye depths.
Website: www.berlinbespokesuits.com


Hits: 10415 | Leave a comment