Studying Fashion Design in Westminster University - an unique opportunity to become a designer
The Fashion Design course has an outstanding reputation for developing highly talented and original fashion graduates. Westminster University specialises in enabling you to become an individual and creative designer, capable of working at the highest levels of the international fashion industry.
Throughout the course, the emphasis is on the development of your personal design philosophy. The course offers a comprehensive design education for dedicated and ambitious individuals looking for a specialist career in the creative arena of the fashion industry. You will also gain the transferable and cognitive skills necessary for lifelong personal and professional development.
Internships on both the three-year and sandwich course are undertaken at leading international fashion companies, and have recently included Adidas, Alexander McQueen, Alexander Wang, Balenciaga, Balmain, Calvin Klein, Celine, Christian Dior, Christopher Kane, Craig Green, Givenchy, Jeremy Scott, Kenzo, Lanvin, Loewe, Vuitton, Martin Margiela, Marc Jacobs, Thom Browne and Tom Ford.
Course graduates include London Fashion Week designers Claire Barrow, Roberta Einer, Liam Hodges and Ashley Williams; Christopher Bailey, Chief Creative Officer of Burberry; Michael Herz, Artistic Director of Diane von Furstenberg; Katie Hillier, Creative Director of Marc by Marc Jacobs; Jutta Kraus, Creative Director of Bernhard Willhelm; and Stuart Vevers, Creative Director of Coach. Whilst graduates from the last 3 years are now working at Gucci, Versace, Burberry Prorsum, J.W. Anderson, Dunhill, Bottega Veneta, Jacquemus and Paul Smith, MaxMara, Harrods, and Adidas.
Wendy Leong, who studies on the Fashion Design BA course, has won the Anne Tyrrell Student Design Award.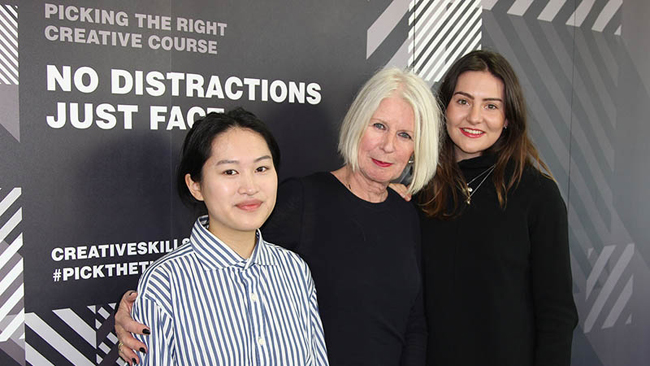 The competition was judged by an illustrious panel, including Betty Jackson CBE, who is famous for designing clothes for Absolutely Fabulous, and fashion designer Roland Klein. The submission brief for the awards required the designers to "demonstrate [their] signature, who you are or aim to be, as a fashion designer."

Winning the award means that Wendy can fulfil her dream of moving to New York where she will join an influential fashion house.

Speaking about her win, Wendy said: "It is a great feeling to get the title and the support for the future. It is definitely the right timing to receive this award because of my placement year but also a huge support to go abroad to experience and gain more knowledge from other companies and see how they work. This is something I've always wanted to do. Without the University of Westminster, the work space and the tutors from the fashion department I would have never got this opportunity. With their support and feedback it has helped me develop and realize what my strengths are as a fashion student."

The Anne Tyrrell Student Design Award was founded in 2015, in memory of Anne Tyrell MBE. She was passionate about fashion education and training.

Photos and information: www.westminster.ac.uk


Hits: 3812 | Leave a comment