PREMIÈRE VISION NEW YORK: a significant increase and diversification of the offer
For its 32nd edition taking place this January 19th and 20th, Première Vision New York marks a new stage in its evolution.
Already known for its premium offer of fabrics, accessories and textile designs, the show now broadens to include leather and manufacturing. The event, already the North American market leader, thus becomes a unique destination for buyers to develop collections, now bringing five activity sectors together under one roof.
Some 364 companies, each selected according to strict Première Vision criteria, will be present at Pier 94. The 30 companies premiering in the Leather space are distinguished by the exceptional quality of products for both clothing and high-end leather goods.
Among them are: Samanta and its fantasy skins, Tanneries Haas, offering an extraordinary palette of calf skins for leather goods, Nova Kaeru and its exotic skins, and lambskin specialists Mégisserie Lauret, RG Deri, CKD Cetinkaya, and Cuirs du Futur. The show is also a unique opportunity to meet Megisserie Alric, winner of the 2015 PV Awards Grand Jury Prize for the most outstanding and pertinent development in the season's leathers.
The Manufacturing universe welcomes 26 specialists with multiple know-hows for womenswear and menswear, particularly for high-end suits. There is a notable presence of several Moroccan companies, including the Modaline holding, whose production is already 70% destined for the American market. To be noted also the attendance of Portuguese companies Goucam and Montagut Industries and the Japanese knit specialist Shima Seiki.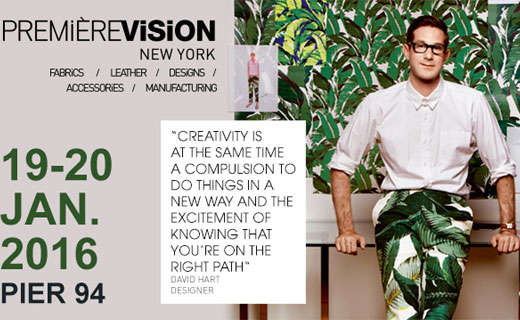 The show also hosts Manufacture New York, a consortium of fashion entrepreneurs, high-end manufacturers, technologists and educators showcasing an innovative vision of a vertically integrated Made in NY supply chain. Activation will include a mentorship & sourcing bar, workshops, panel discussions and demonstrations of fashion's best equipment & techniques.

In the Fabrics zone, 132 mills are presenting their latest developments for Spring Summer 17. A highly varied offer for all fashion universes, where the summery atmosphere of embroideries and prints stands out thanks to the presence of Ricamificio Gimar, Henitex, Carvico, Junior Arte Ricami, Savyon and Brazilian company Digitale Textil, showing for the first time. Fashion accessories once again feature prominently at the show.

Textile trims, metallic and plastic accessories, buttons, labels and tags, and functional trims from 19 companies will be displayed. Among them: 18 Store, Ramponi, Redmark and the Reca group, makers of the season's bag that will be offered to visitors. In terms of Designs, creative discoveries are always to be found at the show's 157 international design studios, always rich in imagination and enthusiasm.

Among the newcomers: Laridié Design Studio from Mexico, along with Oficina Lamparina and the Kale Williams Studio, who created the designs for the show notebook, produced by the weaver Arvind. Première Vision New York is also a place to find inspiration, and is the industry reference for decrypting the season's trends.

The can't-miss stops at the show are: the Color Range by Première Vision and the Trend Forum.

The Color Range is unique tool.
The color elaboration results from a series of international meetings, which are a Première Vision specificity. The PV partner spokespersons share their color intuitions and convictions with the fashion team, as well as their ideas about fibers, materials, handles, and aspects that will all contribute to the future fashion season.... PV partners are recognized international fashion and textile industry professionals. The color range is born from the richness of these discussions, which the PV fashion team then sums up and transmits, first to exhibitors, later making the information available to fashion professionals.

The Trend Forum
displays the major trends through a selection of exhibitors' most distinctive samples: accessories, fabrics, leather. The Forum is also a useful way of finding suppliers.

This season, the Denim&Couture exhibit is another space meriting a stop. Originally created for the Upper Jeanswear area (the jeanswear concept at Première Vision Paris tailored to high-end fashion brands), this exhibition now arrives in New York. Designed and created by the famous Atelier Jean-Pierre Ollier, the area explores the new connections between denim couture and tailoring.


Hits: 4751 | Leave a comment