Cerruti Fall/Winter 2015-2016 Menswear Collection
A work of art always comprises autobiographical elements. It's an object that comes from surrounding reality, something solid that is then covered by spiritual energy. You could describe it as substance, and my work is transforming that substance – Joseph Beuys. Aldo Maria Camillo looked to the work of the artist Joseph Beuys as the inspiration for the new Cerruti 1881 Paris collection – Beuys as an industrious shamanic figure, imbued with deep-seated pragmatism, and an unstoppable desire to transform. He gleans Beuys' creative spirit, along with his penchant for nourishing and protective fabrics and a vibrant conciseness.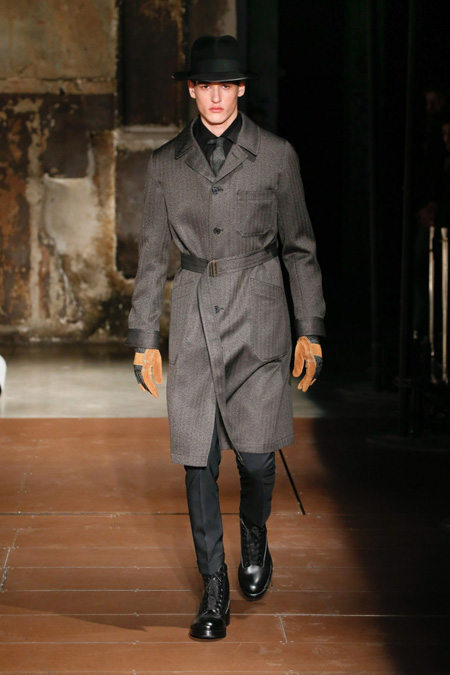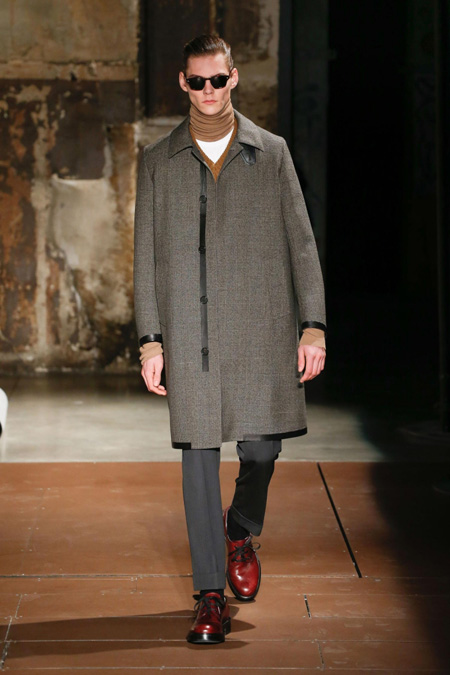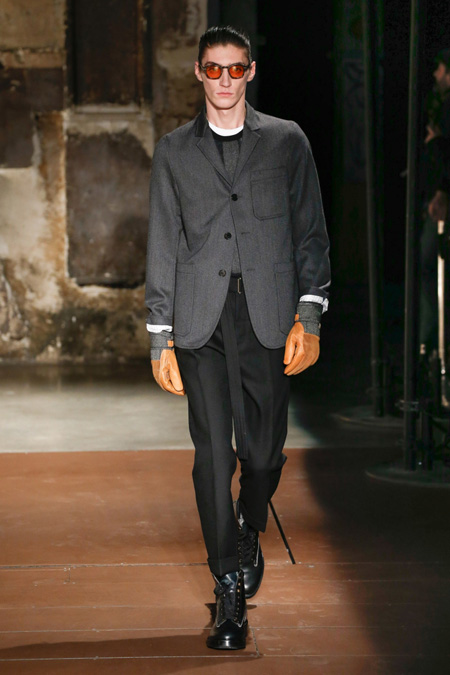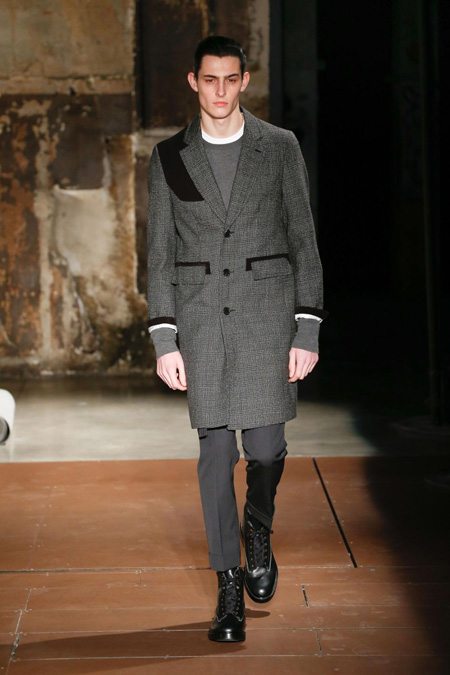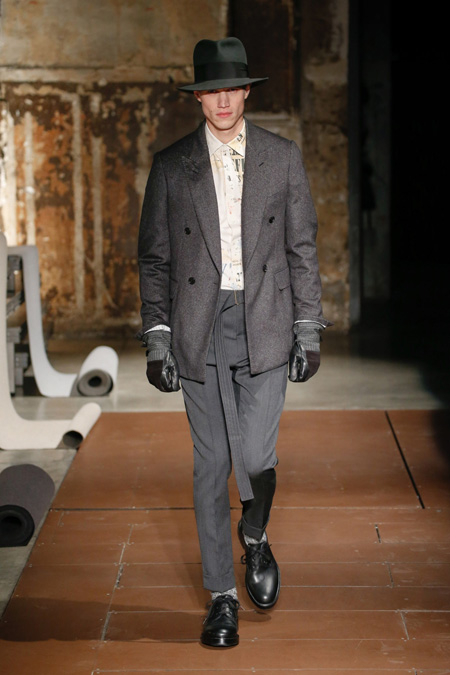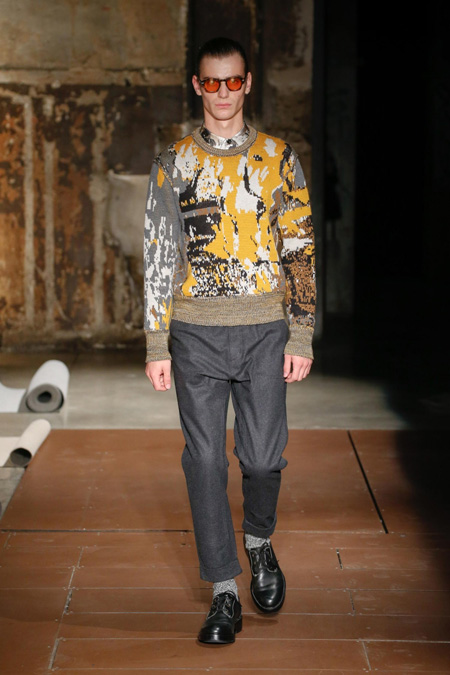 Just like Beuys used felt to shield and protect, so Aldo Maria Camillo employs patches reminiscent of those used in traditional work-wear or hunting attire. Made of leather, fabric, suede, these elements recur throughout the collection, protecting garments from wear and tear, making them durable and therefore more personal. The stylistic path coincides with the depiction of an authentic male iconography. To be and to be seen fuse into an eclectic awareness that is free from constraints. This man, who knows so much and shows so little – a characteristic trademark in the Cerruti DNA – is in search of a wardrobe comprising essential garments that combine the beautiful with the useful.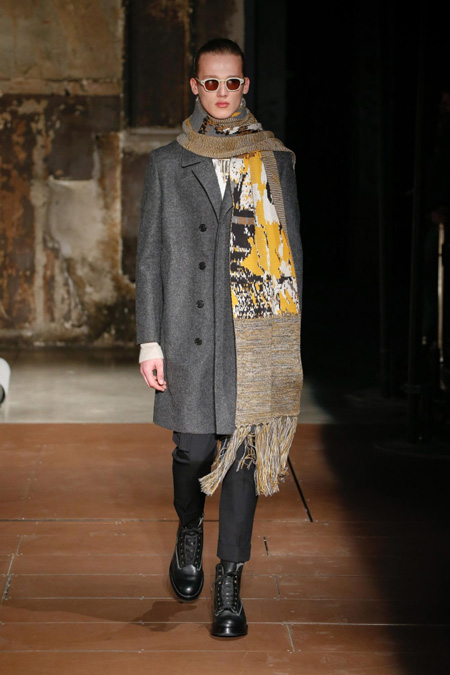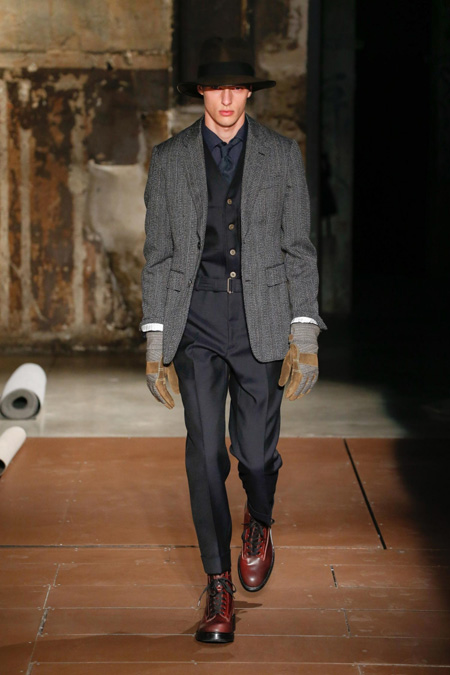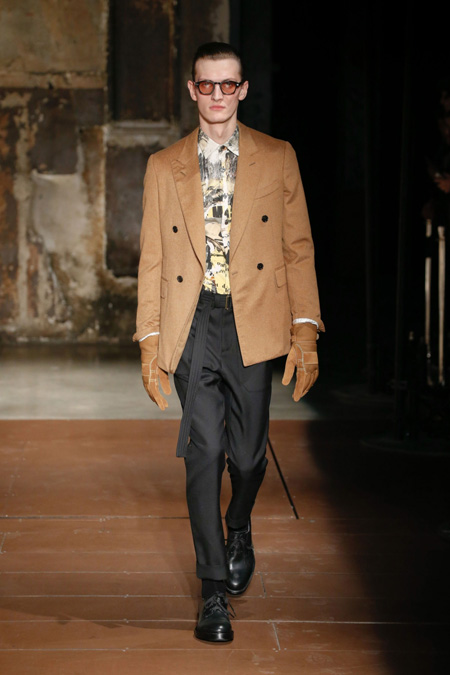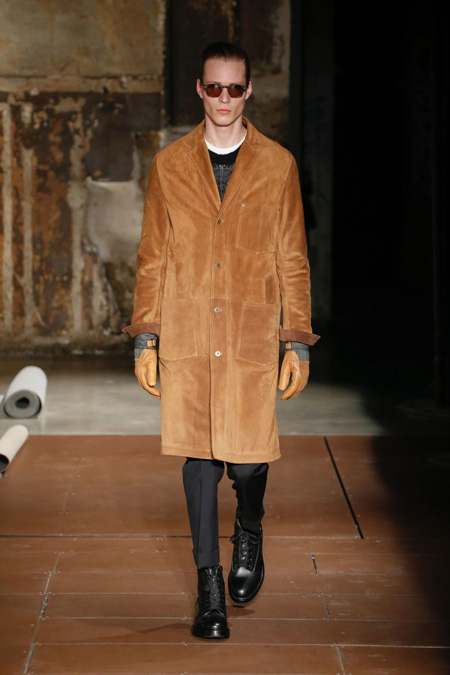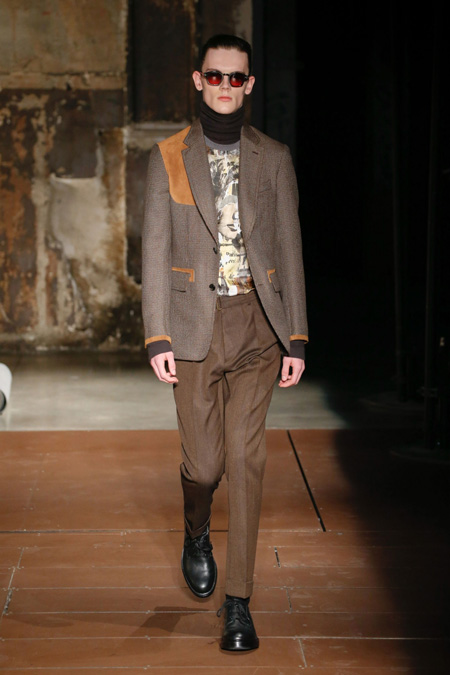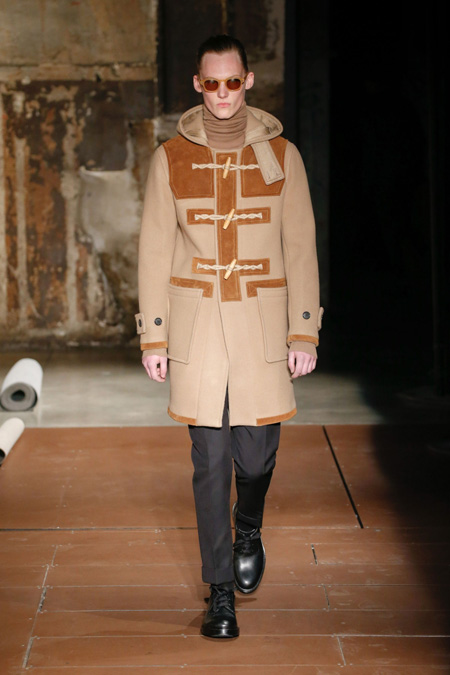 There are sport coats, trench coats and blouson jackets cut in sartorial fabrics, in a continuous crossover between formal and sportswear. There are two-piece suits with wide lapels, or three-piece suits with felt multi-pocketed waistcoats. There are work jackets and narrow clean-cut trousers, and a touch of and fur and shearling linings. The elongated silhouette defines the body in a natural and easy way, comfortably following its contours. When devoid of linings, the clothes reveal the perfection of their construction, at the same time highlighting the sensuality of the material – always vibrant and full.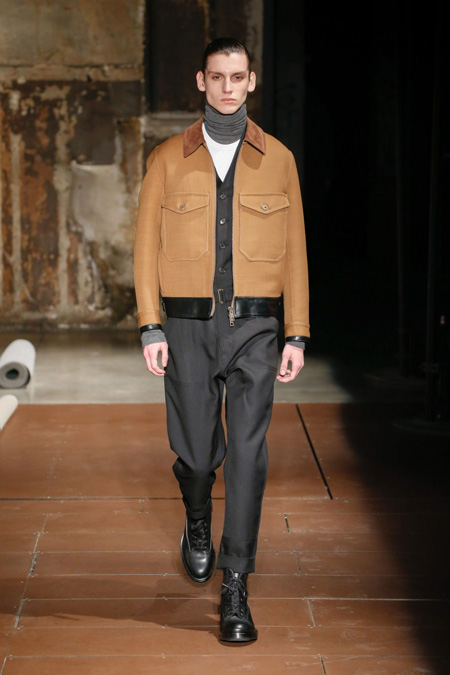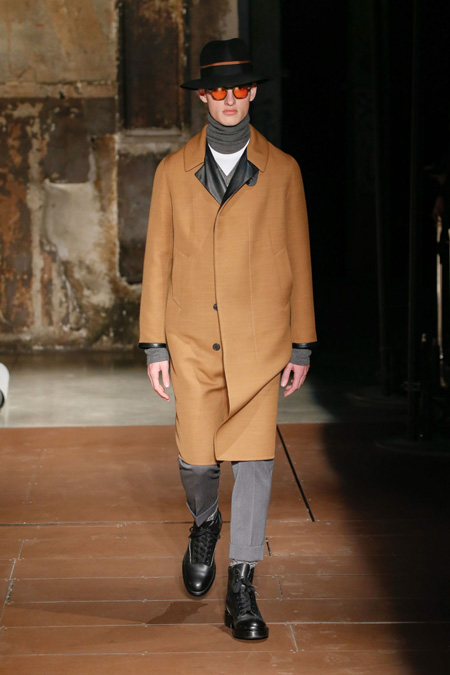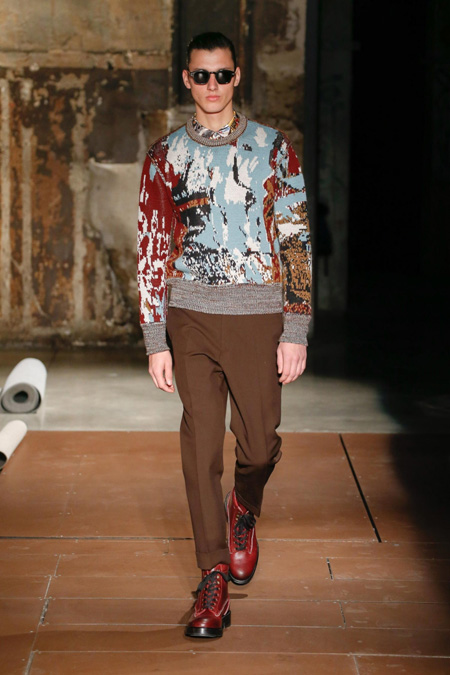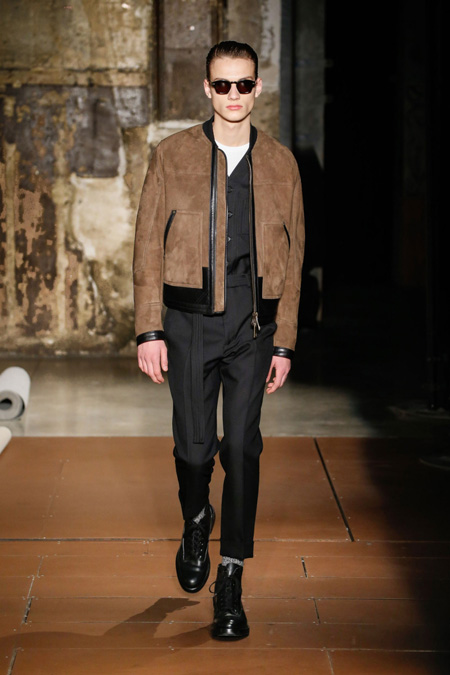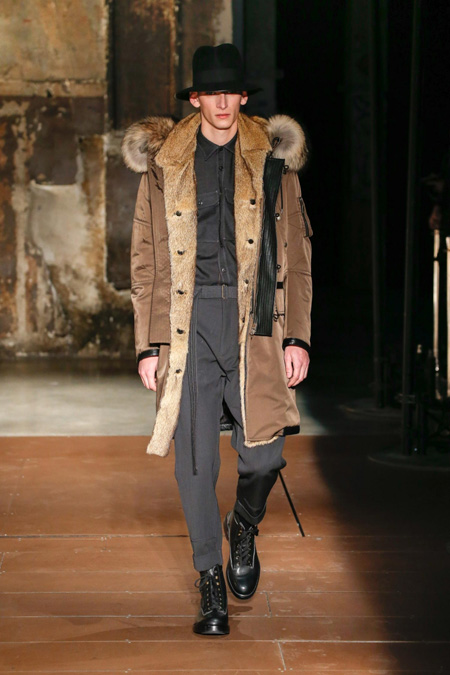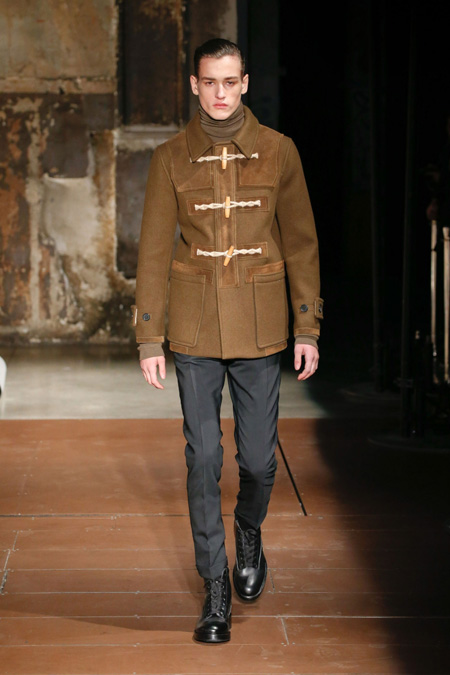 Mouliné and jaspé wools, jacquard, and wool and cashmere mélanges, super light mixes of cashmere flannels and silk for shirts. The fabrics, largely drawn from the Lanificio Cerruti's archives, create a tactile vocabulary enriched with unexpected flourishes; decollage prints on shirts in feather-light silk drills, nylon satin and cotton for padded outerwear. The vitality of the fabric bestows movement onto the organic palette, which begins with sartorial shades of grey, leaking into burgundy and camel, darkening into blues and blacks.
The ongoing search for durability extends to footwear, in high-end leathers like horse and cowhide. The shoes are classic, but reinforced using details more typical of workman's footwear. This eclecticism is also visible in the felt or alpaca hats, with their leather rims and in the protective multi-material gloves which sum up the spirit of a free and sophisticated collection; a range of possibilities inviting everyone to transform Cerruti's vocabulary into a personal style, thereby using clothes as a mean to communicate the essence of one's individuality.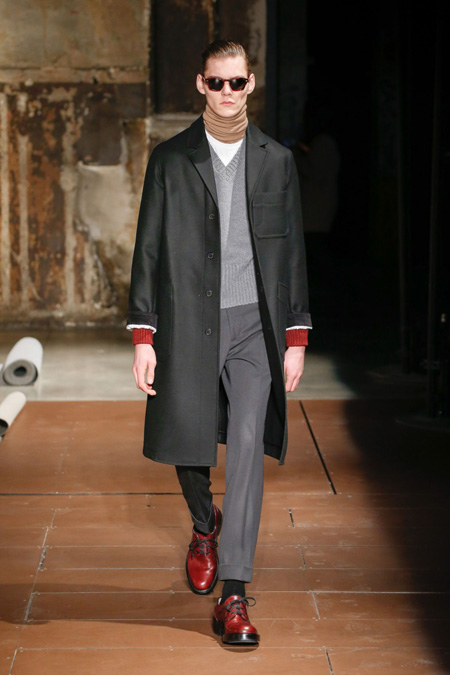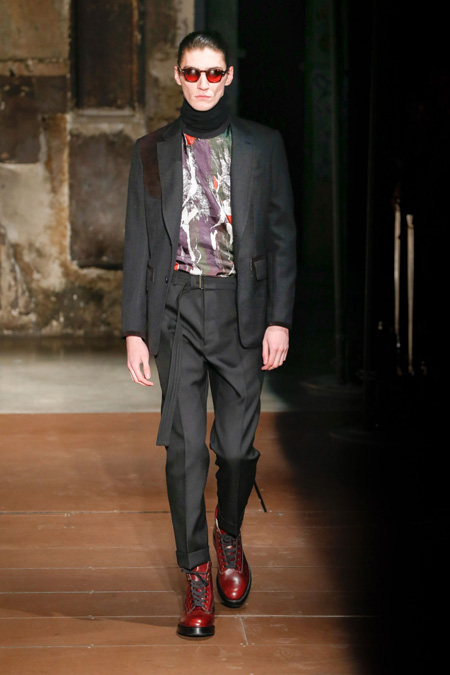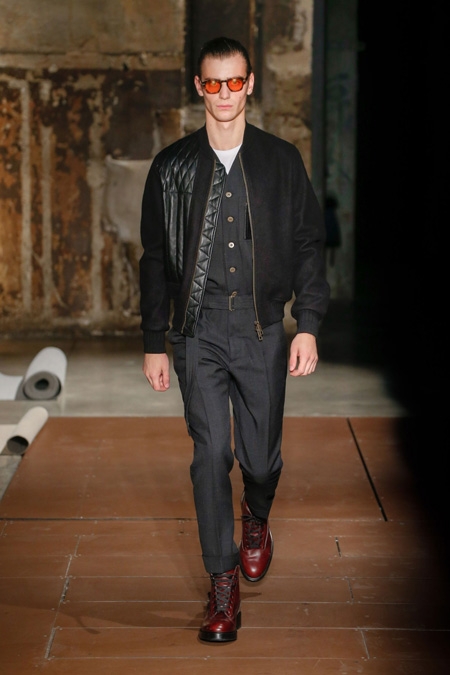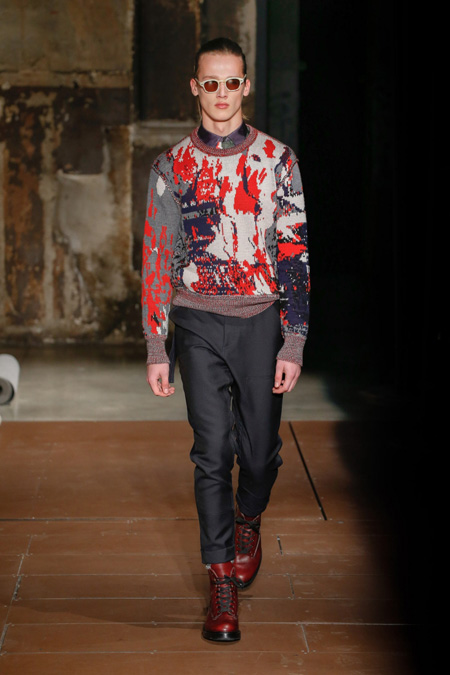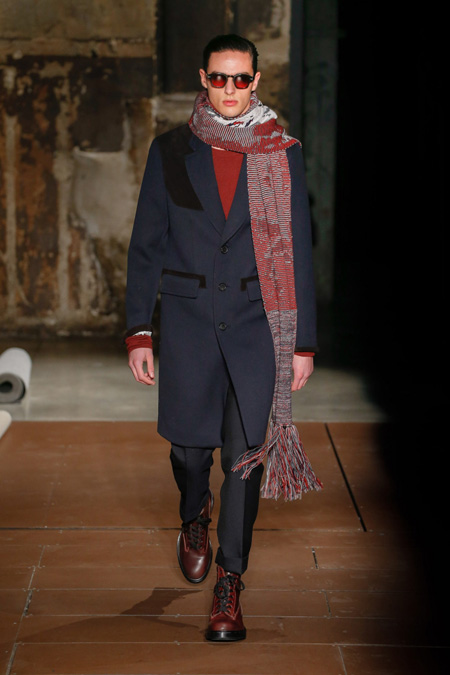 Photos and information: cerruti.com


Hits: 5958 | Leave a comment