Tag: linen suit
Menswear collections
Suitsupply presented its Spring-Summer 2017 collection earlier this month in the USA during the New York Fashion Week: Men's. Pieces were inspired by Bauhaus approach to design - practical and minimalist.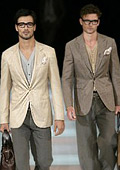 Fashion shows
Milan menswear for the Spring-Summer 2010 got off to a classy start Saturday, with glitzy glamour at Dolce and Gabbana, and super refinement at Giorgio Armani.

The designing duo kicked off the four days of preview showings with a collection that matched sequined tuxedo jackets with distressed pants, adding a new chapter to the "drunge" (part dandy, part grunge) look they invented a decade ago.