Become a Men's Suits Made-to-measure Agent
Start your own fashion business with no initial investments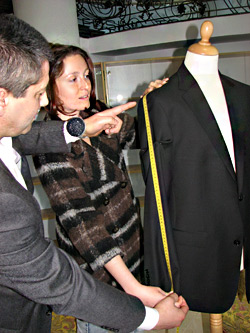 The Men's Fashion Cluster is looking for Made-to-measure Agents and Fashion consultants from Europe and USA. Your responsibilities will be to recommend and sell men's made-to-mesure suits, take measures from the clients and order the suits through an online web site. You can have your own men's suits brand with no initial investments!!!
For more details you can read the article
How to become a fashion consultant without any designer skills
Realistic earning potential of 120 000 euro/year.
Prior experience is not required. EVERYONE from the listed European countries and USA can apply. We will teach you how to take measures and work with our online e-shop for made-to-measure suits. The training takes one day.

If you have a men's fashion shop or atelier you can also join our team.
Fill in your details in order to register and we will send you more details.
EVERYONE is invited as we will build a very large network of more than 1000 agents !
We are looking for agents in the following countries and cities:

Austria
Vienna, Graz, Linz, Salzburg, Innsbruck, Klagenfurt, Villach, Wels, Sankt Pölten, Dornbirn, Wiener Neustadt, Steyr, Feldkirch, Bregenz, Leonding, Klosterneuburg, Baden bei Wien, Wolfsberg, Leoben, Krems

Belgium
Brussels, Antwerp, Ghent, Charleroi, Liège, Bruges, Namur, Mons, Leuven, Mechelen, Aalst, La Louvière, Kortrijk, Hasselt, Sint-Niklaas, Ostend, Tournai, Genk, Seraing, Roeselare, Verviers

Denmark
Copenhagen, Aarhus, Odense, Aalborg, Frederiksberg, Esbjerg, Gentofte, Gladsaxe, Randers, Kolding, Horsens, Lyngby-Taarbæk, Vejle, Hvidovre, Roskilde, Helsingør, Herning, Silkeborg, Næstved, Greve Strand, Tårnby, Fredericia

France
Paris, Lyon, Marseille, Toulouse, Lille, Bordeaux, Nice, Nantes, Strasbourg, Rennes, Grenoble, Rouen, Toulon, Montpellier, Douai–Lens, Avignon, Saint Etienne, Tours, Clermont-Ferrand, Nancy, Orléans, Caen, Angers, Metz, Dijon, Béthune, Valenciennes, Le Mans, Reims, Brest, Perpignan, Amiens, Le Havre, Bayonne, Mulhouse, Limoges, Nîmes, Dunkerque, Poitiers, Besançon, Pau, Annecy

Germany
Berlin, Hamburg, Munich, Cologne, Frankfurt, Essen, Dortmund, Stuttgart, Düsseldorf, Bremen, Hanover, Duisburg, Nuremberg, Leipzig, Dresden, Bochum, Wuppertal, Bielefeld, Bonn, Mannheim, Karlsruhe, Gelsenkirchen, Wiesbaden, Münster, Mönchengladbach, Chemnitz, Augsburg, Braunschweig, Aachen, Krefeld, Halle, Kiel, Magdeburg, Oberhausen, Lübeck, Freiburg, Hagen, Erfurt, Kassel, Rostock, Mainz, Hamm, Saarbrücken, Herne, Mülheim an der Ruhr, Solingen, Osnabrück, Ludwigshafen am Rhein, Leverkusen, Oldenburg

Ireland
Dublin, Cork, Limerick, Galway, Waterford, Drogheda, Dundalk, Swords, Bray, Navan, Ennis, Kilkenny

Netherlands
Amsterdam, Rotterdam, The Hague, Utrecht, Eindhoven, Tilburg, Groningen, Almere, Breda, Nijmegen, Enschede, Apeldoorn, Haarlem, Amersfoort, Arnhem, Zaanstad, 's-Hertogenbosch, Haarlemmermeer, Zoetermeer, Zwolle

Norway
Oslo, Bergen, Stavanger/Sandnes, Trondheim, Drammen, Fredrikstad/Sarpsborg, Porsgrunn/Skien, Kristiansand, Ålesund, Tønsberg, Moss, Haugesund, Arendal, Sandefjord, Bodø, Tromsø, Hamar, Halden, Larvik, Askøy

Sweden
Stockholm, Gothenburg, Malmö, Uppsala, Västerås, Örebro, Linköping, Helsingborg, Jönköping, Norrköping, Lund, Umeå, Gävle, Borås, Eskilstuna, Södertälje, Karlstad, Täby, Växjö, Halmstad, Sundsvall, Luleå, Trollhättan, Östersund, Borlänge

Switzerland
Zurich, Geneva, Basel, Lausanne, Bern, Winterthur, Lucerne, St. Gallen, Lugano, Biel/Bienne, Thun, Köniz, La Chaux-de-Fonds, Schaffhausen, Fribourg, Vernier, Chur, Neuchâtel, Uster, Sion

United Kingdom
London, Birmingham, Leeds, Glasgow, Sheffield, Bradford, Liverpool, Edinburgh, Manchester, Bristol, Kirklees, Fife, Wirral, North Lanarkshire, Wakefield, Cardiff, Dudley, Wigan, East Riding, South Lanarkshire, Coventry, Belfast, Leicester, Sunderland, Sandwell, Doncaster, Stockport, Sefton, Nottingham, Newcastle-upon-Tyne, Kingston-upon-Hull, Bolton, Walsall, Plymouth, Rotherham, Stoke-on-Trent, Wolverhampton, Rhondda, Cynon, Taff, South Gloucestershire, Derby, Swansea, Salford, Aberdeenshire, Barnsley, Tameside, Oldham, Trafford, Aberdeen, Southampton, Highland, Rochdale, Solihull, Gateshead, Milton Keynes, North Tyneside, Calderdale, Northampton, Portsmouth, Warrington, North Somerset, Bury, Luton, St Helens, Stockton-on-Tees, Renfrewshire, York, Thamesdownm Southend-on-Seam New Forest, Caerphilly, Carmarthenshire, Bath & North East Somerset, Wycombe, Basildon, Bournemouth, Peterborough, North East Lincolnshire, Chelmsford, Brighton, South Tyneside, Charnwood, Aylesbury Vale, Colchester, Knowsley, North Lincolnshire, Huntingdonshire, Macclesfield, Blackpool, West Lothian, South Somerset, Dundee, Basingstoke & Deane, Harrogate, Dumfries & Galloway, Middlesbrough, Flintshire, Rochester-upon-Medway, The Wrekin, Newbury, Falkirk, Reading

United States of America
Alabama, Florida, Kentucky, Mississippi, New York, Pennsylvania, Vermont, Arizona, Georgia, Louisiana, Missouri, North Carolina, South Carolina, Virginia, California, Idaho, Maine, Montana, North Dakota, South Dakota, Washington, Colorado, Illinois, Maryland, Nevada, Ohio, Tennessee, West Virginia, Connecticut, Indiana, Massachusetts, New Jersey, Oklahoma, Texas, Wisconsin, Delaware, Iowa, Michigan, New Hampshire, Oregon, Utah, Wyoming, District of Columbia, Kansas, Minnesota
* If your city is not listed but you live in one of the listed countries, you can still register and send us your ideas for the business potential in your region.