Piacenza Flex-Ability menswear fabrics
The Lanificio Fratelli Piacenza is specialised in the production of high-quality fabrics and clothing. The Piacenza family has a mission: to keep its natural inclination towards intuition focused on producing fabrics with innovative looks and performance, while respecting the craftsmanship that is still a hallmark of the wool mill to this day.
The new collection of the brand was conceived with the contemporary man in mind, a cosmopolitan traveller who is not prepared to forget his usual elegance. It was presented at Milano Unica, 9th - 11th September 2014.
Without losing their characteristic feel, these Piacenza fabrics gain from the dynamics of natural polymers that give them a new fitting, for a perfect blend of tasteful tailoring and high-performance wearability and comfort, creating a new concept of natural stretch.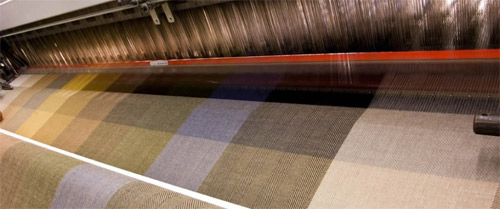 Only the finest, softest fleeces from Inner Mongolia are selected by Piacenza to contribute to making the Alashan Cashmere collection of fabrics. Their precious rarity comes from the way that the cashmere goats have adapted to the rigid temperatures in the high mountains and plateaux in the Himalayas, Tibet and Mongolia, with a special focus on the region of Alashan, in northern China's Inner Mongolia. This climate induces the animal to grow a very soft, warm and almost impalpable undercoat, whose fibres are often less than 14-16 microns in diameter. It was Felice Piacenza who discovered these extraordinary fibres, during a mountaineering expedition to China in 1913, and decided to start importing them. The quality of its raw materials is the starting point for Piacenza, which then adds the ability to treat them to produce its refined, elegant Alashan Cashmere fabrics.
Exquisite and exclusive are the two properties that best summarise the soul of the vicuña fabric made by Piacenza, one of the very few companies in the world capable of acquiring and processing this extremely rare fibre. As this smallest and most delicate member of the camel family cannot be shorn every year, it only produces a very small amount of wool, which is so fine that the ancient Incas used to reserve it for their royalty. Since the vicuña lives in the wild, high in Peruvian Andes, the only way to shear it used to be by hunting it, but this put it at risk of extinction. In the seventies of the last century, it was declared an endangered species and repopulation started. As limited shearing is now permitted again, Piacenza has been able to benefit from the support of communities in the Andes and southern Peru to acquire a high-quality fibre that is long, clean and increasingly fine.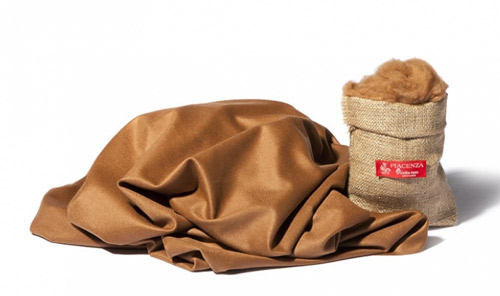 Some simply amazing results have been achieved in recent decades by a handful of breeders in Australia and New Zealand, who are committed to producing superfine merino wool fibres. These soft fibres can be as long and fine as vicuña – and sometimes even more so. They are approximately 12 to 13 microns in diameter: one kilo of wool generates 140,000 metres of yarn. Committed to searching out exquisite raw materials for 300 years, the Piacenza mills work with such superfine wools either in the pure state or in a blend with vicuña, to create yarns so fine that they would once have been quite inconceivable, together with combed fabrics available in a variety of weights for making elegant, high-quality clothing.
The enormous variety of fabrics it markets for overcoats makes Piacenza a market leader in the use of baby llama. Brilliant, long, light and silky, the fibre produced by the little llama, South America's best-known member of the camel family, comes in 14 different nuances of colour that range from white to brown, to grey and to black. The outstanding property of an overcoat made in baby llama is its glossy look, a statement of its wearer's elegance.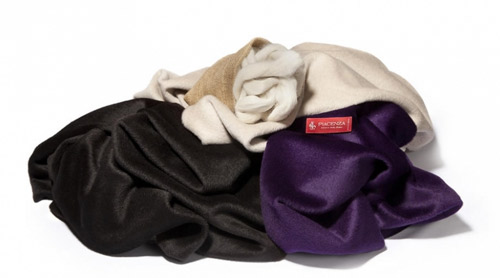 The story of the fabrics from the Piacenza mills is linked indissolubly with that of its fibres. In the 1920s, constant research for new raw materials to transform into high-quality fabrics drove Mario Piacenza to explore the Middle East, where his pioneering approach enabled him to discover the fine, soft thermal properties of Bactrian camel duvet, one of the noble fibres in greatest demand today, especially for making warm overcoats. The most highly-prized fibre is baby camel, which is used by the Piacenza mills for its Baby Camelhair fabric. This fibre's colour varies from light brown to reddish and on to dark brown, all natural shades that Piacenza respects and maintains in its fabrics.
It was the woman who likes to stand out for her fine, researched style that Piacenza had in mind when it developed its Marble Cashmere fabric. The colour shades pick out evocative contrasts reminiscent of the tones of marble: the end product has a sable look that is achieved by a special finishing process, in which only natural vegetable materials are used for the carding. This is an antique technique with a flavour of craftsmanship that has largely been lost, as the thistle has been replaced by metal hooks, but Piacenza has preserved it, to ensure it achieves a unique, natural look that preserves all the fibres' softness and other properties. Overcoats made with Marble Cashmere offer a combination of the warmth and soft surface typical of pure cashmere and the unpredictable look that comes from Piacenza's impassioned quest for new tastes.
As soft as cashmere, as glossy as angora: Cashgorissimo is one of Piacenza's long-established blends, the result of combining together the noble fibres of cashmere, angora and cashgora. The cashgora is a cross between cashmere goats (from Russia) and angora goats (from Turkey), whose origins go back to the early nineteenth century. Jackets and overcoats made from this fabric combine a very special soft, warm and embracing finish with the allure of the natural sheen of angora, which is also renowned for its elasticity, generating an energetic yarn that does not crease.
DropGlide is the name of the exclusive, innovative anti-drop treatment from Piacenza, a nanotechnology that is applied to cashmere fabrics to improve their waterproofing and durability. With DropGlide, technology rhymes with tradition: each item is more comfortable, even when it rains, without having to compromise on the softness, warmth and classical elegance of fabrics bearing the Piacenza brand.

Hits: 9456 | Leave a comment