Menswear fabrics collection for Spring-Summer 2014 by Lanificio F.lli Cerruti
For the 2014 Spring-Summer season Lanificio F.lli Cerruti is launching a collection of fabrics for Formal Friday made of shimmering silks, the finest wools and blends with Cerruti's renowned mohair, Kinair.
For a Friday that is formal yet always current and contemporary: the latest authentic style is to wear an impeccable and sophisticated suit even for the last day of the working week.
Silk is the season's predominant fibre. Blended with wool and enhanced with shirt motifs, microeffects and subtly shaded checks, silk is perfectly suited to versatile jackets, to be worn all day long.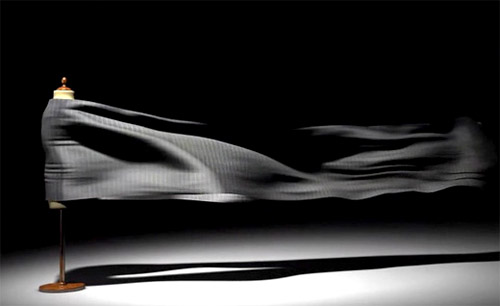 The fabrics of this collection are also conceived for blazer-type jackets, complex in structure and with light effects which give a 3D impression. The sportier jackets on the other hand are more rustic in appearance but embellished by sophisticated and unusual design and patterns.

Grenadine, with its characteristic honeycomb effect, and raw wools cater for those who seek a more relaxed and comfortable look: these fabrics are in fact extremely resistant and incredibly elastic, perfect for sweater-jackets.

For this spring's topcoats too, silk is used, now blended with cashmere, cotton or mohair. Lanificio F.lli Cerruti was the first Italian firm to produce mohair in the postwar period, when Nino Cerruti himself visited England to learn how to work with this finest of fibres, until then only used by the English. This was the beginning of the story of Kinair, which is now being dusted off in a demonstration of how the fabric once again becomes practicable and innovative in today's garments.

In particular, blending with mohair makes the fabric crease-resistant and enhances it with its distinctive vibrancy and sheen. Finest silk and wool filaments make up the range of fibres ideal for super-light garments: fabrics so fresh and ethereal that they have earned the name 'Via col Vento' ('Gone with the Wind').

Light and airy enough to be blown away by a summer breeze, they give the wearer an exquisite feeling of comfort and refinement. At first sight these wools may look like homogenous fabrics but close up they reveal all the richness and complexity of their restrained patterns with orthoganal effects and micro-effects. The superb quality of Cerruti's exquisite natural fabrics meets a renewed demand for innovation and creativity and satisfies the desire of modern man to be the bearer of a timeless elegance and style.

The Men's Fashion Cluster selected fabrics from the Lanificio F.lli Cerruti collection at MilanoUnica fair to supply for the fashion designers to create their collections for the Men's Style project


Hits: 7555 | Leave a comment