Why should you use Wise (formerly Transferwise)? Everything you need to know
Sending money to a foreign account contains excessive charges. Take an example, if you make a money transfer €900 from a UK account to a Euro account, the fee for this transaction will be 32.66 GBP. But, have you ever heard of Wise? if you make this money transaction with Wise the amount will be significantly cheaper, there is a 3.61 GBP fee.
What is Wise? Previously TransferWise is a new means to transfer your money to a foreign account without excessive exchange rate and with a great ease of use. This system can be very interesting for people working abroad or simply those who travel.
How it works
It is very easy to use, you just have to go to the site, realize your inscription and open your account, the process does not ask much.
The verification procedure takes 2 days open for verify your identity. After this you account will be opened and you will be able to make transfers around the world.
Make a transfer
The system is the same as for a classic transfer
- Set up your transfer: choose the amount you want to send and the destination country. You will know the fees and the exact amount the beneficiary will receive.
- Choose the type of entity you are transferring to: person or company.
- Enter the following information: name, surname, date of birth, phone number, address.
- Enter the recipient's personal and bank details.
- Pay you transfer.
This is an example :

What currencies can I send and receive?
You can send and receive money around these countries:
Argentina, Australia, Bangladesh, Benin, Brazil, Bulgaria , Burkina Faso, Canada, Chile, China, Colombia, Croatia, Czech Republic, Denmark, Egypt, Europe, Georgia, Ghana, Guinea-Bissau, Hong Kong, Hungary, India, Indonesia, Israel, Ivory Coast, Japan, Kenya, Malaysia, Mali, Mexico, Morocco, Nepal, New Zealand, Niger, Nigeria, Norway, Pakistan, Peru, Philippines, Poland, Romania, Russia, Senegal, Singapore, South Africa, South Korea, Sri Lanka, Sweden, Switzerland and Liechtenstein, Thailand, Togo, Turkey, Uganda , Ukraine, United Arab Emirates, United Kingdom, USA, Uruguay, Vietnam, Zambia
Click here to register at Wise and get a fee-free transfer up to 500 euro.
A safe way
Wise follows a strict set of rules established by its regulatory agencies in each country where she operates, such as the FCA in the UK as an example. These agencies protect you and the market which she operates.
Fees for sending money
The cost of transfer depends on the amount of the tranfer, the payment method and the exchange rate.
Remittance amount the more remittances you send, the higher the remittance fee. Fees are calculated as a percentage of the amount you send. The percentages vary by currency and can be found on the pricing page. The exception is for small remittances. In this case, a small commission will be charged. Selected payment method Depending on the country of origin, the payment method will be different. When you set up a transfer, the cost of each payment method or transfer type is displayed.
Exchange Rate You always get the average market rate. This is the rate at which banks exchange money with each other. You will never increase this rate, so your beneficiaries will receive more money on arrival.
The average market rate is constantly changing. Therefore, in some currencies, you can set the rate that will be displayed when the transfer is set up, to ensure that your beneficiaries will receive the full.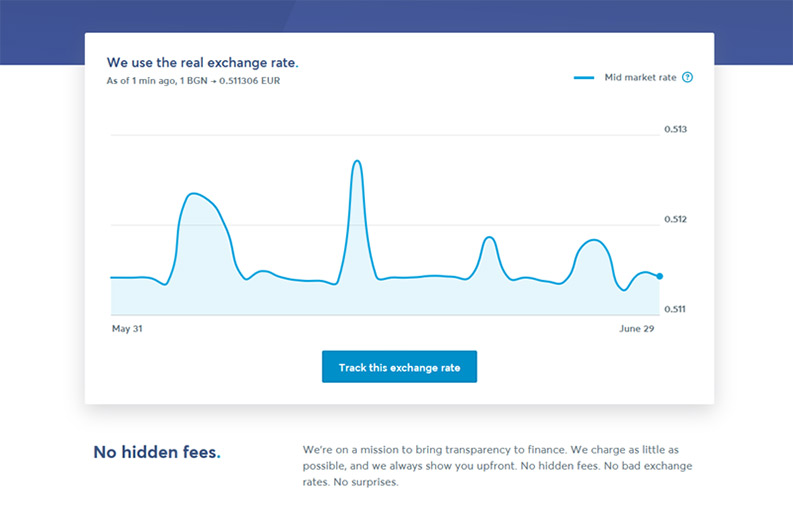 How long does a transfer take?
Wise can send your money in 1 day, with, as ''a same day transfer'', or even an ''instant money transfer''.


Hits: 6767 | Leave a comment