What is boucle fabric - everything you need to know
The origins of boucle
There are many kinds of fabrics, but have you ever heard of boucle? A French name that means "loop". The fabric is so named because of the loops in its yarn. These loops are gnarled and have a fleecy appearance. This makes the loop a unique fabric.

The origins of this fabric come from Europe, where it was very popular in the 20th century. The boucle fabric was at the beginning made with wool. Over the years, designers have found other ways to make curly fabrics, with materials such as linen, silk, polyester or even cotton.

At first, boucle fabric was only used for furniture design. Designer Eero Saarinen designed an iconic chair that featured the soft looped fabric. Following this great success, it was the turn of clothing in the 1950s and it was by Coco Chanel, a French fashion designer and businesswoman. She started experimenting with the boucle with the famous Bouclé Jacket still associated with the House of Chanel today. Since then, many world-famous fashion designers have used it from time to time. Moreover, Jacqueline Kennedy made this piece popular with the younger generation when she made it a staple of her wardrobe during her tenure as First Lady of the United States. Now It is most often used to make jackets, coats, dresses and skirts.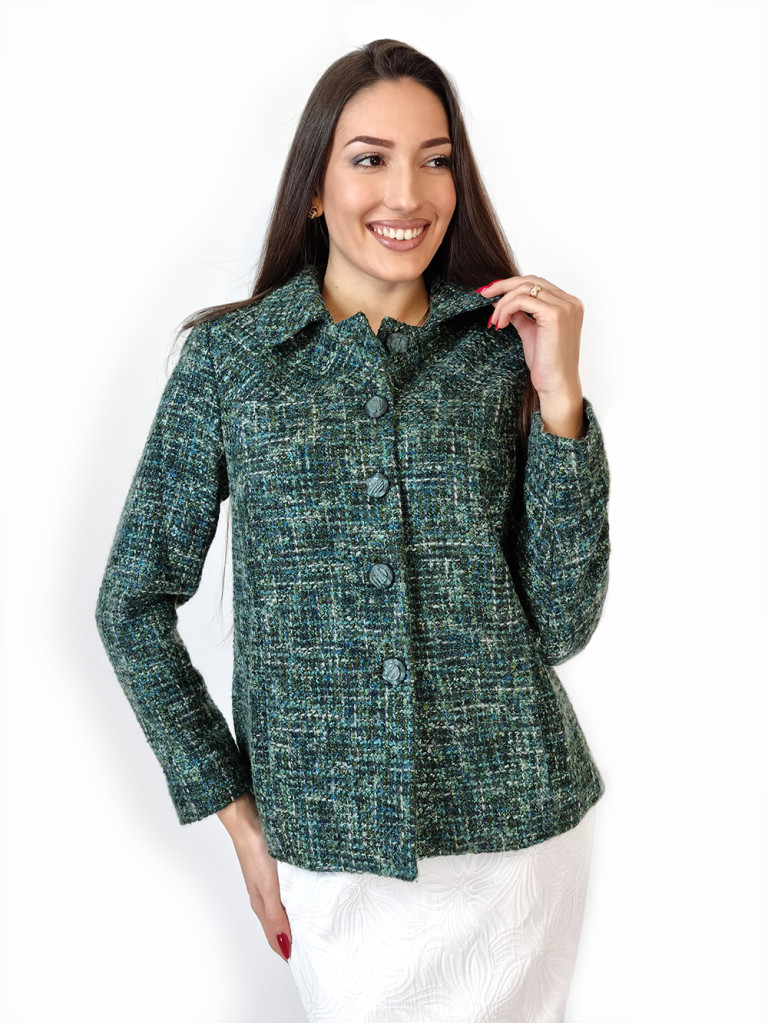 Boucle jacket - Buy it on Ebay.com

How Boucle fabric is made?
Made from multiple components, curls can offer a multi-colored, mottled look achieved by introducing a variety of colors during the production process.
Weaving involves a multi-step process that uses two or more threads. First, twist one of the strands and then tighten it to keep strength and durability. Place the other strands loosely to create an uneven texture of curly hair.
As you can see, the process of making a loop yarn is very intense, painstaking and can take a long time. However, rewards are always visible when the boucle fabric is created. And bouclé fabric is incredibly durable.
You can also use any yarn to make this fabric, whether it is polyester, cotton, or a mixture of both. As with any fabric, you can use different colors to create any pattern or style.

What is the boucle fabric used for?
Bouclé fabric is often used in combination with other fabrics. More commonly, the bouclé fabric is used to make these other fabrics stand out. For example, you can find the delicate and luxurious bouclé yarn used as a trimming for your new sofa and accent chair. It is basically used to create a layered fabric that can be used to add detail to another textile.
Jackets and skirts made from boucle fabric look very luxurious and stylish.
How to clean boucle fabric?
- Place the bouclé fabric in the washing machine and add mild soap or detergent.

- Set the washing machine to delicate.

- Fill the washing machine with cold water.

- Then dry the bouclé on a clothes rack or place it on the floor on a large towel if you don't want to hang it. To iron the bouclé fabric, set the iron to the wool setting.

To conclude, boucle fabric is a timeless material, since years its popularity keeps growing and its use has diversified passing furniture to clothes. Boucle fabric stands for quality, luxury and fashion.


Hits: 8339 | Leave a comment