How technologies change the future of the fashion industry
The most important factors, changing the fashion industry nowadays are:
- Overproduction and oversupply
- Negative influence on environment
- Unethical manufacturing
- Fast development of e-shopping
- Closing physical shops
- Development of technologies and innovations
Fashion industry is a very big polluter. Textile dyeing is the second largest polluter of clean water globally, after agriculture.
Every year about 80 billion of clothes are produced. 26 billion pounds of textiles and clothes end up in landfills. The industry has a very bad impact on the environment and the natural resources.
According to a research, presented in the Marie Claire magazine, every woman has in her wardrobe clothes for about ?2,400, which she will not wear again.
Everybody is talking now about sustainability and ethical fashion. The customers started to buy more products, produced with a care to the natural resources, the environment and the people, that produced them. Cotton, produced without dangerous pesticides and the innovative ecological materials will become more and more popular. People return to spending more money on less goods with better quality. In this way they support the ethical fashion brands, which pay fair wages to their employees and invest in innovations.

Manufacturing is moved closer to the point of sales, because the brands need to react faster to the market demands and to deliver new goods quicker.
The incomes of the online retailers increase. U.S. e-commerce sales are expected to increase nearly 16% by the end of 2018, reaching over $526. billion and representing 10% of total retail sales. (Source: eMarketer)     
But the competition is fierce. 40% of all incomes are divided between Amazon, Alibaba and Ebay.
This is the main cause for the closing of many physical stores in all cities around the world. For example, in the city where I live, there are 5 closed shops one next to the other on the main shopping street. The small traders and brands can survive only through the new technologies and unique advantages.
There are several world campaigns supporting ethical fashion brands. They aim to unite people and organizations all over the world and try to reform the fashion industry with a focus on the need for greater transparency in the fashion supply chain.
Such organizations are Fashion Revolution, 303 Tuscans Ethical Fashion and Common Objective.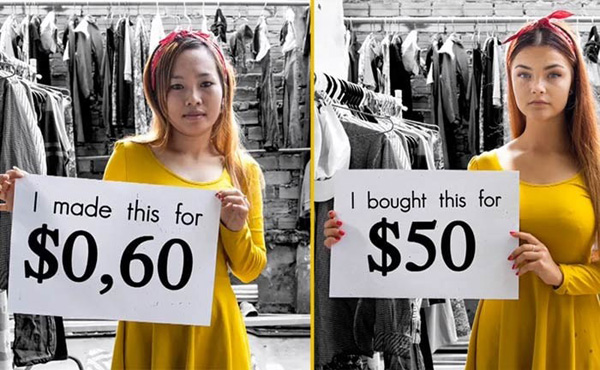 Ethical fashion campaign
See what some of the fashion brands do to be more sustainable, ethical and innovative:
Textile from from citrus juice byproducts
The Italian luxury brand Salvatore Ferragamo embraced sustainability with the launch of a Fashion Capsule Collection made with citrus fruits. 
The fashion house made a collaboration with Orange Fiber fabrics. The brand has come together to produce a limited edition capsule of ethereal, breezy pieces perfectly suited for the season and beautifully constructed with the softest of fabrics for a renewed wearing experience. It all started with the idea of Adriana Santanocito, who came up with the idea of using what remains after squeezing oranges for juice, which amounts to more than 700,000 tons of byproduct in Italy alone. While working on her dissertation in fashion design, Santanocito decided to develop the project with Enrica Arena, an International Communication and Cooperation student, with the support of the Polytechnic University of Milan. The students filed an Italian patent, which was extended to international protocol in the U.S., Brazil, India, Mexico and the European Union. In this way their company Orange Fiber was born.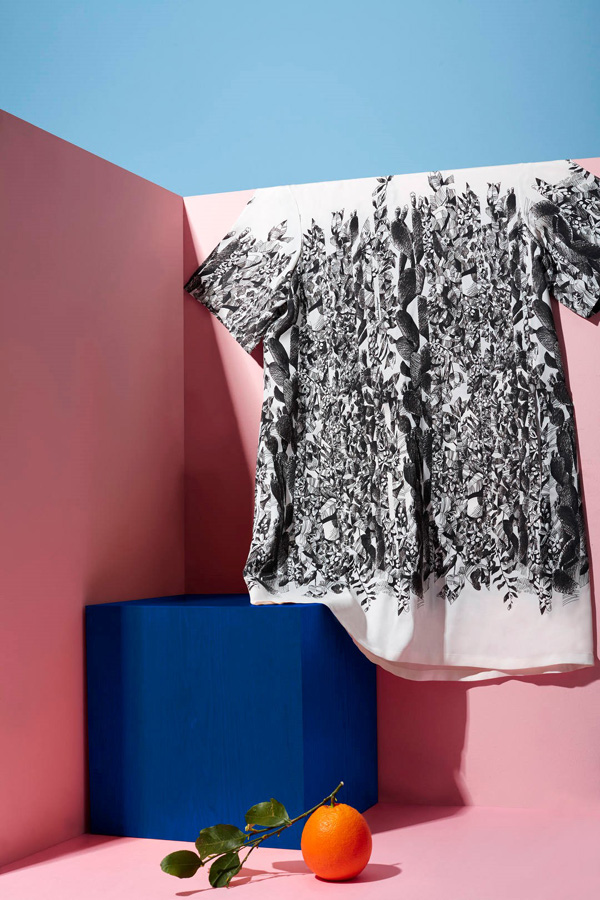 A model of Salvatore Ferragamo
It is the world's first and only brand to produce a patented material from citrus juice byproducts, repurposing them to create beautiful fabrics. 
"Our textiles are constructed from a silk-like cellulose yarn that can be blended with other materials. When used in its purest form, the resulting 100% citrus textile features a soft and silky hand-feel, light weight, and can be opaque or shiny according to production needs", say the owners of the label.
Synthetic spider silk
Stella McCartney and Bolt Threads have teamed up to introduce the world of high fashion to synthetic spider silk. The partnership is making it possible for the designer to explore the use of proteins found in nature for the creation of innovative fibers and fabrics. 

Bolt Threads creates its vegan synthetic silk by feeding corn syrup to a yeast fermentation, which makes for an end product that is sustainable, cruelty-free and helps to reduce pollution. The first piece made from the new material by Stella McCartney introduced a one-off gold dress that is exhibited at The Museum of Modern Art's 'Items: Is Fashion Modern?'

A model of Stella McCartney
The first ever biofabricated material
After five years of research and development in the lab, Modern Meadow shared a series of product prototypes with the public, and unveiled the brand Zoa.  This begins a broader conversation about the design and manufacturing possibilities available with biofabrication.
In its first application, Modern Meadow is proud to debut its biofabricated leather materials at the Museum of Modern Art's exhibit Items: Is Fashion Modern? The company's in-house design team, led by biofabrication pioneer and Chief Creative Officer, Suzanne Lee, have chosen to reinterpret an iconic item worn by revolutionaries: the graphic-tee. By applying biofabricated leather in a way that was not previously possible with traditional leather, like creating a stitch-less seam with liquid leather, they provoke new thought about the design potential offered with novel manufacturing techniques.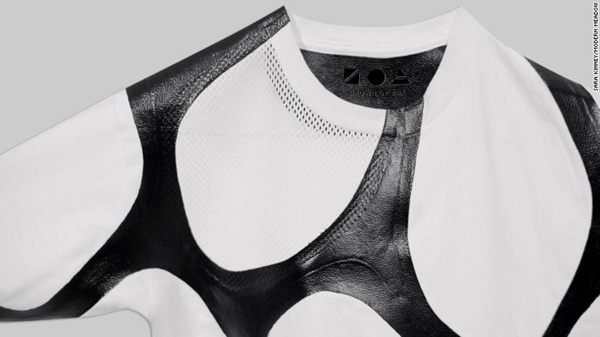 Leather by Modern Meadow
Leather grown from mycelium
MycoWorks created a new kind of leather grown rapidly from mycelium and agricultural byproducts  in a carbon-negative process. Their custom-engineered material is sustainable, versatile, and animal-free.
The founders are from some of the world's leading teaching and research institutions such as Stanford University and Berkeley University. They came together to innovate a product that doesn't rely on animal consumption. Using one of nature's most abundant resources – mushrooms, they have found a way to manufacture leather.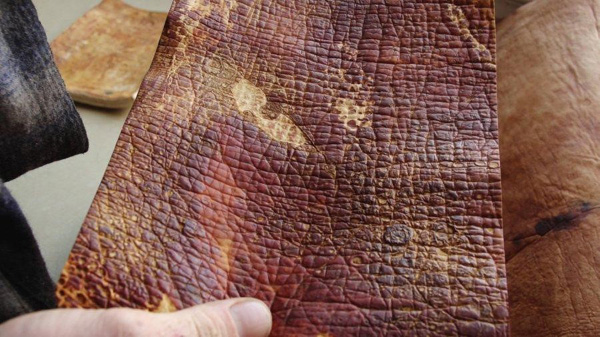 Leather by MycoWorks
Leather made from apples
The Swiss company Happy Genie created luxury handbags out of a new animal free leather: made from apples.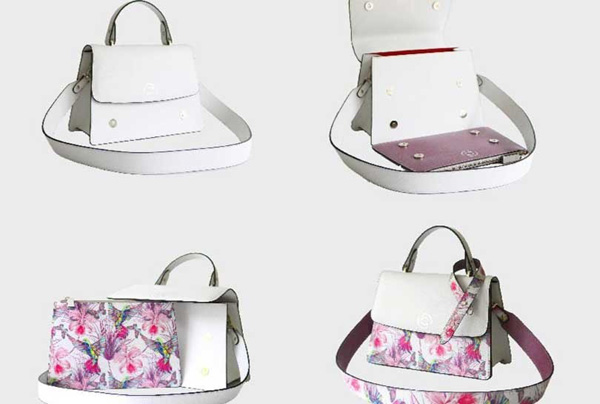 Models of Happy Genie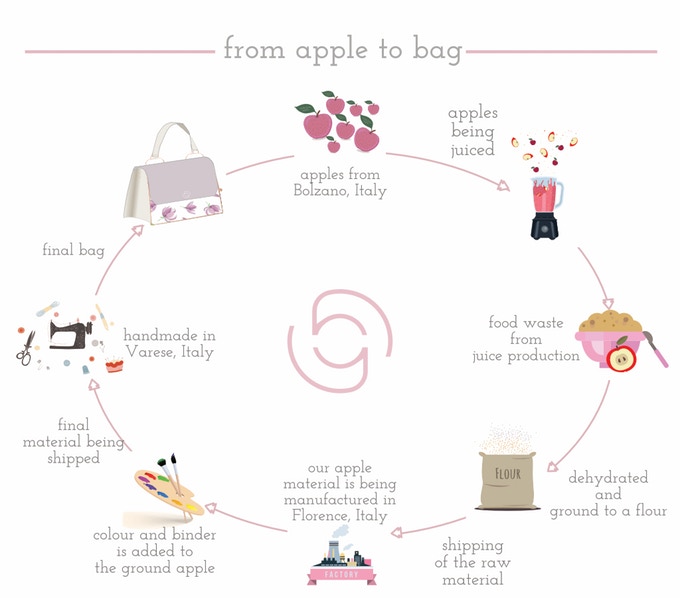 Happy Genie manufacturing process
3D printing
Adidas, the company currently leading the sportswear industry in Europe, has announced that it has plans to deliver the first running shoe with an integrated 3D-printed midsole called Adidas Futurecraft 4D. In their effort to deliver this state-of-the art shoe, Adidas is partnering with Carbon3D Inc., a US based 3D printing company. During 2017 they produced 5000 pairs and the plans are to produce 100 000 pairs to the end of 2018 and 500 000 pairs in 2019. Adidas Futurecraft 4D currently costs ?1,334.00.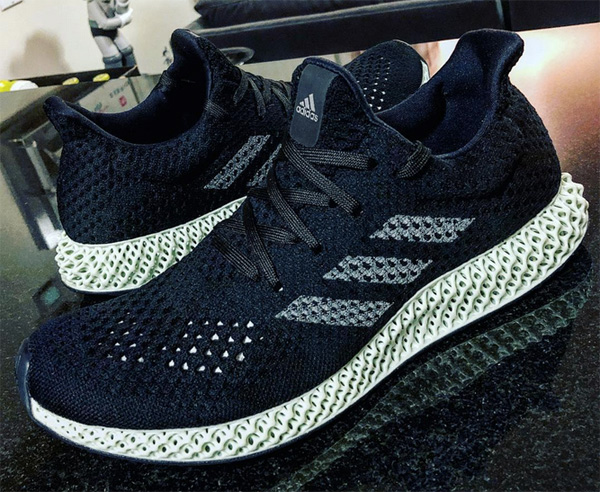 Futurecraft 4D by Adidas
Since 2015 there are many examples of 3D printed dresses that look gorgeous.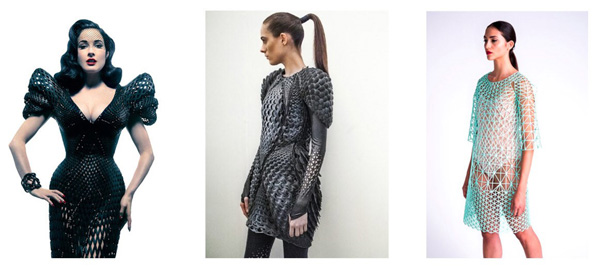 3D printing
Custom garments
Flair Atelier is a retail tech startup that creates fully customised garments for women, via an online platform. Using a winning combination of beautiful design, intuitive technology and meticulous craftsmanship, the company offers customers the possibility to create their own dress that will perfectly fit to measure and be delivered to your doorstep two weeks from the when the order was placed. Founded by Marianna Ferro and Cristiana Posani, their goal with Flair Atelier is to create something that would allow working women to "find the perfect dress".

Flair Atelier website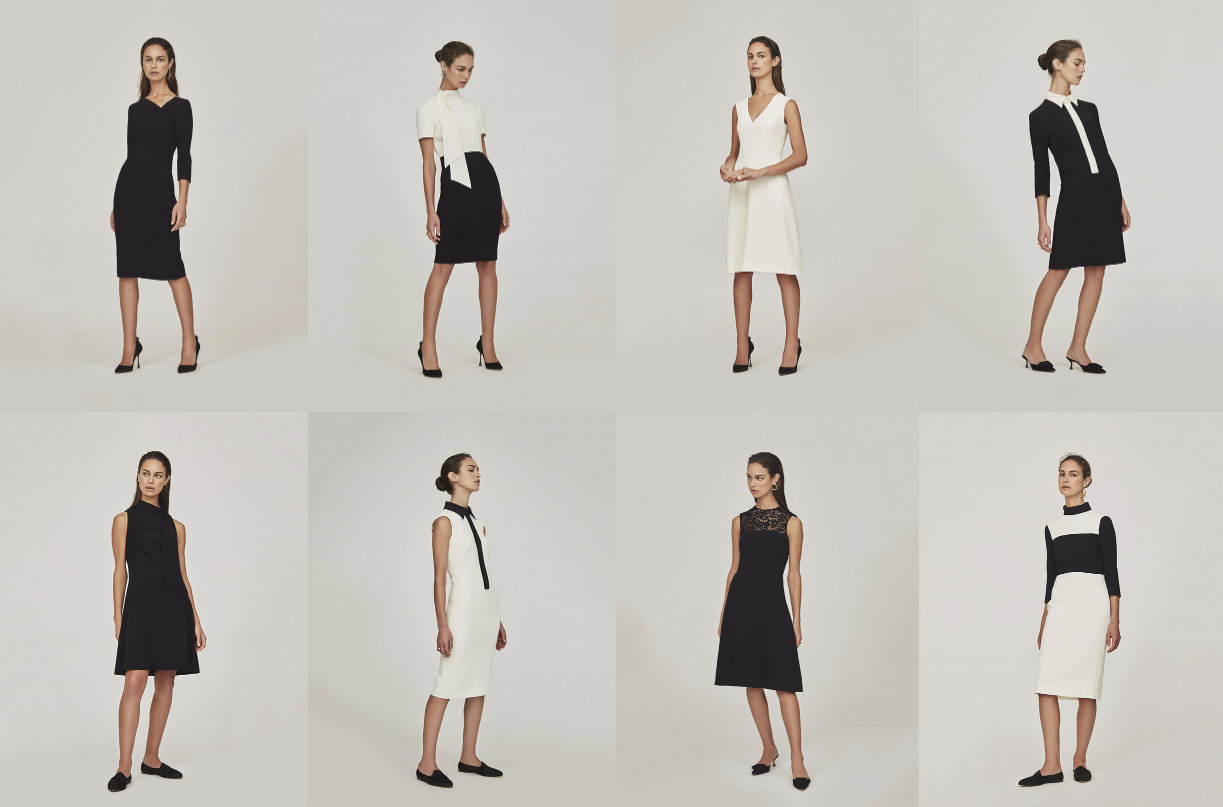 Flair Atelier website
In menswear custom suits or made-to-measure suits are popular since many years. In many online shops customers can create their unique suit by selecting different options - choose the suit fabric, lining, select type of buttons, laples, pockets, vents, etc. In casual wear clients can select different prints in order to customise t-shirts and other type of garments.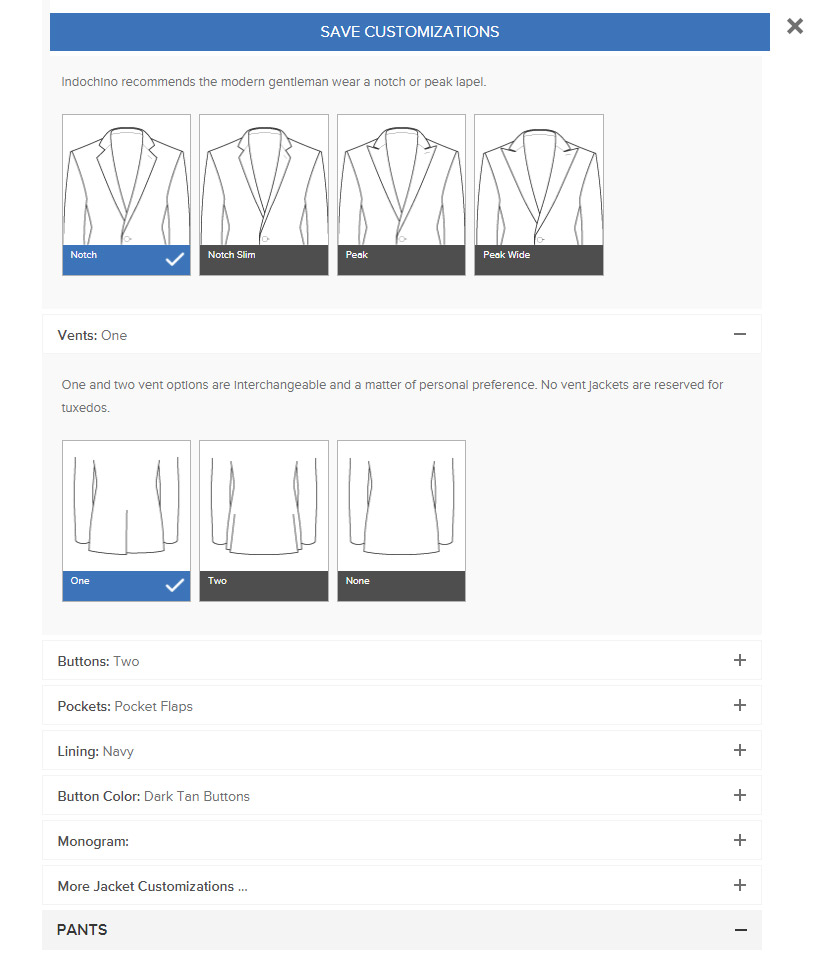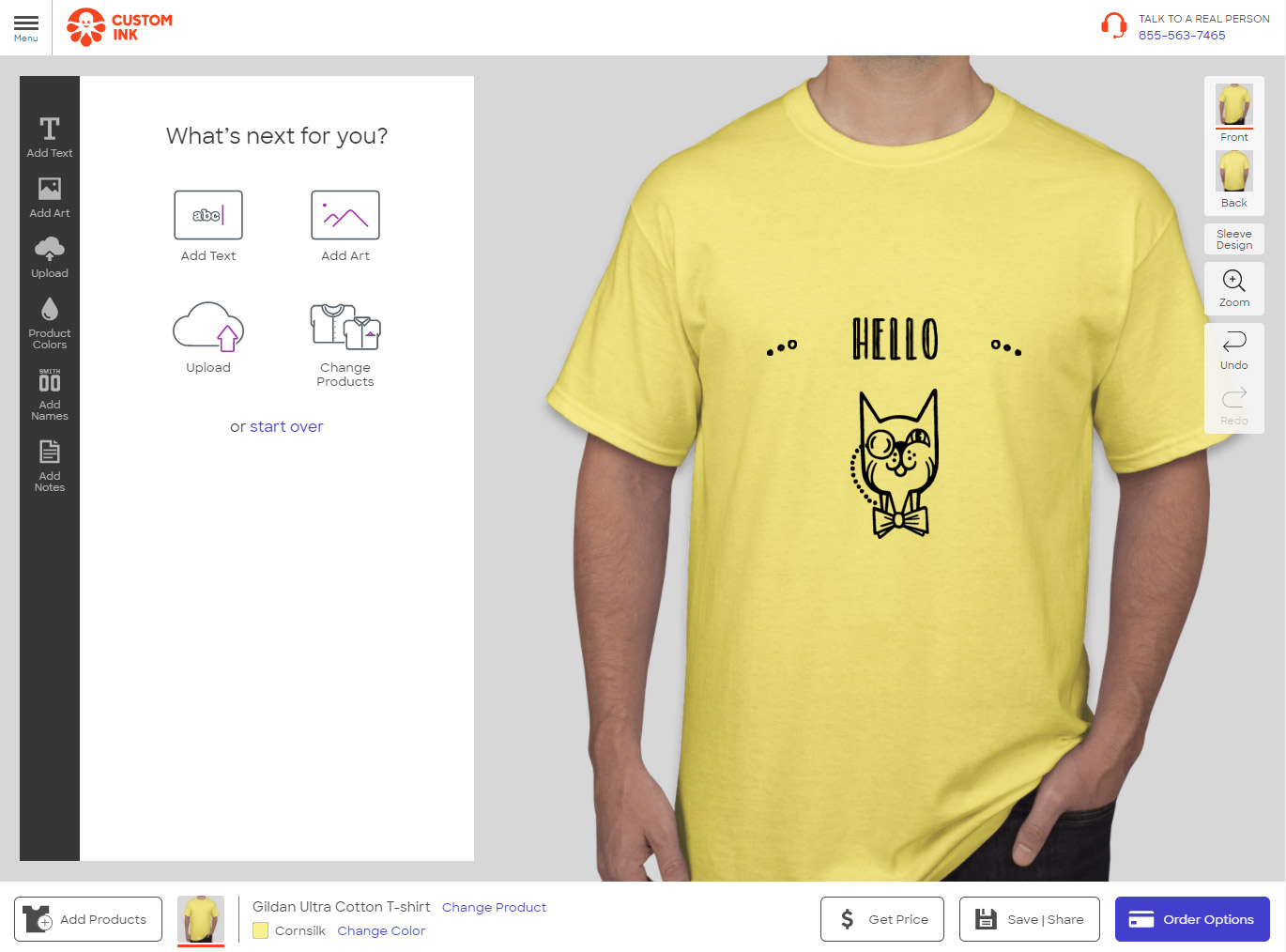 Assembly by ultrasonic
Assembly by ultrasonic is a modern future-oriented and economical alternative to sewing. PFAFF Industrial has been dealing with this technology for more than 25 years.
The process offers several technical advantages – no needle, no thread, no consumables. Additionally, the designer may refer to a multitude of seam designs, because the seam design is specified via the machine's selected anvil wheel. PFAFF offers the customer a wide selection of anvil wheels.
The world debut was at the MUNICH FABRIC START in Munich (05. – 07.09.2017). For the first time ever, a complete piece of clothing (t-shirt) was assembled using ultrasonic at a tradeshow. Some weld seams were "taped" using a PFAFF hot-air taping machine. This welded tape could be used to seal the seam or merely as a design element.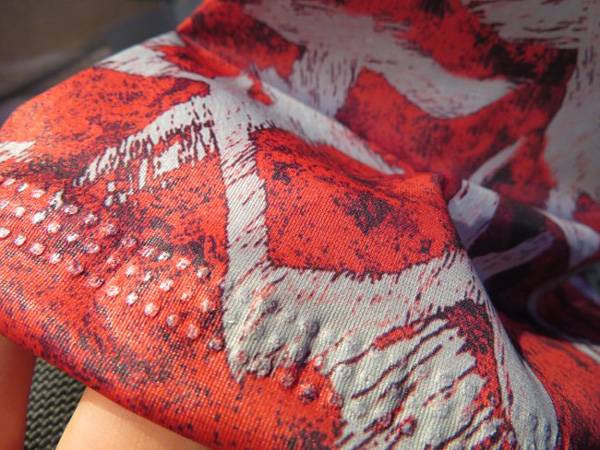 A garment, assembled by ultrasonic
Changes in the trade
The most important changes are the experiment "See Now - Buy Now", the development of Innovations, Virtual reality and 3D scanning.
The experiment "See Now - Buy Now"
It is introduced in 2015 by Burberry at London Fashion Week. It means that clients can buy the models immediately after they are presented on the runway. Since then many designers including Tommy Hilfiger, Ralph Lauren, Michael Kors, Rebecca Minkoff, Victoria's Secret, Mulberry and others started their first shoppable fashion shows and enabled customers to buy the collections immediately after appearing on the runway. In this way brands focus their fashion shows on a consumer-oriented approach. They cut the waiting time and translate the interest and excitement generated by the fashion shows into sales. Other benefits of this model are high social media exposure and eliminating the possibility for copying and stealing the models by other brands.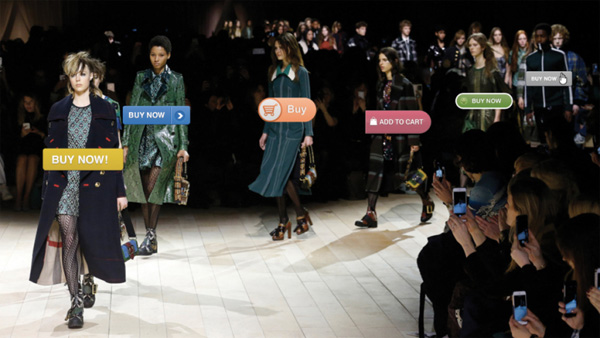 The experiment "See Now - Buy Now"
Stores without cashiers
Amazon runs three Go stores in its hometown of Seattle and another in Chicago. 
Уou won't see a single cashier, cash register, or self-service checkout stand.  You simply walk in, grab what you need, and go.  Amazon bills your credit card as you pass through the turnstile on your way out. Moments later, an app in your phone provides a receipt detailing what you've bought, what you paid, and even how long you spent inside.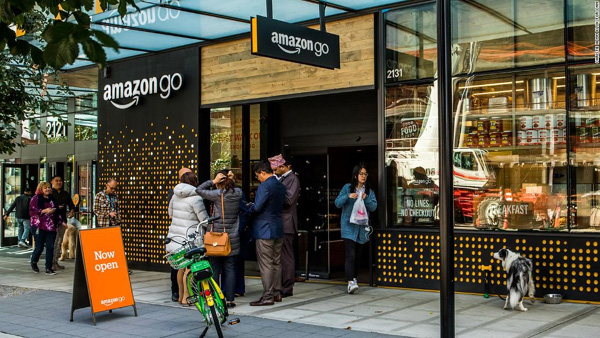 Amazon Go shop
Virtual shopping
Obsess is an Augmented & Virtual Reality platform for Mobile Shopping. We enable brands and retailers to create beautiful AR, MR and VR shopping experiences and run them on their own mobile apps and websites using our 3D Commerce Cloud platform.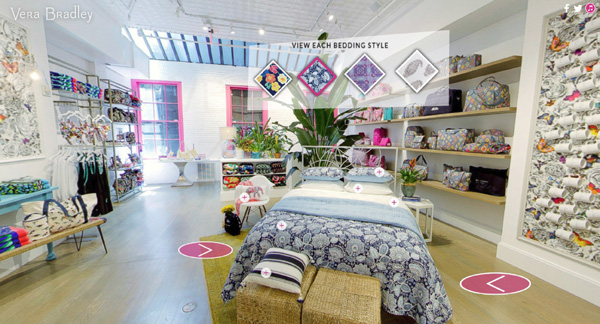 Vera Bradley e-shop
3D Scanning
Texel, Inc. is a software developer and manufacturer of professional 3D scanners for acquiring 3D models of people and large objects. Their Portal is a solution designed for color scanning of large objects or people. The Texel AutoFit system, based on advanced electronic pattern fitting solutions, makes it possible to see how clothing fits on a client's bodyshape and can give a boost on e-commerce of clothing.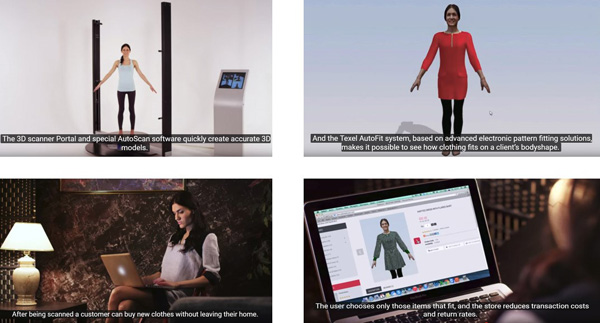 3D scanner from Texel
Some facts
Zalando has cut around 250 marketing and communications roles, replacing staff with algorithms and artificial intelligence (AI).

Marks & Spencer replacing call centre staff with AI

Though it is growing, it is important to note that e-commerce still represents less than 15% of global commerce. (Source: PwC)

Nearly two-thirds (64%) of U.S. online adults said it's important for retailers to offer a buy online/pick up in-store option. (Source: Forrester)

U.S. e-commerce sales are expected to increase nearly 16% by the end of 2018, reaching over $526. billion and representing 10% of total retail sales. (Source: eMarketer) 

Fifty-seven percent of online retail visits will come from mobile devices (tablets and smartphones), accounting for 37% of total online purchases. (Source: Adobe Digital Insights)

The future belongs to those designers, brands and retailers, who can show their competitive advantage through sustainable, ethical fashion and innovations.


Hits: 10479 | Leave a comment