Why You Should Be Wearing Tweed This Winter
Winter isn't coming - it's officially here! The leaves have turned, the days are shorter and the weather is noticeably frostier, and that means one thing for the sartorially savvy gents out there - it's time to get out the heavy-duty fabrics. Seersucker, linen and Madras may be your go-to for spring and summer but have no place in your winter wardrobe - unless you live in the tropics. When it comes to winter fabrics, look no further than tweed!
Oozing quintessential heritage charm and full of rugged chic - tweed is without a doubt this season's must-have fabric. In this post, we'll show you why and how to rock tweed all long winter long!
The Hardy Origins of Tweed
Tweed made its fashion debut on the islands of the Scottish Outer Hebrides in the 18th century, a region notorious for its brutally cold winters and hostile climate. Crafted from a coarse-cloth woven wool, it was denser and heavier than other fabrics around - perfect for standing up to the cold while being comfortable to wear and flexible to move in. Since its humble origins, tweed has become the go-to fabric for the British elite, sartorially minded professors and now, thanks to a certain David Gandy, the fashion-forward modern gent.
Tough, durable and practical while also being suave and stylish - what's not to love about tweed. The best part? You can rock tweed pretty much anywhere and anytime, and we're going to show you how!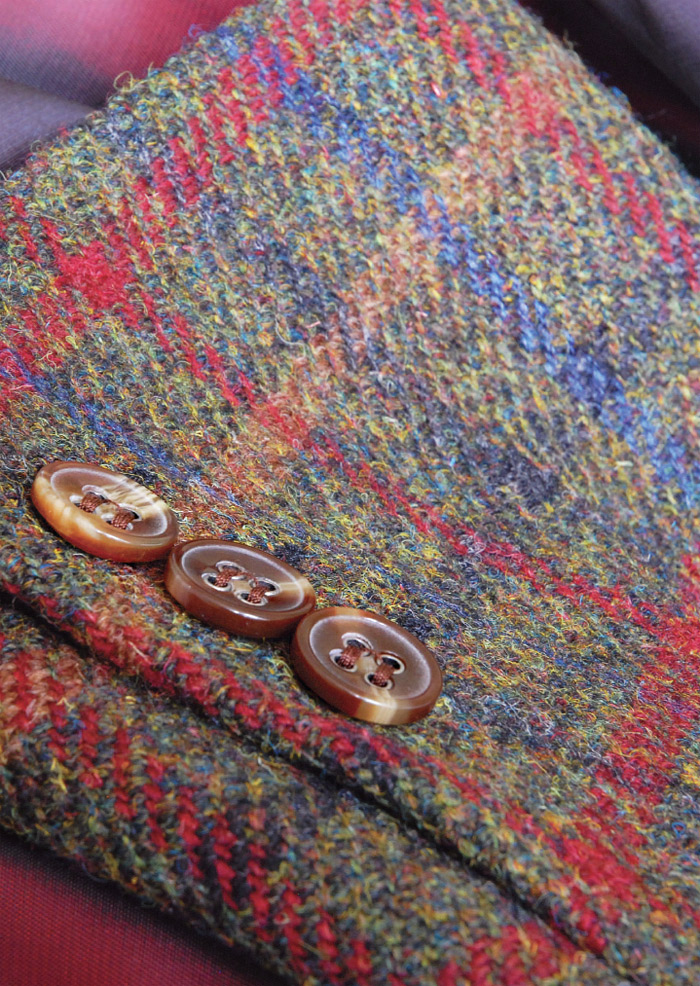 Model of Harris Tweed
How to Wear Tweed This Winter  
No gents' wardrobe is complete without a tweed three-piece suit. Frankly, it's a sartorial essential. The classic combination of a suit jacket, waistcoat and trousers has been a staple of men's fashion since the 19th century and continues to be the epitome of style and class. Whether you're heading to the office or escaping to the countryside for a wintry weekend, a tweed three-piece is always an elegant choice.
But not all tweed suits are made equal. However smart the design or well-textured the fabric, if the suit doesn't fit just right you will end up looking more dusty aristocrat than Gandy-like modern day style sensation. Be sure to follow the usual rules and pick a suit that has sleeves that end at the wrist, shoulders that fit snug to your frame and trousers that don't stretch across your behind.
To ensure that you get the perfect fit, always go tailored. Today, there are thousands of affordable online tailors that deliver meticulously handmade custom-fit suits for a fraction of the price. Just send off your measurements, choose your design and cut and wait for your suit to be delivered to your home — it couldn't be easier. The best part? A tailor-made three-piece tweed suit is an investment that keeps on giving. Wear it as a whole for a stylish alternative to your average suit or take it apart and mix and match for an effortlessly sophisticated off-duty look.
Elevate Your Look: The Tweed Jacket
If you're new to tweed, then start off with a tweed jacket. There are few things more versatile than a well-fitted, tailor-made tweed jacket. It's one of those rare garments that can transform your outfit in two seconds flat while adding some visual interest to your look. Herringbone, houndstooth and check are only a few of the elegant designs that can add a flair to an otherwise stripped back look.
Pair with dark denim jeans and an Oxford shirt for a take on classic heritage cool with a modern twist. Or layer on top of a chambray shirt and navy chinos for an urban vibe with a dash of country gent.
Get All Buttoned Up: The Tweed Waistcoat
Thanks to English sideline sartorial sensation, Gareth Southgate, waistcoats are experiencing a fashion comeback, and it couldn't have come at a better time. Back in the seventeenth century, waistcoats were originally designed to be the male version of the corset. Victorian men donned the waistcoat to cinch in their waists and emphasise their masculine physique. Although contemporary waistcoats are much less restrictive - they have the same effect - slimming your build and elongating your frame. Perfect for hiding the effects of all those mince pies and glasses of champagne!  
Waistcoats can be layered on top of most shirts and worn with jeans or chinos for an effortless weekend look. Just remember, when it comes to waistcoats, simplicity is key. So steer clear of the cheap magician look and stick with simple, block colours such as green, navy and grey.
Put a Swing in Your Step: Tweed Trousers
Even the most sartorially savvy men can get stuck in a rut with their trouser choice. You know there's more variety out there than jeans and chinos, right? Tweed trousers are an excellent alternative and work in all settings - smart enough for formal events like festive drinks or office parties and yet still casual enough to wear for long winter walks and afternoons in the pub.

The combinations are endless - for formal events or office wear, pair with a chambray shirt or Merino wool jumper. Or wear with a cashmere roll neck for a relaxed, yet stylish, weekend look.

Tweed is warming, flexible, water-resistant and stylish to boot, so invest in it this winter - you won't regret it.

Anthony Horner is the director of Empire Outlet, a luxury menswear company that provides high-quality suits and accessories at a price that doesn't break the bank. Empire Outlet operates online and serves customers all over the world.


Hits: 10267 | Leave a comment

More Articles from this author