How to Sartorially Boss Your Office Christmas Party
The festive season has arrived and for the fashion-forward gent that means one thing — it's time to get dressed to the nines and make a sartorial statement this party season. Festive drinks, weekends in the country and family get-togethers all provide the perfect opportunity to show off your finest garb and make some serious fashion statements. There's one event of the season that doesn't quite carry the same fashion potential - the office Christmas party.
Synonymous with gaudy Christmas jumpers and synthetic Santa suits - not to mention awkward encounters beneath the mistletoe and the inevitable booze-fuelled airing of long-held office grievances - office parties can be tricky to handle. But it's an essential event in your company life, and a time to celebrate all your hard work and bond with your colleagues.
So this year don't be a Grinch, get in the spirit and embrace the festivities. In this post, we'll break down the unspoken fashion rules for bossing your Christmas party - even if you're not the boss.
Rule Number One: Mix it Up
Dapper gents dress to impress in the office throughout the entire year. We're sure you have a bastion of fine suits and formal get-up that you'd be happy to wear for the big night. But when it comes to the Christmas party, the first rule to remember is not to go in your usual office dress. Turning up to the office party in your usual work suit is like rocking up at school in uniform on a mufti day - just embarrassing! Even worse, it sends a clear message that you're not there to party!
If your Christmas party doesn't have a dress code, you can't go wrong with a suit as long as it's not the same ol', same ol'. To mix things up, try experimenting with fabric. If you normally wear a worsted wool suit to the office, try opting for a tweed suit instead. Less formal and more visually interesting, Houndstooth or check are an elegant choice for drinks with colleagues. Or if it's a more low key event, try wearing a suit jacket with dark jeans or chinos and pair with a cashmere rollneck or merino wool jumper.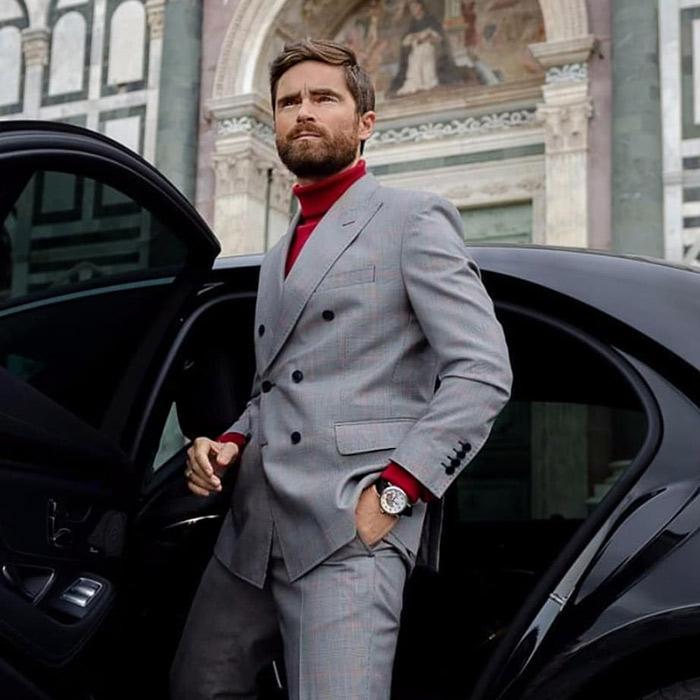 Niccol? Cesari Credit ph Marco Paterlini
Rule Number Two: Consult the Dress Code
The second rule in this list applies to any party - always check the dress code. There's no bigger fashion foul than turning up to a bash in the wrong get up, and nowhere is the dress code more important than the office party. The dress code is the great leveller - from the top boss to the man on the lowest rung of the corporate ladder - everyone is united by the dress code. So, don't look out of place and out of sync with your colleagues - be a team player and check that dress code.
You may be a seasonal enthusiast and relish any opportunity to don your Santa Claus outfit, but if the invitation says "black tie" - well you're going to be left a little red in the face. The same is true the other way round - if the invitation says "Jolly festive gear" then turning up in a tux is all wrong.
Rule Number Three: Embrace the Season
For us fashion-forward men, looking dapper is our top priority. The only problem? We tend to be a little reluctant to get into the spirit of things and embrace the jolly and silly side of the holiday. Who could blame us? Ghastly Xmas jumpers and tacky flourishes of tinsel don't exactly scream style icon. But, getting into the spirit of the season doesn't have to mean embracing the ugly and the gaudy. Winter is a season packed full of sartorial inspiration - think deep ruby red berries contrasted dramatically against dark waxy green leaves, roaring fires and silvery frostings of snow. Use these seasonal colours and textures as your style inspiration.
A sprig of holly in the top pocket of your jacket is an elegant festive touch, while splashes of seasonal colours, like a cherry red tie, add an element of seasonal merriment to your look.
Rule Number Four: Stay Professional and Collected
The fourth and final rule is an important one, and not strictly restricted to the sartorial realm. A quick browse through #OfficePartyFails reveals the many awkward and inappropriate party fails - from vulgar outfits to office brawls. If you can imagine it, someone has done it. The combination of a free bar and a year worth of workplace grievances often prove to be a toxic combination.

The savvy gent knows to keep an air of professionalism around him at all times. That doesn't mean you can't show off your high school moves on the dance floor or resign yourself to talking about budgets and next years goals - instead stay calm and collected. There's a time and place to flirt or fight or let your hair down, but the office party is not one of them. Keep your head clear, your communications civil and of course, don't spill or split or ruin your party outfit by gorging on canapes or slurping red wine.

With these simple and easy-to-follow rules, you'll be sure to nail your Christmas office party!

Anthony Horner is the director of Empire Outlet, a luxury menswear company that provides high-quality suits and accessories at a price that doesn't break the bank. Empire Outlet operates online and serves customers all over the world.


Hits: 10056 | Leave a comment

More Articles from this author