For Premiere Vision Paris, SEAQUAL™ brings together great creativity and eco-responsibility
Recognized by its peers for its innovative environmental approach, 5 fabrics made from its fibers are exhibited on the brand new "Smart Materials" zone created within the Smart Square space at Premiere Vision Paris, an area dedicated to responsible creation.
More than a fiber, SEAQUAL™ is above all an approach: that of cleaning the oceans by removing the plastic waste that is suffocating them. SEAQUAL™ creates and manages collaborations between industry, NGOs, communities and local and national authorities to up-cycle plastic marine waste. Launched in 2016, SEAQUAL™ became the first ingredient brand to use fishing vessels and other ocean cleaning programs to collect and up-cycle plastic waste before returning it to industry under the name SEAQUAL™ POLYMER. SEAQUAL™ POLYMER's versatility allows it to be transformed into a huge range of high quality, sustainable, everyday products.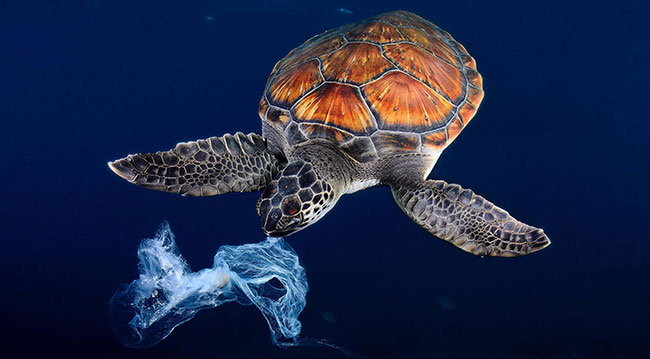 SEAQUAL™ FIBER was the first product to be launched. Once processed, the plastics harvested by fishermen are spun into premium polyester fibers. SEAQUAL™ FIBER is a starting point for a cleaner ocean, a fiber for an environmentally conscious textile market. SEAQUAL™ FIBER has physical properties almost identical to virgin polyester and is available in a wide variety of sizes and finishes (continuous filaments and staple fibers). SEAQUAL™ FIBER fiber can be used for a multitude of applications including textiles for fashion, sports, denim, lingerie, swimwear and footwear but also for home furnishings, automotive upholstery or non-woven fabrics. Brands can unleash their creativity while allowing consumers to help clean up the oceans. New fabrics to discover in the "Smart Materials" area of Premiere Vision. In September 2015, Premiere Vision Paris launched Smart Square, a space dedicated to responsible creation that highlights innovative environmental approaches. This year, for the first time, this space expands and includes the "Smart Materials", an area (Hall 3) that presents responsible, innovative products. This aligns perfectly with the philosophy of SEAQUAL™ and it is no surprise that the organizers have chosen to incorporate SEAQUAL™ FABRICS in their selection. Five new fabrics will be highlighted at "Smart Materials". They illustrate some of the creativity offered by SEAQUAL™ FIBER: Textil Santanderina present a wonderful woven fabric in 100% SEAQUAL™ FIBER, ideal for technical sports jackets and bags.
And Lemar offers a wonderfully versatile fabric in a light weight woven. It's beautiful, subtle structure makes it a favorite for men's swim shorts where designers are looking for more texture. Made with 35% SEAQUAL™ FIBER this fabric perfectly meets the rapidly growing necessity for sustainable fibers in this segment.
Textil Santanderina's gorgeous lightweight denim for women's shirts, kimonos and dresses eliminates cotton completely, preferring instead to combine the sustainability credentials of Lyocell (70%) and SEAQUAL™ FIBER (30%).
As part of A Sampaio's collection we have a beautiful knit combining organic merino (73%) and SEAQUAL™ FIBER (27%), a luxuriously soft and sustainable mid-weight fabric. The way the yarns are combined gives designers the freedom to play with unicolor, heather aspect and cross dye effects. Sofileta offers a superb fine gauge single jersey knit of SEAQUAL™ FIBER (74%) and eco-friendly elastomer (26%). This beautifully versatile 40 gauge knit with great power and opacity is equally ideal for swimwear and intimates as it is for shape-wear and leggings.
About SEAQUAL™:
SEAQUAL™ is an ingredient brand that aims to create a virtuous economic model which fights against marine pollution. SEAQUAL™s focus is the recovery of plastic waste from our oceans and the up-cycling of this waste into high-end, sustainable materials. As an ingredient brand SEAQUAL™ becomes an effective catalyst for clean-up initiatives, engages the entire textile industry in a circular economy and inspires consumers. The fabrics and clothing made from these threads thus participate in this virtuous economy.
Premiere Vision Paris - 19/21 September 2018
Booth no. At Premiere Vision Paris: SEAQUALTM / Antex: Hall6 G50.

Hits: 11811 | Leave a comment