Strong Demonstration of a future-oriented textile community at Munich Fabric Start
For three days MUNICH FABRIC START was the centre of the textile and clothing industry. Just over 20,000 visitors – designers, product managers and buyers of international brands and companies - came to Munich. The event also reached the record level of 1,050 exhibitors. Overall, the organisers can look back on a constant result based on last year's comparable figures.
"With VIEW Premium Selection, with its early date in July 2018 and considerable rise in visitors, and the following MUNICH FABRIC START we have developed two consecutive trade fairs as a response to the early kick-off to the season. This allows us to react flexibly to scheduling needs and offer the industry a suitable platform at the right time in each case. Three well-attended days at MUNICH FABRIC START mean we have reached our goal and are very satisfied with the result.", Sebastian Klinder, Managing Director at MUNICH FABRIC START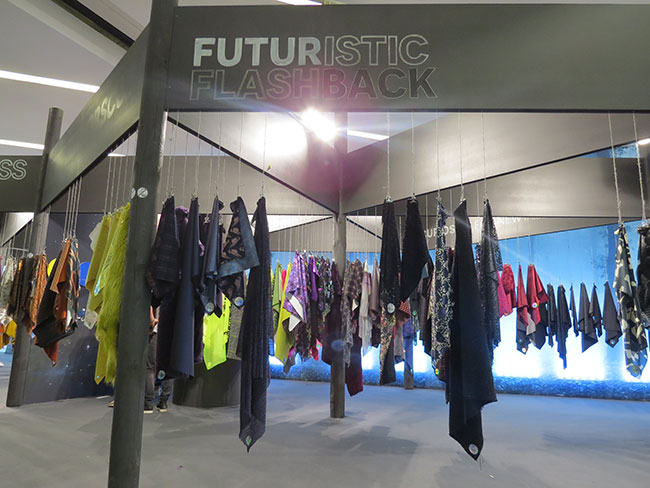 The latest edition of MUNICH FABRIC START from 4 to 6 September 2018 was a unique demonstration of perspectives, innovations, of what is possible and, more importantly, of what is feasible – translated into over 1,800 trendsetting collections for Autumn.Winter 2019/2020. Supplemented by the spectacular trend and colour forums for fabrics and additionals in the foyer of the MOC as very aesthetically staged product infotainment whetting visitors' appetites for the collection ranges from the companies exhibiting in the yet again fully booked halls, atriums and studios.
The overall positive and inspiring mood was also confirmed by new exhibitor Incalpaca:
"This is our first time at MUNICH FABRIC START and already now we can say: this decision has paid off. The presence of major German brands is overwhelming here but we were also able to make many good contacts outside Germany, from Holland to Portugal." , Karina Pinto Cortijo, Sales Manager at Incalpaca
Fabrics & Additionals – New Fashion Power
Providing information on the trends in macro-format through to Summer 2020 was Li Edelkoort in her appealing emotional plea. In her exclusive seminar the trend research expert asked for more empathy, for more love, care and defence of creativity in times of big data. As always, an impressive performance for the over 120 creative guests. Not just on the latest colour trends, derived from the history of creation, but also on the activewear of the future as protection power in a multi-layered outside world driven by upheavals.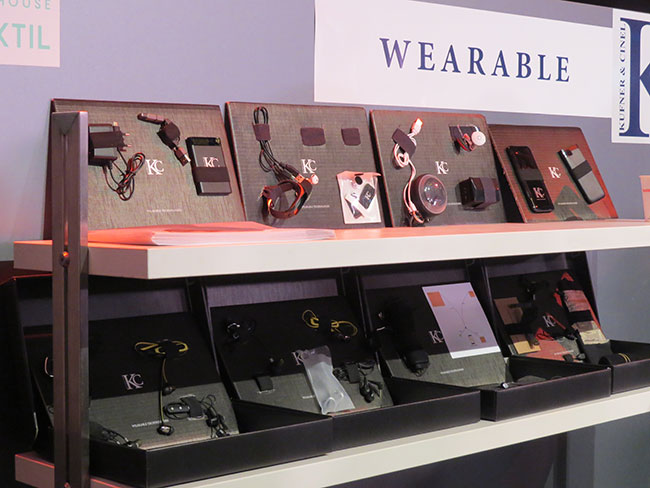 After all, the fabric and additionals collections at the MOC also demonstrated how strong and innovative tomorrow's trends are. Thus, material and finishing already act as definitive storytellers. In terms of the progressive users of Instagram & Co. designers go in targeted search of fabrics full of character and striking colours. Resulting from this is the comeback of label prints, for example. This is a key indication of how strongly sociological developments increasingly impact fashion.
Inspiring themes are in focus with Additionals for Autumn.-Winter 2019/2020. In particular, the topic of sustainability. This was also confirmed by Charlotte Bogegren, CEO at WeNordic, a labels producer from Denmark: "Sustainability is the stand-out topic in conversations."
Furthermore, it is primarily individualised product solutions that are sought. This applies for buttons, ribbons and braids as well as for labels. Exclusivity is a key add-on.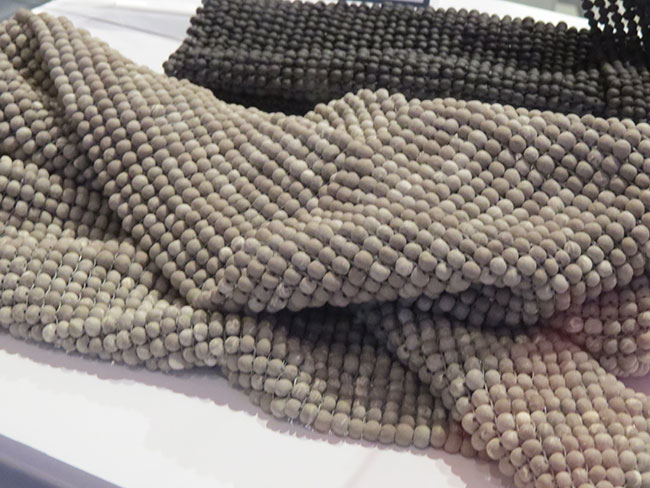 KEYHOUSE – Create the Future!
Innovation and sustainability themes were once again among the key aspects at MUNICH FABRIC START. For instance, KEYHOUSE showcases new paths into the future for the sector: from state-of-the-art digitalisation applications and sustainable audience magnets in the Sustainable Innovations area to the smart and networked visions for the world of tomorrow.
"In a very accessible way KEYHOUSE creates the link between tradition and future, analogue and digital, between sustainable innovations and high-tech. By redesigning this segment alongside other areas such as ReSOURCE we are creating new impulses and demonstrating future-proof process solutions. This underlines the progressiveness and our own dynamism at MUNICH FABRIC START." , Frank Junker, Creative Director at MUNICH FABRIC START
"Appreciation and awareness of sustainable innovations is growing. Once again at the forefront here is dialogue, the highlighting of new process solutions for the unusual and for new materials. Key here is clear indication and explanation of the inspiration through to market-relevant themes and areas. Furthermore, immediate contact is very significant. We have aroused curiosity and are delighted with the great response." , Simon Angel, Curator at Sustainable Innovations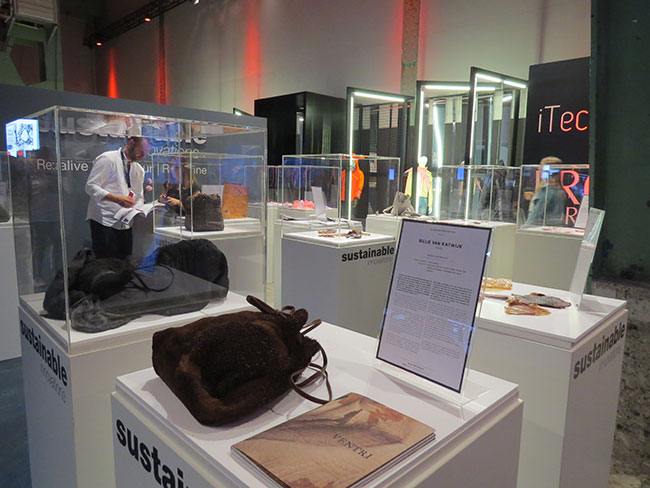 Other highlights at the KEYHOUSE included:
- 'Wardrobe of the Future', a walk-in wardrobe featuring smart products to demonstrate how, already today, fashion technology can be deployed for ready-to-wear products.
- DMIx Cloud Showcase from Color Digital as a fully integrated cloud-based solution for colours. - Next Tex Showcases with innovations on the topics of Advanced Manufacturing, Circular Systems, Cloud Computing & Wearable Tech.
- David Shah, Publisher at View Publications with "Living in the new (dis)ordered World", a statement analysis on current multi-optionalities that no longer permit linear developments anymore and that link opposites in a creative way.
- HighTex Award as an innovation prize for outstanding product developments - The HighTex Award winners
RESOURCE – Sustainability in a New Dimension
Also achieving great acceptance was ReSOURCE, the extended sourcing area that succeeded organicselection. This is MUNICH FABRIC START's response to the altered developments in the textile industry.
"The new concept ReSOURCE, that compactly presents sustainable sourcing options and comprehensive information at the MOC, proved an immediate and resounding success." , Alex Vogt, KERN.
Demonstrating the extent of interest in the issue of sustainability were the very well-attended ReSOURCE categories featuring sustainable fabric and additionals innovations, rounded off by expert lectures. Many visitors exploring this theme for the first time were curious and happy to be advised on this topic. "The premises at K4 of the MOC are ideal. This is the perfect setting for optimum work. Here there is lots of space for presentation and discussions. ReSOURCE is exactly the right concept at the right time." Heike Hess, Manager at IVN
APPAREL SOURCING – Targeted Network Platform
To complement the Fabrics, Additionals, Denim, Design Studio and Innovation Areas selected companies presented their product and service ranges for apparel sourcing in the Sourcing Showrooms in Atrium 3. Industry partners from Central and Eastern Europe spent three days gathering information on innovations and production processes.
"The interest shown in the presented line-up of services from selected exhibitors close to Europe was very welcome. As trade fair organisers and initiators of this sourcing platform in the direct environment of MUNICH FABRIC START we see it our clear task to offer a forum to cater to the growing demand for sourcing options. We aim to push ahead with this concept approach and continually expand it." , Wolfgang Klinder, Managing Director at MUNICH FABRIC START
The clothing industry is very interested in making contact with professional sourcing suppliers. For instance, renowned companies from the German-speaking region came to Munich, especially to gather information and make initial contacts. For their part, exhibitors stressed once again how important the German market, in particular, was as a customer.
BLUEZONE – Strongest Denim Platform
The premiere of the BLUEZONE Festival staged in a street-life setting in the outdoor space around the Zenith venue additionally promoted the trade fair as a community platform. Visitors found the setting here - with its Denim Atelier, stands displaying denim one-offs and street food trucks – ideal for relaxed exchange and inspiration among the otherwise very business-oriented conversations.
"This edition of BLUEZONE was its strongest and best attended yet. At the BLUEZONE Festival we were able to incorporate renowned "locals", create a direct link with the location of Munich and make denim an experience from a range of different perspectives." , Panos Sofianos, Denim Curator BLUEZONE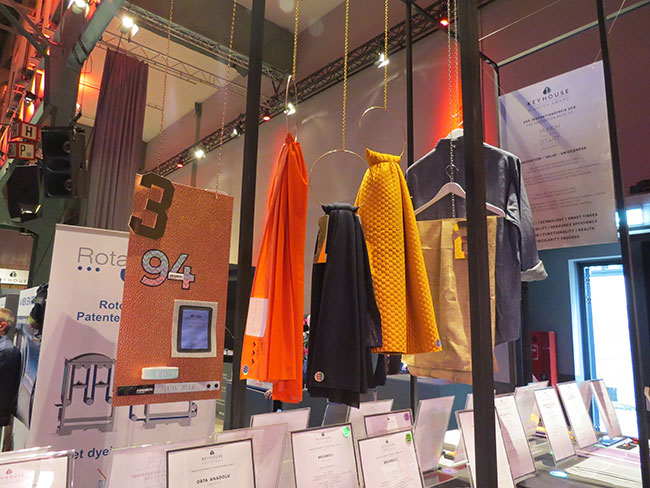 Far in excess of 100 international brands presented their latest fabric developments beyond seasons at one of the world's most important denim shows. In focus here were state-of-the-art technological process solutions, trendsetting end uses as well as complex functionalities.
"The German market is a very strong sales market and the BLUEZONE is the best place to do business in Europe. This was also confirmed at the latest event. We had two very productive days here at the trade fair and are entirely satisfied. The trade fair has its very own energy and identity. This is firstly due to the professionalism of visitors and perfect organisation of the event and, secondly, to the constant efforts to find fresh and new concepts. The Denim Community at the BLUEZONE is growing ever larger. Here you meet major industry players and have even more opportunity, thanks to the newly designed outdoor space, for that all-important meet and greet which is so indispensable for a trade fair. The setting is perfect for this." Hamit Yenici, Calik Denim
"This was my first visit to the Bluezone. It was a bigger show than I expected! Nice mix with garments, makers, crafts and some live dyeing. It is held in fantastically renovated old buildings. I see great potential for introducing global makers to global customers. Hope the show succeeds further and brings new options for the buyers and visitors alike.", Katsu Manabe, COO of JAPAN BLUE CO LTD
At the BLUEZONE many conversations revolved around not just new performance fabrics for denim aimed at achieving a soft touch and sporty looks but also new interpretations of rigid and raw denim for authentic heritage looks. However, topping all of this was the theme of sustainability in denim production that was discussed in numerous lectures and panel discussions on the part of manufacturers as well as the fashion industry.
Uwe Kippschnieder from Closed in his Round Table Talk with the trade magazine TextilWirtschaft rated the topic of 'sustainability in denim production' as one of the most important issues in the sector.
"Our main focus should be directed at reducing water consumption when washing denim. For this reason, at Closed we consciously collaborate with manufacturers that invest in innovative technologies. Nevertheless, there is still great room for improvement in the near future to reduce water consumption even further."
patterns X.0 – The Expert Conference on the Future of the Fashion Industry
The expert conference patterns x.0 on the digitalisation of the value chain was held already for the second time now – as a cooperation between b4b GmbH and MUNICH FABRIC START. Visionaries and movers and shakers at international companies shed light on new perspectives for the digital future heralding in a new era of the fashion systems. The speakers here included Hans Hoegstedt, CEO at Miroglio, Jan Wilmking, CEO at zLabels, Magnus Edholm, CEO at Siemens and Dr. Andres Brill, Managing Partner at b4b GmbH. Serving as the host at this high-calibre event targeting a high-profile audience was once again Holger Knapp, Managing Director at Deutscher Fachverlag.


Hits: 12001 | Leave a comment