Meet Lanifico Europa at Munich Fabric Start
Lanificio Europa creates collections that are backed by passion, commitment and expertise in textiles. Specialized artisans and skilled technicians uphold 50 years of tradition and professionalism, reinforced by Tuscan culture and heritage. Established in Prato in 1966, Europa specializes in the production of cotton stretch fabrics including; super stretch for casual and sportswear, embroidered and printed, denim, yarn dyes (check and stripes), and superior jacquards. All 100% made in Italy, using fully transparent and traceable production processes to guarantee ethical and responsible production, certified by Eurocontrol.
Europa fabrics are produced upholding advanced ecological standards, as evidenced by OekoTex Standard 100 Certification. As of March 2016, Europa signed the Detox Commitment with Greenpeace, joining the CID (Consorzio Implementazione Detox), setting a new standard of excellence for managing chemical substances within the textile production chain. A muchneeded benchmark for textile and fashion companies. Thus, supporting Europa's goal to respect the environment.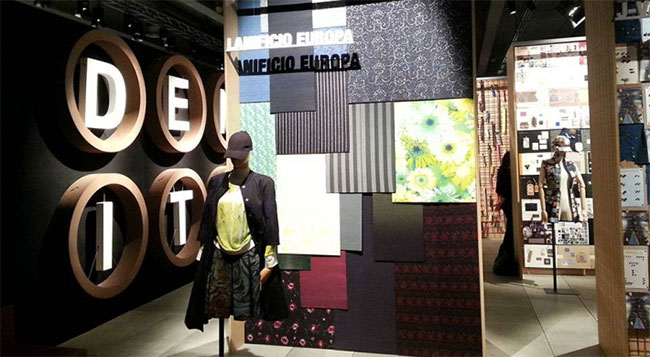 The CID Consortium team continues to mobilize the global textile industry to raise awareness and activate change among the multinational producers of dyestuff to embark on a path of improvement toward the removal of many chemical substances. The CID has increased the competences of fashion systems in Prato and now beyond.

Europa selects premium innovative smart raw materials to produce responsible stretch denim:
1. Better Cotton Initiative (BCI) Membership, a not-for-profit organization that exists to make global cotton production better for the people who produce it, better for the environment it grows in and better for the sector's future. Through BCI and its partners, farmers receive training on how to use water efficiently, care for the health of the soil and natural habitats, reduce use of the most harmful chemicals and apply decent work principles.
2. Newlife™, a High-Tech Conversion Model that transforms fully traceable post-consumer plastic bottles into a high-tech polymer using a mechanical process entirely made in Italy. Creating a GRS (Global Recycled Standard) certified quality yarn that performs and offers significant savings; 94% reduction of water usage, 60% energy reduction, 32% reduction of carbon dioxide emissions in comparison to conventional polyester. A certified life cycle study performed by ICEA.
3. ROICA™, a premium stretch fiber produced by Asahi Kasei. An innovative range of smart functions to suit the modern wardrobe. ROICA™ Eco-Smart family provides sustainable stretch solutions. Europa's premium stretch articles use the GRS (Global Recycled Standard) version 4 certified ROICA™ yarn, more than 50% of pre-consumer recycled content.
Europa internally prepares its own stretch yarn to combine sustainable ROICA™ yarns with Newlife™. Therefore, obtaining a smart yarn entirely made of GRS certified materials. Europa's goal is to achieve 70-80% of the collection with sustainable stretch yarn with ROICA ™ Eco-Smart family.
4. Cupro by Asahi Kasei, a one-of-a-kind, new generation, natural smart material with elegant beauty and touch. Produced since 1931, exclusively by Asahi Kasei, from natural and abundant cotton linters, transformed through a traceable and transparent process that upholds Circular Economy credentials. Innovhub-SSI, a third-party lab test certifies Cupro as a fully biodegradable end of life option. Cupro is GRS (Global Recycled Standard) certified by Textile Exchange.
This season, Europa has developed a beautiful stretch denim with 10% cashmere. While some stretch denim contains at least 33% of processed wool treated with an internally developed finishing that makes the denim stable in size. The yarns are made exclusively for Europa.

Europa's Excellence includes:
- 3twist®, an exclusive twisting system that guarantees perfect form after washing, a permanent wear ability and a full recovery of product shape.
- "Relax" finishing, a luxury treatment that relaxes the fabric naturally and preserves its purity and integrity.
- pro.care®, a special finishing process to make fabric softer, delicate and resistant, crease-free and guarantees perfect fit and recovery after wash.
All the fabrics are subjected to visual inspection and provided with a quality control certificate indicating length, width variation, cuttable width, flaws map.
Europa's approach to a circular economy and zero waste includes using its weaving and throwsting leftovers; the white scraps are transformed into wicks for household cleaning products and remaining materials are used to produce non-woven batting.


Hits: 8353 | Leave a comment