Popular custom tailors in Oklahoma
We continue our series of articles about the custom tailors from the separate states in USA. It is time to show you the custom tailors in Oklahoma. Most of them are recognised when we speak about custom made clothing. They provide made to measure and bespoke services in their workshops. See what we found about in Oklahoma:
Tom James - Tom James Company is the world's largest manufacturer of custom clothing. They make high quality custom suits and custom dress shirts for busy professionals in Oklahoma and the surrounding areas. They also provide all of the furnishings needed to complete your custom look. Their highly-trained bespoke tailors at Tom James of Oklahoma come directly to your home or office, saving you valuable time.
Covenant Brothers - Custom Suits, Slacks, Sport Coats, Shirts, Top Coats, Tuxedos. At Covenant Brothers, their primary concerns are quality and service. Clothes are about more than looking good. They offer the highest quality work to ensure each person has their personal needs attended to. Some people like to tell them precisely what they want. And they always do their best to meet their exact specifications.
Allton's Clothing for Men - Allton's Clothing for Men, established in 1995, is a first-rate retail store devoted to high-quality clothing, outstanding customer service and long term customer relationships. They also provide the custom clothing service.
Pinpoint Resource - Pinpoint resource men's fashions provides expertise and personalized attention in assisting the well-dressed man with affordable, yet high-end and upscale clothing in a full-service shopping environment. Pinpoint clients don't sacrifice high fashion and style for affordability. Clients choose Pinpoint Men's Wear for unmatched customer service and unparalleled quality.
Teena Hicks Company - The Teena Hicks Company is comprised of Teena Hicks and her son, James Robert Hicks. They have been located in downtown Oklahoma City since 1989. Their well-skilled tailors possess the knowledge and talent to perform any alteration imaginable. It is their passionate goal to offer a wide variety of clothing to an even wider range of clients. The ability to accommodate a host of styles, budgets and body types has allowed their business to flourish over the years. They believe in every brand they carry and personally choose all the products in their boutique.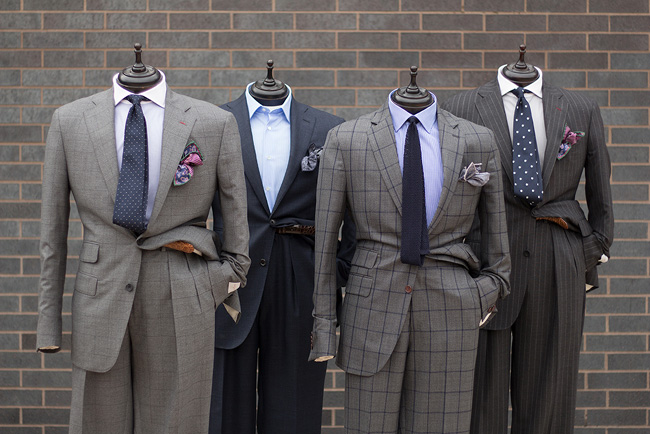 Mr Ooley's - Providing Oklahoma City with the finest menswear the world has to offer for more than 50 years. No matter what your wardrobe requires, Mr. Ooley's offers personalized perfection. Nothing compares to the excellence of in-house tailoring and the fine craftsmanship of our global luxury brands. One of life's luxuries is the pleasure of owning a wardrobe handmade to your exact measurements and the experience of wearing a garment made exclusively for you. Mr. Ooley's promise – to deliver perfectly tailored attire, designed to meet your lifestyle.

Steven Giles - For those who seek the finest of clothing for today's lifestyle, Steven Giles is pleased to present Bespoke and Custom offerings from their partners, tailoring houses that continue the Savile Row benchmark "standard of excellence". Bespoke, by definition, is an individual choice of styling an undefinable element of style, and an exclusive look to you. Once thought of as the domain of only the exclusive custom tailor, today Steven Giles is committed to upholding the standard by which all tailored clothing is judged. Experience the joy of this exclusive offering, we look forward to your visit.


Hits: 5564 | Leave a comment