Popular custom tailors in Michigan
We continue our series of articles about the custom tailors from the separate states in USA. It is time to show you the custom tailors in Michigan. Most of them are recognised when we speak about custom made clothing. They provide made to measure and bespoke services in their workshops. See what we found about in Michigan:
F David Barney Clothiers - Custom Clothing is the hallmark of their business. Too many gentleman are fooled by the terminology that some clothing stores use today. Custom Clothing can only be produced by a company that understands the human body and employs true Tailors that can create the pattern necessary for an exacting fit. A pattern is made for each client - and careful measuring and photos help the artisans create a garment that fits the clients body...the good and the bad.
Tom James - Tom James Company is the world's largest manufacturer of custom clothing. They make high quality custom suits and custom dress shirts for busy professionals in Detroit and the surrounding areas. They also provide all of the furnishings needed to complete your custom look. Their highly-trained bespoke tailors at Tom James of Detroit come directly to your home or office, saving you valuable time.
Joshua Gold Custom Clothier - They build distinguished clothing and accessories for men. All of their products have been curated by them, specifically for their clientele. Since the founding of their company in 2006, they've built strong relationships with cloth mills and tailoring workshops around the globe. With a clear goal of bringing together world-class products, at a fair price. They focus on suits, sport coats, dress shirts, topcoats and neck wear. Much of their work is focused around building custom clothing, piece by piece for their clients. Their goal is to make the process as simple and seamless as possible. Joshua Gold team can help build a well-balanced wardrobe.
The Custom Shop Clothiers - For the executive, choose a custom tailored suit from dozens of new fabrics in 100% wool. Looking for a High Twist Weave? Add your own personalized styling elements, custom made to your measurements. This collection offers a large palette of four-season fabrics that will make any wardrobe more versatile.
Angelo's Custom Made Suits - Whatever fabric you choose it should drape nicely across your hand, and most importantly it should feel good to you. Custom suits and clothing are about personal style. Angelo uses the finest Australian Merino wools suiting materials made by Lanificio Dino Filarte. You can choose from dozens of colors, patterns, and fabrications to reflect your personal style. The worsted wool materials have an exceptionally light weight and fine hand, resist wrinkling, and can be worn year round. The most common scoring that is used for wool is the Super Number, which indicates the fineness of the wool, measured in microns, used in making the cloth. This number system originated in England and was meant to qualify the fineness of the yarn. The worsted count was the number of 560 yard lengths of worsted yarn that a pound of wool yields. The finer the wool, the more yarn is produced and the higher the count. Where most off the rack suits are made of lower, coarser woven grades of Super 60 – 80, Angelo uses 100 to 180 depending on the unique needs and tastes of the wearer.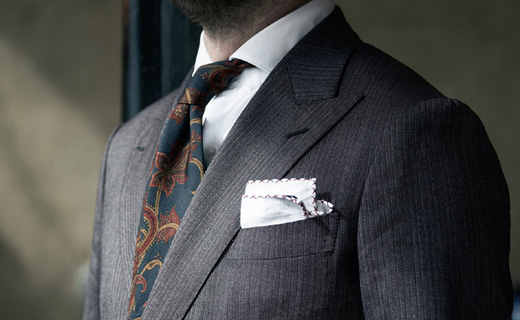 Jurgens and Holtvluwer - Jurgens & Holtvluwer has had a storied history among West Michigan shoppers as a store where people came to expect superior customer service and "top shelf" quality apparel. Originally located on Grandville Avenue SW near Clyde Park Avenue, the Jurgens & Holtvluwer stores have had numerous locations in the Greater Grand Rapids Area over the past hundred years. Roy Jurgens Sr., started the business with partner Henry Holtvluwer in 1912. Don Jurgens Sr., carried the torch and passed it to his son Steve Jurgens. Steve and his son Heath Jurgens now own and operate the fourth-generation family business.

Parks Tailoring - For clients interested in creating a more customized suit or sport coat, Parks Tailoring offers exceptional made to measure goods from some of the best in the business: Hickey Freeman, Hart Schaffner Marx, and S. Cohen. They start by taking the appropriate measurements for the perfect fit. From there, they help you choose the design of suit and the fabric style. Their thousands of choices fit any season or preference.

1701 Bespoke - They take over 20 different measurements and find out your style and fit preferences to create the prefect pattern for suits, shirts, jackets, trousers, tuxedos and overcoats. They have thousands of fabrics to choose from but they are here to help you find the right combination to meet your needs. Once they have your pattern down for suits, shirts, tuxedos and overcoats, all you have to do is come in and pick out the fabrics you love. They're always here to help you build your dream wardrobe.

1701 Bespoke - They take over 20 different measurements and find out your style and fit preferences to create the prefect pattern for suits, shirts, jackets, trousers, tuxedos and overcoats. They have thousands of fabrics to choose from but they are here to help you find the right combination to meet your needs. Once they have your pattern down for suits, shirts, tuxedos and overcoats, all you have to do is come in and pick out the fabrics you love. They're always here to help you build your dream wardrobe.

Alexanders Custom Clothiers - Еvery man needs at least one custom suit in their closet. At the bare minimum, you need a custom suit to wear for special occasions, important meetings or when you simply want to look your best. Of course, for most business professionals, it is important to have a litany of custom suits to make sure you're able to send a favorable message to clients and colleagues in the office. For men in need of a top-notch tailor and men's fashion expert, there is no better choice than Alexander's Custom Clothiers.

Cicchini Custom Clothier - Their highly skilled clothiers take your exact measurements and specifications to create each garment from scratch in their stately tailor room. They take 26 precise individual measurements to create a suit that fits you and no one else. Their endless fabric selection accompanied by their unlimited color and pattern schemes make any suit possible. They also have highly skilled clothiers equipped for an y style suit single breasted, two button, three button, European, the list is endless. They take suit making seriously and so should you.


Hits: 6157 | Leave a comment