How Fashion-Forward Guys Can Stay Connected with the Best Wearable Tech
Today's fashion-forward men know remaining on the cutting-edge of the latest trends goes well beyond owning a well-tailored suit or new pair of shoes. Indeed, savvy, smart and stylish guys are taking their fashion finds to new levels with the latest wearable tech that effortlessly complements their look — and offers the height of convenience and connectivity.
But when it comes to wearable tech, there are some items you definitely want to avoid and others you'll want to wear proudly. And, with today's wearable tech marketing efforts estimated to reach more than $30 billion in the next couple of years, chances are these products will only get better.
Of course, it's possible to look great and stay in touch with inconspicuous wearables that won't clash with your style. For guys who like to keep an eye on the latest tech gadgetry — while also keeping an eye on style — we have rounded up a list of the best wearable gadgets on the market.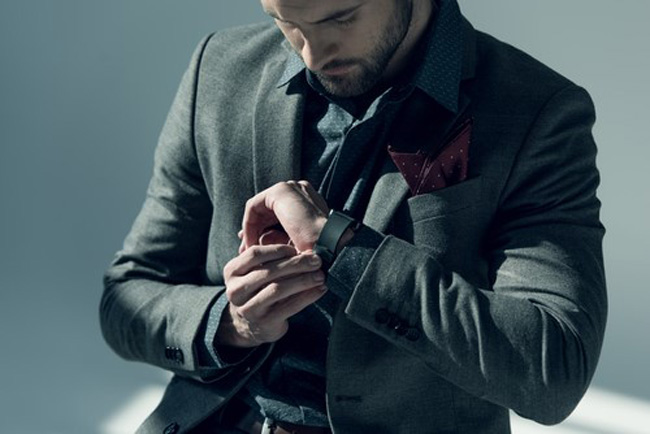 A Smarter Watch
Any fashion-loving man knows the key to completing their look means owning a quality watch. The Fossil Q Founder is an Android-compatible wristwatch with a traditional display and classic band that are understated yet fashionable, along with an economical price tag.

In contrast, the Samsung Gear S2 smartwatch offers a sleek, modern appeal with the ability to receive calls, texts, emails and more to not only keep you connected, but also help you stay at the top of your game.

Meantime, the ZTE Quartz is another viable option designed for a luxurious look and even cooler experience, along with a sturdy design and 36 hours of battery life. Plus, the classic, circular design is an ideal accompaniment to any ensemble.

From Geek to Chic
When you want to wear your tech on more than just your wrist, Rusty's Wired Series hoodies allow for just that. These sweatshirts offer built-in earbuds and a pocket jack to enjoy listening to your tunes. Also included on the hoodie is HB3 technology, along with a lightweight design for men in the city and country alike. Bonus: it's machine washable.

Of course, cufflinks are an essential part of a man's wardrobe, and ones that feature feature USB connectivity are both fun and functional (and fashionable). By wearing them with any French-cuff shirt — they also allow you to store 4 gigabytes of data — this distinctive accessory is perfect for a gift, your wedding day or even everyday wearing. Plus, the cufflinks can be engraved with a custom design.
Why not wear your tech around your waist? Well, you can with the Emiota Belty. This French-made smart belt is all you need in an activity tracker, with a waistline measurement tracker to boot (Need to forego that second helping of pasta? No worries, the belt adjusts as needed, even after indulging a bit too much).

Sleek and Sexy Fitness Trackers
For those who like to stay fit and fashionable at the gym, the durable and sleek Motiv Ring tracks everything health-related — from your activity levels to your heart rate and sleep patterns. Meantime, the Fitbit Flex 2 Activity Tracker is another low-key-looking fitness accessory that offers high-intensity performance. Additionally, this water-resistant wristband tracker acts as a pedometer, calorie counter, and fitness and sleep tracker that's sure to have you looking stylish, while also helping you better track your fitness regimen.

Finally, the Misfit Speedo Shine can track your activity and sleep levels with a super-cool aluminum design that offers vibration alerts, reminders and alarms and a multi-color LED display. Whatever your style and tech preferences, you're sure to find a go-to gadget to match your wardrobe in today's tech-forward age.


Hits: 4795 | Leave a comment