Popular custom tailors in Indiana
We continue our series of articles about the custom tailors from the separate states in USA. It is time to show you the custom tailors in Indiana. Most of them are recognised when we speak about custom made clothing. They provide made to measure and bespoke services in their workshops. See what we found about in Indiana:
Treat's Squire Shop - For the past five decades, Treat's Squire Shop has offered a full service retail experience for the men of Northern Indiana communities. Located in beautiful downtown Plymouth, Treat's strives to provide every customer with excellent service, great deals, and the highest quality clothing around. For your custom tailored suits, sleek new collared shirts, or comfortable work shoes, we will find the perfect fit for you at Treat's Squire Shop.
Stephan G. Sanders Clothiers - They here at Stephan G. Sanders Clothiers cater to the gentleman who is interested in getting the most impact out of his wardrobe. Whether it's custom clothing featuring extraordinary fabrics from around the world, or famous brand clothing from some of the most established manufacturers in the industry—either way, they invite you to visit their store in downtown Evansville, IN. They also offer appointments with theirr clients in the convenience of their office of home. When it comes to men's apparel and being able to shop in comfortable surroundings with someone who takes a sincere interest in your wardrobe, SGS Clothiers is a refreshing exception in a world dominated by big box stores and nameless sales associates. Since 1974, Steve has built a reputation on providing exceptional personalized service and quality branded apparel. They specialize in men's suits, sport coats, formalwear, dress and casual Trousers, topcoats, lined rainwear, casual and luxury sportswear, dress shirts, neckwear, shoes, furnishings, and accessories. Actually, SGS Clothiers offers everything a gentleman needs to dress confidently, for the week or weekend.
Paco's Custom Tailors - They carry over 2,000 of the best clothing fabrics available today. Their woolen selection hosts some of the worlds finest, including Ermenegildo Zegna, Loro Piana, Dormeuil, Holland & Sherry and Scalbal. Their collection of fine shirting fabrics includes handkerchief linens, Sea Island cottons, ruggedly smooth pinpoint oxfords and polished poplins.They meet their clients' needs for everything from casual to tuxedo shirts, basic slacks, two- and three-piece suits, sports coats and formal wear. Their line of accessories gives your signature look its final touch. By merging individual personal style needs with the right fabric and fit we create a wardrobe that is as unique as each of their clients are.
Andrew Porter - Andrew Porter Fine Clothiers is a full-service firm specializing in custom garment for the contemporary gentleman. Andrew T. Porter the principal and head clothier for APFC seeks to provide exemplary service while also educating clients and creating workable solutions that meet their needs. Mr. Porter refuses to employ a "sales first" approach; instead, he is dedicated to building sustained relationships with lifelong customers. Those relationships may be with a fortune 500 executive or a recent graduate entering his respective field of business. As extensive expertise and industry contacts allows Mr. Porter to serve all his clients with the same attention to service and quality.
Lee's Custom Tailoring - Like a true bespoke suit maker, Lee creates his own patterns from scratch for each and every individual customer. Lee spends between 25 to 40 hours to measure, cut, and design every pattern and suit he creates. Lee takes photos of each client from different angles to remind himself how to approach each individual's perfect fit.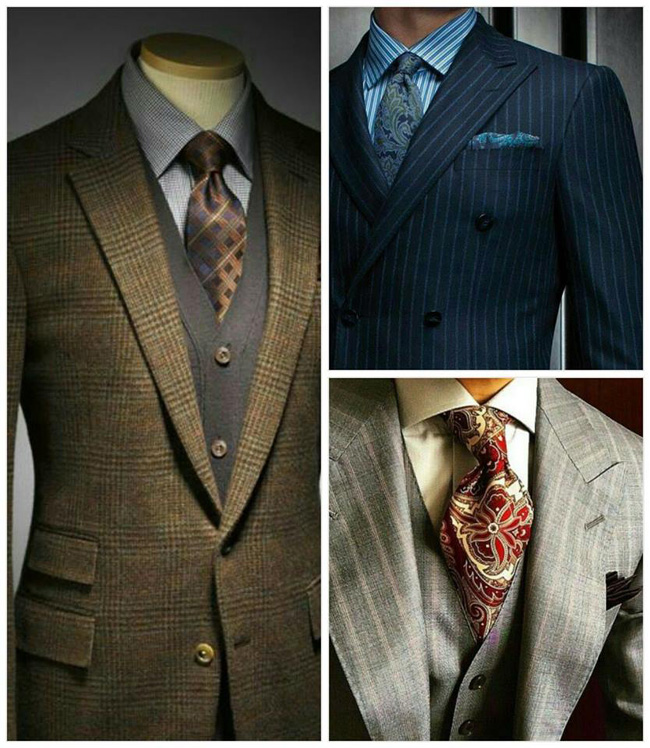 Andrew Davis Clothiers - The Andrew Davis team delivers unrivaled personal service and exceptional brand knowledge. Expect a curated selection of high quality product from perfectly fitted suiting and stylish accessories to sophisticated casual wear and footwear. They are locally owned and proud of their tradition as an independent specialty retailer.

Carmel Tailoring - A bespoke garment is 100 percent handmade. Their in-house tailors will draft a pattern from scratch according to your measurements. To help them achieve an exact fit, your garment will be basted, and you will return to their shop for fittings before completion. They will work diligently with you to give you a flawless suit or dress that you will treasure.

King's Image - For more than 30 years, King's Image has tailored suits, sport coats, trousers and shirts to your style and proportion, using fine fabrics sourced from the best Italian, English and domestic sources. When you choose King's Image as your tailor, you'll enter a discussion centered on your total apparel needs. They take over 30 measurements to make sure whatever fabric or style you choose will fit you perfectly and be exactly what you were looking for.

Leon Tailoring - At Leon Tailoring Co., they create men's and women's clothing that are tailor-made to fit the exact measurements of their bodies. So, not only will your clothes fit more comfortably, you will look better, too. Plus, their tailor-made clothes are made with exceptional quality workmanship, so they will last longer than clothes that come off of the rack. When you come into Leon Tailoring Co., they follow a time-honored process in order to create a tailor-made garment that's just for you. First, they learn more about your individual preferences concerning the style, fabric and color. They also want to know which seasons the garment will be worn, where it will be worn and its purpose. Their expert tailors will work with you to find a style that is flattering for your body type, while providing you with a garment that has a timeless elegance.

Despos Tailoring - A beautiful suit speaks volumes about the wearer. A custom made suit that fits you well will add to your image. They'll be glad to create a custom suit made especially to fit you. Select your favorite fabric, let them take the measurements and in a matter of weeks, you'll have a suit that sets you apart from the crowd. Consider the cost difference between a department store suit and an extraordinary suit from Despos Tailoring. Their suit might cost more initially, but should last significantly longer than one bought at a general retailer.
Address: 6338 West Jefferson Fort Wayne, IN 46804
Phone: 260 -1377


Hits: 4964 | Leave a comment