Popular custom tailors in South Dakota
We continue our series of articles about the custom tailors from the separate states in USA. It is time to show you the custom tailors in South Dakota. We had been looking for tailors very hard and found few. May be the men living in South Dakota rely on the tailors in the big cities so the tailors in this state a very few.
Halberstadt's - Halberstadt's ND has grown to be North Dakota's premier menswear destination. Halberstadt's ND exemplifies a customer focused approach to retail with attention to detail. Halberstadt's ND's Crew tailors a successful shopping experience with their professional knowledge and welcoming attitudes. The Crew's combined 75 years of experience will have you fitted up in the perfect look and will greet you with a smile the moment you walk through the doors.
Sioux Falls Store - They'll take every measurement for your custom garment so you walk away with the perfect fit. Custom clothing doesn't have to be complicated (when expert stylists are involved). From monogramming to working sleeve buttons, there are hundreds of choices available when you design a custom piece. They'll work with you to make the process straightforward and enjoyable so the final garment feels uniquely you. They're committed to making handcrafted custom clothing of the highest quality, whether that means sourcing fabrics from a heritage mill in Italy or finishing the details by hand. After one last fitting with a Master Tailor to ensure every detail has been executed perfectly, your custom garment will be ready for pick-up.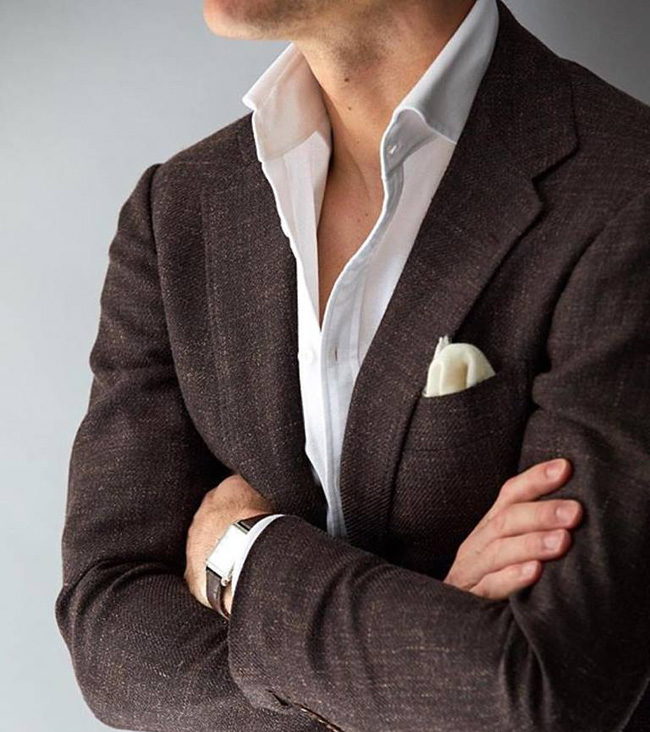 J.H. and Sons - When it comes to suits, fit is king. Stop in and visit with one of the J.H. experts today, and let them help you find your perfect suit. J.H. & Sons is a family-owned and operated menswear retailer in downtown Sioux Falls, SD. Their store is backed by a strong heritage of customer service in men's apparel that began in 1975 in St. Cloud, MN by James (Jim) Halberstadt and his family. Since retired, Jim handed down the business to his son, Jeff, who has since expanded the stores to Sioux Falls and Rapid City, SD and Des Moines, IA. The original store continues to serve the people of St. Cloud. The third "J.H.", Jaime, joined his father in 2014 to help open and run J.H. & Sons. Jim's values of delivering unmatched style, value, and service are alive and well in their stores to this day. J.H. & Sons takes these beliefs along with a sharp eye on the current menswear market to downtown Sioux Falls. They are a fashion-driven store with roots based in traditional men's tailored and casual style. Concentrating on a variety brands that deliver consistent quality and style, they appeal to anyone from the traditional businessman to the hip weekend warrior.

Fred's Taylor Shop - tailors in South Dakota
Address: 2010 S Minnesota Ave, Sioux Falls, SD 57105
Phone: (605) 221-4122

Custom Flash Gear - tailors in North Dakota
Address: 2818 W 12th St, Sioux Falls, SD 57104
Phone: (605) 275-2043

Alteration & Tailoring by Lee & Co - tailors in North Dakota
Address: 3132 S Minnesota Ave, Sioux Falls, SD 57105
Phone: (605) 338-0359

Dakota by Design - Custom Couture & Bespoke Attire - Suited to you, by design. They are committed to creating timeless and lasting investment pieces for your wardrobe. Their design studio and workroom offers a full line of custom made bespoke shirts, sports coats, suits, coats and formal wear for both men and women. They begin with a personal consultation suited to your wardrobe needs and style preferences. They search the world for the finest fabric and textiles, providing you with a vast selection. To ensure a perfect fit, they take precise measurements. Every garment is a one of kind created individually for their clients.
Address: 525 WEST 22nd STREET , SIOUX FALLS, SD 57105
Phone: 605 336 6061


Hits: 4634 | Leave a comment