Angelico Autumn/Winter 2018/2019 fabrics collection - The future of fabrics
In an age when fabrics are required to evolve constantly in order to retain their central role in the fashion cycle, Angelico is following two routes: exquisite weave, construction and hand in fabrics, and performance standards in line with the contemporary lifestyle. These two tendencies come together in products for different occasions in both the collection of orthogonal fabrics and the K1 creative collection, which also includes jersey and were presented at Milano Unica this month.
The Orthogonal fabrics collection of the brand offers colour to warm classic design. A touch of luxurious softness gives a feeling of muted elegance.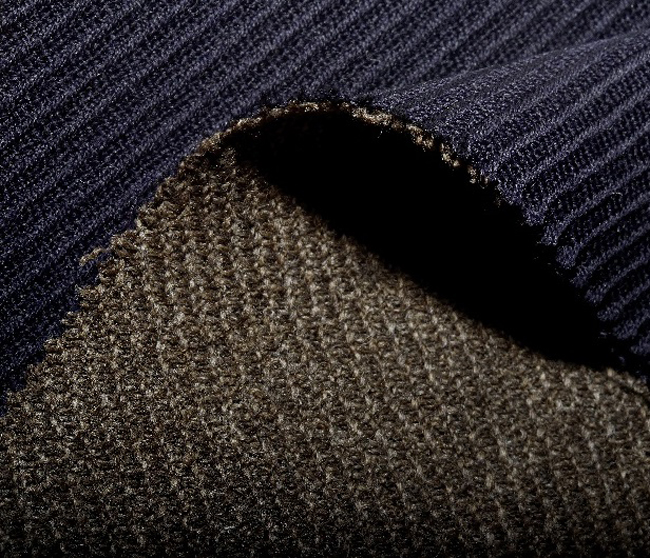 The undertaking to offer a sophisticated fabric is conveyed through weaves and rich colours. Clear, two-dimensional designs using two contrasting threads are antiques from the past, replaced by a pattern packed with complex nuances and shimmering plays of light, thanks to the presence of numerous threads in varying shades.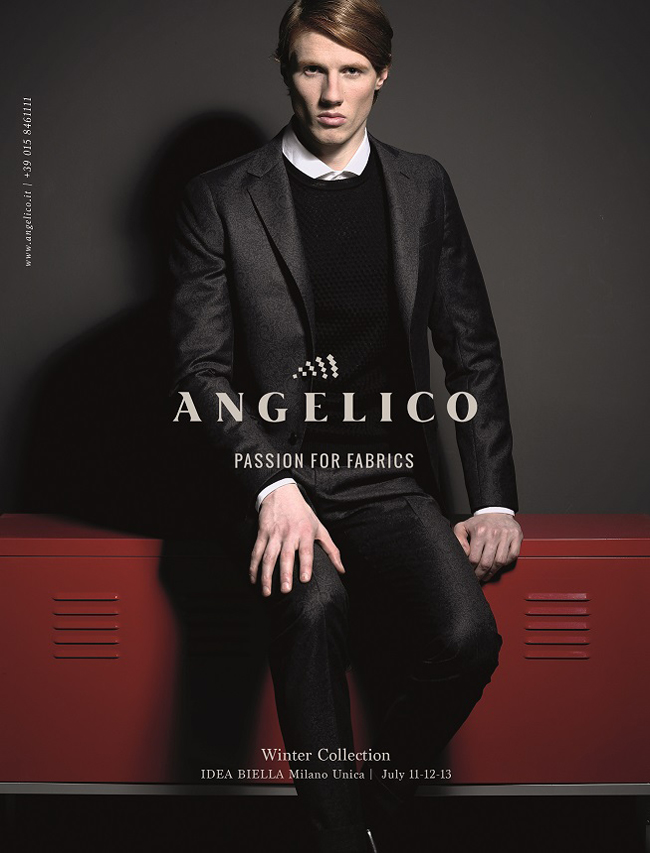 Chromatic depth runs parallel with blurred backgrounds and faded effects on jackets and winter suits.
Mouline and malfile fabrics create a suffused look in classic blazer designs and update micro-patterns, checks and stripes, which return to a starring role in shades of vivid red, their appeal less aggressive and sharp.
The trend reaches its climax in soft jackets with boucle yarns giving an undeniable veiled effect.
Luminous and pale, colour is at centre stage with elegant pearl greys, bright chestnut and camel tones, octane green and vivid blues. Classic weaves are often crossed by an imperceptible saffron or pink stripe, discreetly reinventing the winter look.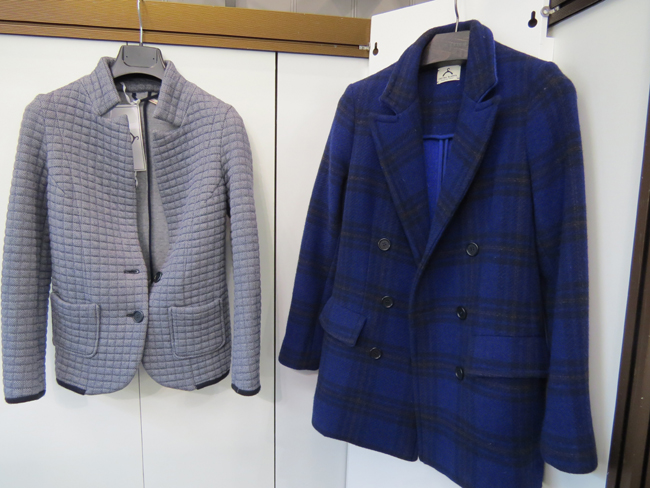 Angelico at Milano Unica July 2017 - Suits made of Angelico fabrics
The Platinum label, a landmark in tailored suits, also proposes a fabric embellished with chromatic nuances, rich and soft to the touch. Among the superfines, two-ply Super 140's makes its debut, ideal for tailoring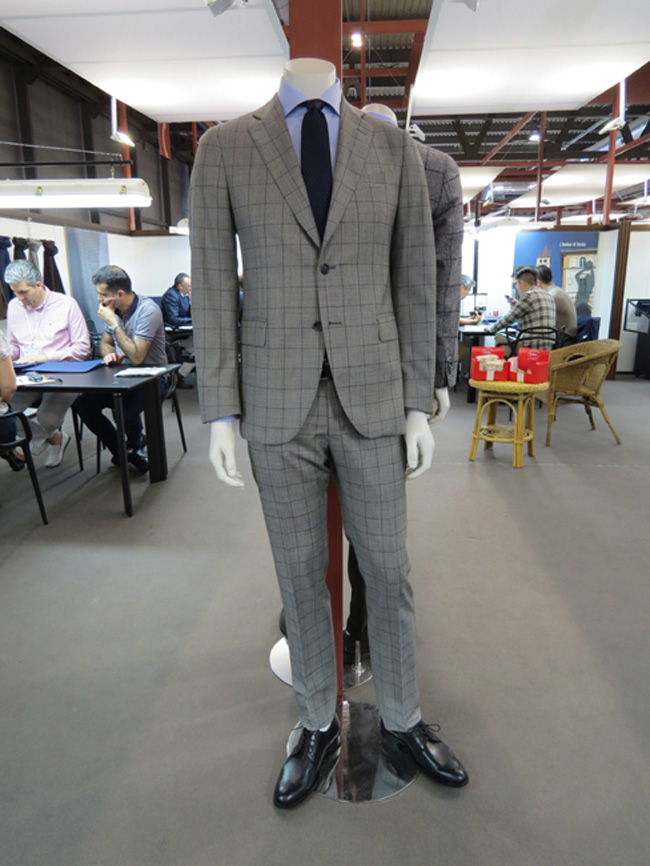 Angelico at Milano Unica July 2017 - Suits made of Angelico fabrics
The H-Tech Class range is evolving to encompass performance in all its aspects. The stretch fabric used in impeccable travel suits encapsulates the spirit of an easy-to-wear elegance. Its finish allows it to be machine-washed at 30°C and remain uncreased for a long-lasting feeling of comfort, and it's showerproof, its water-resistant qualities coexisting happily with excellent natural breathability. Performance is the watchword of the K1 Collection. It's a thorough investigation which perfectly integrates the presence of versatility-enhancing fabric treatments with aesthetic form.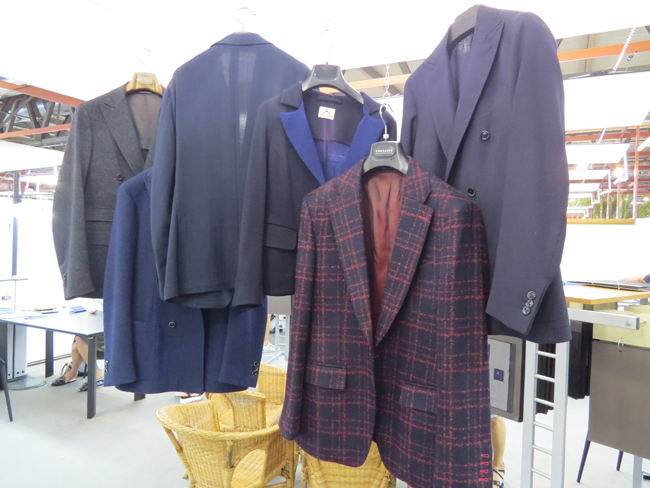 Angelico at Milano Unica July 2017 - Suits made of Angelico fabrics
Here's a new generation of suits and travel jackets, in which carefree elegance sits side by side with functionality: elasticised fabrics and stretch and bi-stretch twill for suits and trousers. This fabric offers the advantage of wool fibre's heat-regulating qualities, and the unique style of Biella tradition. Thanks to nanomolecular treatments which leave pH and hand intact, the fabric acquires showerproof and stain-proof properties to give a naturally waterproof surface that does not interfere with the wool's natural breathability and resilience. The nanotechnology anti-crease finish, meanwhile, means the garment can be machine-washed at 30°C.
A focus on environmental sustainability - increasingly requested by fashion houses and by an eco-friendly market sector - also gains a concrete dimension, with a series of treatments inspired by nature. Lanolin, a totally natural substance produced by the processing of wool, gives fibres a soft, delicate and luxurious feel and does not require chemical additions. A genuine return to the original character of the fibre; alongside this is the beeswax finish, which has a similar effect on cotton fabrics.

Angelico at Milano Unica July 2017 - Suits made of Angelico fabrics

On the style front, the collection interprets unisex fabrics for overcoats with a variety of double layered fabrics in patterns inspired by classic fabric designs. A fascinating revisitation in contemporary style for numerous archive weaves - ribbing, tricot and fabrics with military origins, which in the new season's coats find a delightful soft hand, exquisitely modern.

As for the world of jersey, the range of elasticised jerseys for trousers is extended, in high demand for trendy garments with soft shapes and coulisse, and for comfortable jackets.


Hits: 5308 | Leave a comment